A group representing thousands of people living in potentially dangerous homes has urged the Government to make banks contribute to a multi-million euro financial repair scheme.
The Mica Action Group has called for the move with some people facing tens of thousands of euro in costs to make their homes safe.
The group told RTÉ's Morning Ireland that no homes have been repaired a year after the Government scheme began.
During the Celtic Tiger era, almost 5,000 homes in Donegal and a small number in Mayo were built using blocks which included a mineral called Mica.
The mineral, when used in blocks which have a low level of concrete, can lead to large amounts of water being retained, risking the blocks collapsing under their own weight and as a result bringing homes to the ground.
Following years of campaigning, the Department of Housing set up a scheme to help fund repairs to the affected buildings in January last year.
The scheme, which is expected to eventually cost close to €1bn due to the extensive work involved, operates by the State paying for 90% of the repairs and the homeowner paying for the remaining 10% of work.
However, the State will not cover any costs of a person or family having to leave their home and rent somewhere else for safety reasons while still paying the original mortgage, while any work on homes more than 2,000sq ft, must be paid for privately.
Mica Action Group spokesperson Michael O'Doherty said the situation means homeowners who have done nothing wrong are facing tens of thousands of euro worth of debt which they cannot repay.
In a specific request to the Government, he said changes need to be made to the existing scheme so that banks which hold the mortgages on the homes also contribute financially in order to reduce the pressure on homeowners.
"We refer to them [the Mica blocks] locally as Weetabix blocks. Without exaggeration, once the plaster's removed you can disintegrate the blocks with your bare hands and that's what homeowners are living in right now.
"We've been on a long road here. Eventually we got to the point where something was done for us and we got a scheme, and that was January 2020. But today, we don't have as yet one house started.
"Even with the scheme, depending on the size of the house you will range from €50,000 out of pocket up to €220,000.
"We do have applications through, 188 applications, but the bottom line is that we will continue to have people attempting to fix their own homes because the scheme is not fit for purpose," Mr O'Doherty said.
One of the people affected is Christina Crumlish, from Malin Head on the Inishowen peninsula in Donegal, who explained the individual difficulties she and her family are facing.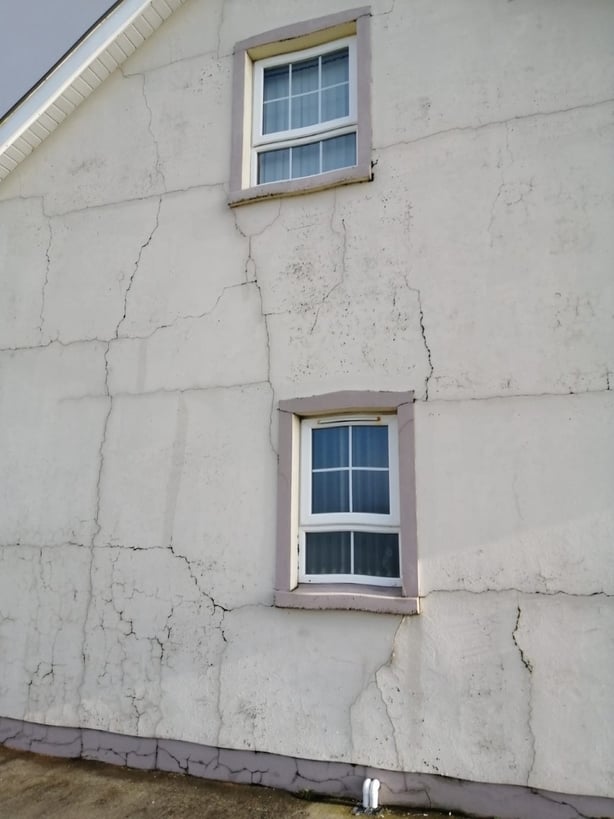 "The house began cracking outside, the cornerstones started to move, the house started to shift ... you have bits of the house falling off on the outside, the cracks are now an inch wide, and then the inside of the house, there's one crack that runs the whole way along.
"The scheme is taking too long. We've paid nearly the guts of €6,000, which I had to get a loan from family and friends because you have to have about €6,000 to start. It's humiliating. I've a friend who was put out of her house in 2017 because it was so bad, she has already spent around €23,000 in rent, there's been no houses fixed at this stage."
Ms Crumlish said so many people are under pressure and that they feel "really alone".
Minister for Housing Darragh O'Brien said the support scheme was introduced in January 2020 and needs time to be allowed to work.
He said it will take a number of years for the situation to be resolved, but added he has recently met Mica Action Group representatives and is open to listening to potential ways to address the concerns of affected homeowners.
He said this includes "issues with regard to some of the banks".
"The scheme's up and running, there is a commitment by this Government to continue this scheme through the Programme for Government, because this issue won't be resolved over one year or indeed over two or three.
"This is obviously exchequer moneys going into this scheme to help people who badly need it. Issues have been raised with regard to some of the banks, and I am waiting for Mica Action Group to send me a submission with some further issues they've come up against," Mr O Brien said.
Sinn Féin TD for Donegal, Pádraig Mac Lochlainn, said while the Government scheme is helping people affected, he believes there is too much pressure being placed on affected homeowners.
He said the only way to fix this situation is for the Government to change the scheme and to make banks who hold mortgages on the properties to provide a set contribution to the fund.
"The State will eventually pay hundreds of millions to assist the affected families across Donegal, and the banks are making no financial contribution.
"I think it's outrageous and I am calling on Minister O'Brien and Minister for Finance Paschal Donohoe to bring in the banks and make it clear to them that they need to step up here.
"Right now the scheme is not working for a large number of families," Deputy Mac Lochlainn said.
In a statement to Morning Ireland, a spokesperson for the Banking and Payments Federation of Ireland said: "Banks are working closely with homeowners across the region who are impacted by defective blocks (MICA) in their house and are making applications for lending facilities, in many cases to aid their application for the Government-established support scheme for MICA impacted houses.
"Staff locally have a full understanding of the issues and the complexities involved for many customers in their area and are working these homeowners on a case-by-case basis to find a financial solution that can help alleviate their challenging circumstances."