Almost €170,000 has been generated for local businesses in south Co Mayo, as a result of a new initiative encouraging people to spend money in their own area this Christmas.
The Lakes Gift Card is being accepted in a number of towns and villages. It has already been supported by a number of large employers, who are using it to provide Christmas gifts to staff members.
Almost 100 businesses have agreed to honour the cards which are for sale in a number of outlets and online.
Available in denominations from €25 to €500, the cards are being used to support a range of retailers and service providers based in Ballinrobe, Cong, Kilmaine, Clonbur and surrounding areas.
Organisers say they decided to try and spread the reach around south Mayo, in recognition of the interconnected nature of social and business life in the region.
They believe that the appeal of the cards has been enhanced given the geographical area covered but they are also stressing that all the money spent as a result will go to businesses operated by, and employing, local people.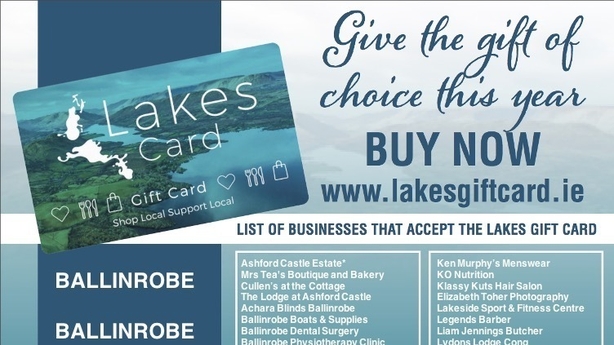 Cards preloaded with credit can be purchased at a number of local shops or purchasers have the option to validate the gift cards to a value of their choosing online.
Pat Donnellan of the Ballinrobe Business Organisation said the success of the initiative was already apparent, with cards being used in local restaurants and shops. He said a number of people living away from the area, who were not in a position to return home this Christmas, had also purchased them as gifts for family members.
Mr Donnellan said the scheme cost in the region of €10,000 to set up and was designed to operate on a commission free model.
Transactions are conducted on the Mastercard credit card system and the only prerequisite for businesses to take part is that they have a payment terminal.
Mr Donnellan said that as well as being used for face to face sales, many people had made purchases online or over the phone by quoting the card numbers to the retailers in question.
He said he hoped the impact of the collaboration over a 30km radius would continue and that the cards would become a regular feature of business life in the area.