Three families in Co Kerry are preparing to move into new homes developed on a not-for-profit basis by the company they work for and sold to them at more than €30,000 below their market value.
The owners of Walsh Colour Print and Educate.ie in Castleisland say they have plans to build 20 houses in total for their employees. 
Anna and Marcin Wojs are two of the employees who have bought one of the houses at Clonaugh, just outside the town.
The couple, who have two children, moved to Castleisland from Poland 16 years ago to start a new life and started working for husband and wife Patricia and Tony Walsh at Walsh Colour Print, a trade printer, and Educate.ie, a publisher and printer of texts and books for primary and secondary schools.
Despite saving hard, Anna and Marcin could not get enough money together to put a deposit on a house and secure a mortgage.
They say they were paying between €800 and €1,000 per month to rent in Castleisland and properties were hard to come by.
"It was very hard to rent something here. There were no houses," Anna said.
Anna and Marcin considered moving back to Poland.
They said many of their friends made the move back because they could not get houses to rent and properties were too expensive to buy.
Marcin said he mentioned the problem to Tony and he and Patricia decided to do something about it.
Three families in North Kerry are preparing to move into new homes developed on a not-for-profit basis by the company they work for. They were all purchased below market value and plans are underway to build 20 more homes for employees. pic.twitter.com/xOJc2KPBGT

— RTÉ News (@rtenews) December 9, 2020
"We are seeking skilled printers and print finishing staff in Kerry," Patricia Walsh said.
"In this country, there aren't many [trained staff[. Availability isn't great. So, we seek staff from Eastern Europe because the skill set over there is every bit as good as here and there is a bigger population to choose from. For that reason, it's an attraction, a perk of the job. When we are listing why you should come working for our company, this would be one of the perks available."
Tony and Patricia sought planning permission for the houses in 2017 on a site owned by Walsh Colour Print at Clonaugh, which can accommodate up to 70 houses.
Patricia Walsh said 20 of those houses have been set aside for staff. The houses will be built on a not-for-profit basis. Walsh Colour Print and Educate.ie employ almost 120 people.
They said the remaining 50 houses will be sold on the open market and offered for sale at market value.
The first three houses are now completed and Anna and Marcin Wojs have already begun to move in.
Other employees who have bought the remaining two houses are expected to move in by the end of the year.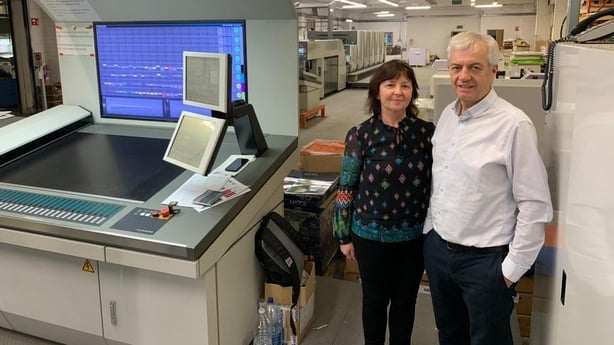 Each house is 1,000 square feet and comes with under-floor heating, which is expected to attract an A energy rating.
The three houses were sold for €150,000 each.
Independent property sources in Kerr told RTÉ News that they estimate the selling price is more than €30,000 below market value.
Work on the next tranche of houses for employees will begin in January.
Mr Walsh said he and Patricia were motivated to develop houses for their staff after he heard of Marcin and Anna's difficulties in trying to buy a home for themselves.
He said he was also concerned about employees after they retire, having rented up to then for all their working lives and possibly not being able to afford to rent after they retire.
He said employees who buy their homes from the company will be asked to remain working with the company for 10 years, but he said this would be agreed informally.
"Our staff are delighted," Mr Walsh said.
"Mercin and Anna and their family are over the moon. For the first time in their lives they own something. We are going to roll this out now to the rest of our staff and, at the end of their time, when they are finished working with Walsh Colour Print and Educate.ie, they can close the door and say 'we own this'."
Ms Walsh said she believes there is scope for other employers to do the same as they have done.
"It's something that can be emulated throughout the country. I can't see why not," she said.
Meanwhile, Anna and Marcin are busy turning their house into a home in time for Christmas.
"It's the best Christmas present ever," Anna said. "The feeling now is that we are happy, just happy."