A number of businesses in Oranmore, Co. Galway have started providing drone deliveries to customers living in the vicinity.
Believed to be the first commercial flights of their kind here, the service is being operated by the Manna company from a distribution hub on the roof of a supermarket in the village.
Tesco and a number of other locally based businesses are taking part in the initiative.
Customers can order what is described as a shoe-box sized box of products online which are then delivered by drone to the individual Eircode provided.
The combined total of the goods cannot exceed two kilograms.
Orders are brought to the hub by the businesses involved and then dispatched by an operator.
The drone flies at a height of around 60 metres and takes around three minutes to reach destinations in the area covered by the trial.
The devices hover about 15 metres over a selected delivery point and the goods are lowered for collection.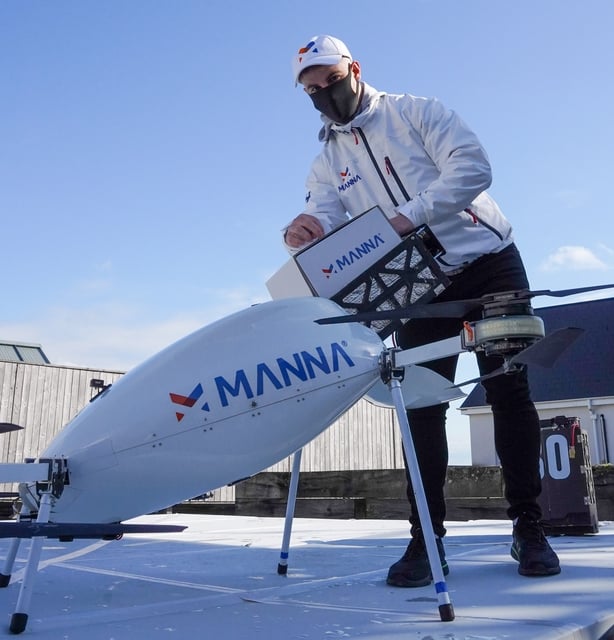 Manna said the drones operate with millimetre accuracy and can fly in moderate wind and rain conditions.
The launch of the commercial service today, follows a detailed trial period in recent weeks, which was overseen by the Irish Aviation Authority.
The company has permission to fly in the air corridors in question subject to their being clear of other aircraft.
Initially, the service is available in a 2-3 kilometre radius of the Tesco branch in Oranmore.
A total of ten drones are operating at present and the trial is scheduled to continue for six months.
A range of goods have already been sent for delivery today, including eggs, hot food and even cups of coffee.
Operators say no spillages have been reported and that the service has the potential to alter the way in which people shop for small numbers of items.
Around 8,000 residents are in the catchment area covered by the trial.
There is a delivery charge for the service but it is waived for frontline workers and older people getting prescriptions delivered.
It is thought the initiative is best suited to rural and suburban areas.
The densely populated nature of towns and city centres means they are being ruled out for such deliveries at present.