Cork County Fire Service have said a fire that broke out at the former Sisters of Mercy convent in Skibbereen earlier today has been brought under control.
Dampening down of the fire is likely to continue for a number of hours.
A Garda investigation into the cause of the blaze at the former convent and chapel will get under way in the morning.
The alarm was raised at around 3.30pm this afternoon when flames were seen coming initially from the roof of the former chapel.
The roof then collapsed and the fire spread to the adjacent unoccupied convent.
North Street was closed to traffic.
Once home to the Sisters of Mercy for over 140 years, both buildings have been unoccupied for more than 25 years.
More footage from the old convent fire in Skibbereen as emergency services arrive on the scene pic.twitter.com/jyK8LPSfMR

— The Southern Star (@SouthernStarIRL) September 29, 2020
It is understood six units of the County Fire Service, two each from Skibbereen, Bantry and Schull, dealt with the blaze. 
Assistant County Fire Officer Paul Griffin said access to the buildings was limited and they were fighting the blaze from the outside.
An aerial platform also arrived at the scene from Midleton to assist in fighting the blaze.
Residents living nearby in a number of single housing units run by the town's Geriatric Society were evacuated because of fears of smoke inhalation, but there was no reports of injuries.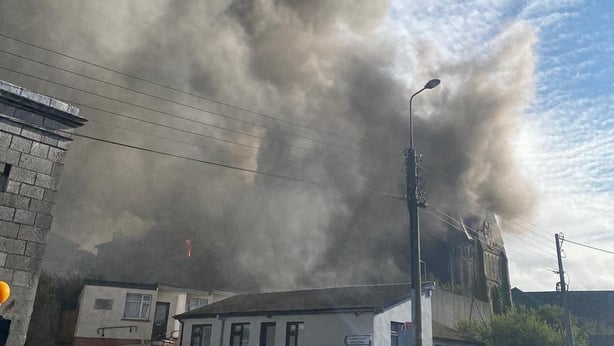 Recently, the Southern Star newspaper reported that Cork County Council had granted planning permission for a €10m redevelopment of the site.