Ireland's oldest community arts festival has opened in Clifden, Co Galway with exhibitions, workshops and poetry readings taking place over the coming week.
The Clifden Art Trail continues throughout the town as part of Culture Night celebrations.
The Seamus Heaney quote: 'The books stand open and the gates unbarred', is outside Clifden Community School.
The words are there to honour the Nobel laureate who was a big supporter of the Connemara arts and to highlight the importance of arts in education.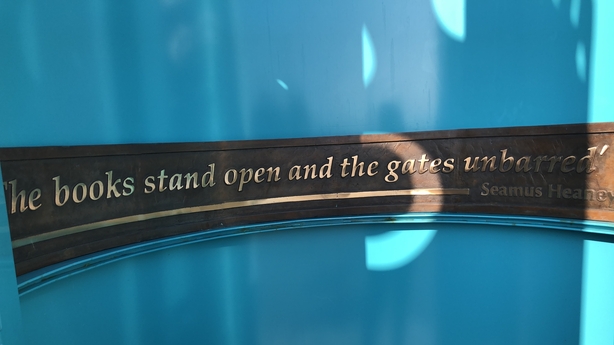 Retired Principal, Brendan Flynn was one of the founder members the Clifden Arts Festival 43 years ago.
He said: "It has gone from strength to strength and has flourished with tremendous creativity and imagination. Now as we find ourselves in such challenging times the arts are more vital than ever"
The Connemara Connection is the theme of the Clifden Arts Festival and shop fronts and galleries are displaying paintings and pieces of artwork by local and visiting artists.
There is also a piece by Galway sculptor, John Coll, to pay tribute to the late writer and cartographer, Tim Robinson who is celebrated for his work on the Aran Islands.
The Yorkshire born artist who moved to the west of Ireland over forty years ago is best known for his Connemara trilogy and Stones of Aran.
All That Remains is the work of 94-year-old Margaret Irwin West, known locally as Mo. The painter, printmaker and Aosdana member is hosting outdoor workshops at her home in the nearby village of Claddaghduff.
She is teaching children from the local national school how to etch on aluminum plates.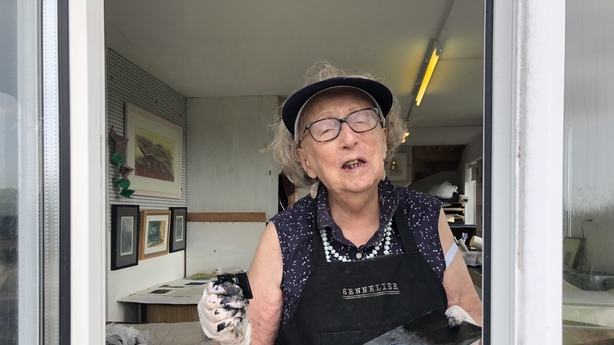 The classes are socially distant to comply with Covid-19 guidelines but the energy and connection between young and old is a win-win for students and teacher.
Mo is now taking the children's' etchings away to ink and print their artwork as special keepsakes.
Mo West moved to Ireland from India when she was 9-years-old. The only child was instilled with a love of fine art from her Irish emigrant parents.
After graduating from Trinity College she moved to Paris working in a Cubist studio run by Andre L'Hote. She said it was there she learned all about art and balance and musicality.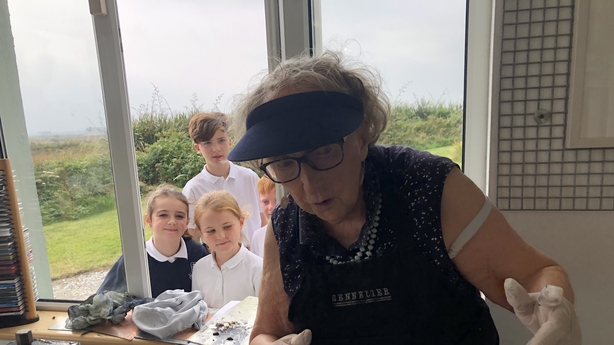 After retiring from the National College of Art and Design she put down roots in Connemara, inspired by the Atlantic seascape.
The artist said she does not want people to be entirely comfortable with what they see. "I want them to look further and see"
The Mayo traditional harper, Laoise Kelly, is performing a number of pieces throughout the festival in the local Church of Ireland. She is widely regarded as the "most significant harper of her generation".