On the grounds of Trinity College Dublin is a physical version of something most of us only ever see on digital screens: a redaction. A long black rectangle has been placed over the words 'The Berkeley Library.'
It was installed on foot of a decision by TCD to 'dename' the library – the largest in the university – which was named in 1978 after George Berkeley.
Berkeley is a world-renowned philosopher and was a librarian at TCD in the 1700s. He published some of his most important philosophical works while working at the university.
In late April, "following several months of research, analysis and public consultation overseen by the Trinity Legacies Review Working Group" the university board concluded "the continued use of the Berkeley name on its library is inconsistent with the University's core values of human dignity, freedom, inclusivity, and equality."
A TCD statement said Berkeley had bought four slaves to work on his estate in the United States in the early 1730s, and that he had "sought to advance ideology in support of slavery."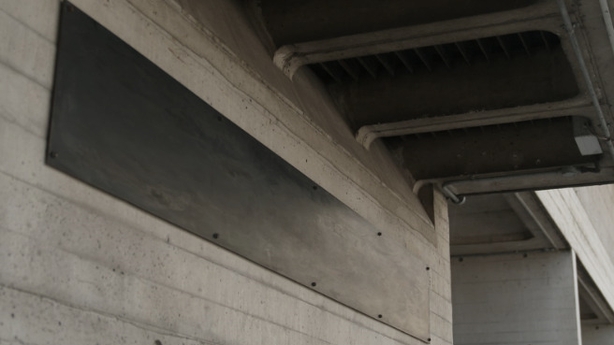 Trinity is just one of dozens of universities globally which have recently revised their approach to commemorating historic figures with links to the slave trade.
It follows the emergence a decade ago of the Black Lives Matter movement in the US, which became a worldwide phenomenon in 2020 following the killing of George Floyd by a police officer in Minnesota. The movement has driven a wider societal debate about racial equality and justice across much of the Anglophone world and raised questions about which figures from history deserve to be celebrated.
Scores of statues have been removed across the US. In the UK, buildings, streets and institutions linked to people accused of colonialism, racism, or the slave trade, have been renamed. Famously, in Bristol, a statue honouring trans-Atlantic slave trader Edward Colston was toppled and dumped into Bristol harbour following protests in 2020.
All that has triggered a similar more recent debate among some Irish historians about certain figures in Irish history.
On John Mitchel Place in the centre of Newry sits a bust of the man the street is named after. Mitchel was a protestant Irish nationalist writer and influential political activist during the mid-1800s.
"He's probably most famous for writing about the great famine and setting the nationalist perception of the great famine," says historian and biographer of Mitchel, Anthony Russell.
"He was very, very severe in his condemnation of the British government policy, so much so that the British tried him and sent him to Van Diemen's land."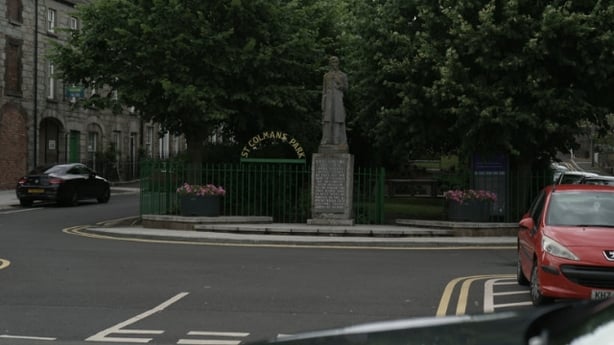 Mitchel escaped Van Diemen's Land, now called Tasmania, in 1853. He went to the US, landing in a country on the path to civil war.
There, over the following years, he became an outspoken supporter and public champion of the pro-slavery confederate South.
"He was not just supporting slavery, not just supporting the racist south, but also calling for the reintroduction of the transatlantic slave trade, which was a genocidal thing," says Aidan McQuade, a former director of Anti-Slavery International who was raised in Armagh and now lives in London.
Mitchel died in Ireland in 1875, having returned to contest a by-election in Tipperary.
He maintained his views on race and slavery until his death but has since been celebrated across Ireland for his nationalist activism.
In 1916, Padraig Pearse wrote "Mitchel was of the stuff of which the great prophets and ecstatics have been made."
A slew of GAA clubs were named after him. They are located across Ireland - including in his hometown, Newry – in the UK and in Australia.
Some, including Mr McQuade, believe that given Mitchel's racism and support for slavery, the names of the clubs should be reconsidered.
"I would think that it would be very difficult for young black players to happily participate in clubs which are named after somebody who thought that their only role should be in slavery - literally thought that their only role should be in slavery. It is not a very welcoming proposition."
Prime Time asked the GAA what its views were on these clubs potentially renaming in light of Mitchel's controversial views on slavery.
A statement from GAA headquarters in Croke Park said "the name or possible change of name for a club is entirely at the discretion of the members of a given club. If a desire exists within a unit to change or discuss a possible change, it is within their gift to start that process."
The bust of Mitchel was erected in Newry in 1966.
At that time, his biographer, Anthony Russell, was growing up in the town.
"Mitchel was revered in Newry," he said.
"When they put that statue up, every nationalist in the town would have supported that statue. Every nationalist in the town would probably have queued up outside the Savoy cinema to see 'Gone With The Wind.'"
"Would I put that statue up today? No. Should that statue stay there? Yes, I think it should, because it is part of the history of the town."
He supports the idea of placing a plaque beside the bust to detail Mitchel's views and explain the historical context. Others believe the bust should be removed or relocated to a museum.
Prime Time contacted Newry, Mourne & Down District Council on Tuesday 4 July to ask whether a decision had been made on the future of the statue.
The council stated "there is no evidence to suggest that it owns the land upon which the John Mitchel statue sits or the statue itself. The Council is not aware of who or what authority owns the land on which the statue is located."
Yet within three days, an interpretive panel was installed beside the statue by the council acknowledging John Mitchel's links with the slave trade.
The council stated afterwards "the interpretative panel is not placed next to the statue but is located within the grounds of council's St Colman's Park."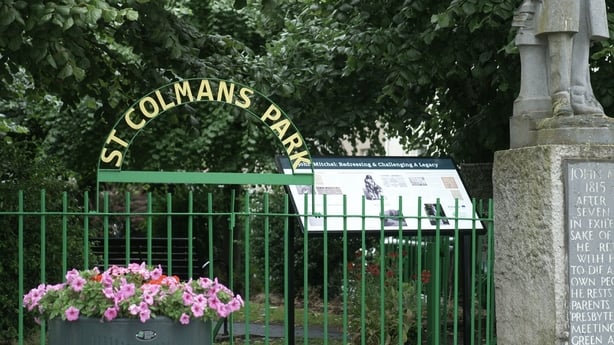 The overarching debate, centred on the complexity and contextualisation of history in relation to historical figures, is playing out in Ireland too.
Martin Hogan was a senior anti-treaty IRA officer who was killed in 1923 - allegedly by members of the Oriel House Gang, a counter-insurgency police unit of the Free State which operated during the Civil War.
The National Graves Association (NGA) has erected memorials to him in his hometown, Nenagh, and on Grace Park Road in Dublin where his bullet-ridden body was found.
The NGA is a not-for-profit organisation funded by donations and membership fees, which was set up to "maintain and commemorate those who died in the cause of Irish Freedom."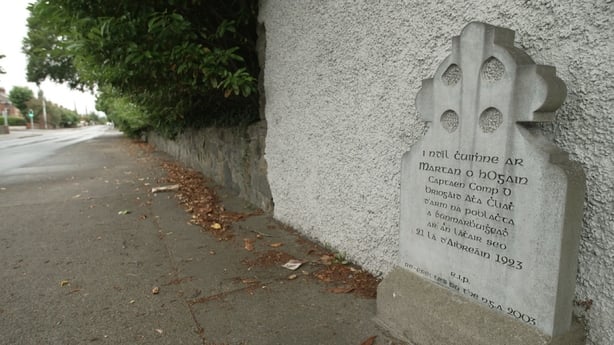 Hogan was a captain with the 1st Tipperary Brigade of the IRA, but ten months prior to his death he had left Tipperary for Dublin. He left in the period after a vicious sexual attack on a local protestant woman, Eileen Biggs, in Dromineer.
"At about nine o'clock, a group of IRA men in uniform, knocked on [her] door. Eileen Biggs was effectively separated from her husband, who was locked in another room," says Professor Linda Connolly of Maynooth University, who has researched the evidence relating to the attack.
"The terminology that we would use today is gang rape, or perhaps more appropriately, multiple perpetrator rape. She was raped repeatedly up to eight or nine times."
Four people were charged with the attack – including two of Hogan's brothers, also IRA volunteers. The prosecuting solicitor, James O'Brien later told a court that they and "others who are not in custody" carried out the attack.
Prime Time has seen a note written by Mr O'Brien in 1922, in which he asks the senior police officer in Nenagh whether he is taking steps to find Martin Hogan. By that time the four others were arrested and Martin Hogan was in Dublin. A few months later he was dead.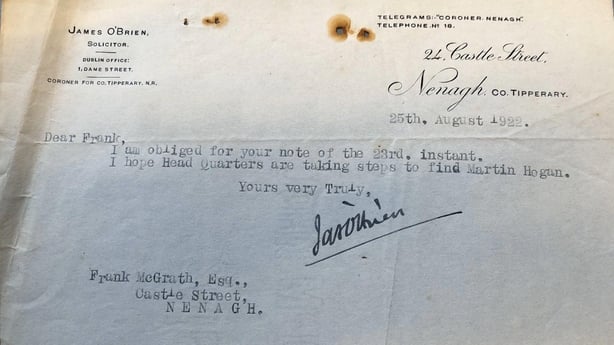 While researchers like Professor Connolly believe Hogan fled to Dublin to avoid justice, the National Graves Association says he was never charged with the attack on Eileen Biggs.
It says "the allegation of rape made against the five IRA volunteers are unsubstantiated and lack of evidence resulted in no trial taking place."
Professor Connolly says Eileen Biggs and her husband suffered mental breakdowns after what happened to them.
Mrs Biggs died in 1950 in a psychiatric hospital.
Professor Connolly believes in order to properly contextualise the history, a memorial should be erected to honour Eileen Biggs.
"You can be driving in different parts of the country and fly past a small local monument. They reveal a great deal about the kind of society Ireland was and is today," says Prof Connolly.
"I think it's very important to confront those local memories as well as those national memories at the same time, if we're to arrive at a complete appraisal of how we remember, why we remember and who we should remember."
Trinity College Dublin is currently in the process of determining the new name for what was the Berkeley Library. It has stated it will continue to teach George Berkeley's philosophical works and has emphasised that the denaming does not deny Berkeley's importance as a writer, philosopher, and intellectual figure.
The balance between commemorating, erasing and teaching is something historians and others across the country - and beyond - are trying to strike.
"Historians are very much in the business and should be in the business of emphasising the importance of context," says Professor Diarmaid Ferriter.
"We have to try and view these individuals through the lens of their time," he says.
"There's also the question of whether or not you are in the business of censoring or erasing an important part of your past because it clashes with your current priorities or your contemporary values."
---
Watch "Moving Statues" - Reporter Conor McMorrow and producer Philip Gallagher's report on Prime Time tonight 9.35pm on RTÉ One and the RTÉ Player.