As politicians were labouring through the negotiations of the Good Friday Agreement, Anne Patterson was experiencing a different kind of labour. She and husband Clive were preparing to welcome their first child at Belfast's Royal Maternity Hospital.
"Anne's mom kept us posted on the negotiations and there was obviously TV coverage," Clive told Prime Time, remembering back to 10 April 1998.
"We didn't see any politicians until they came out and said the deal was done."
At 9.25pm, less than half an hour after the agreement was signed, the couple's baby girl was born and given a fitting name – Kerrie Hope Patterson.
The press contacted the hospital and when they heard there was a baby named Hope "everybody turned up," Anne explained.
Kerrie was the first baby born after the signing of the agreement and became a media sensation at home and overseas.
Well-wishers got in touch from around the world, including sending birthday cards on her first birthday.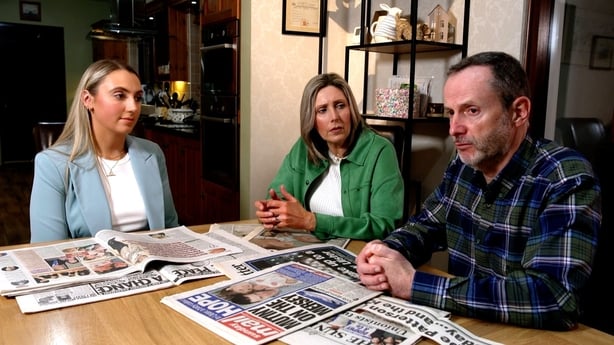 Now about to celebrate her 25th birthday, she and her parents spoke to Prime Time ahead of the anniversary of the Good Friday Agreement.
"For me it was all about the new baby, but I can see the significance now because she is the embodiment of 25 years," Anne told the programme.
A trainee accountant, Kerrie is ready to take on the legacy of her name.
"It's always been my story, but I've got my own voice now and it's a conscious decision to embrace the name."
According to the nursery rhyme, Friday's child is "loving and giving," but Kerrie Patterson is also unfailingly optimistic. She explained that when she travels or meets new people her middle name presents an opportunity to talk about the agreement and its impact.
Growing up in majority-Protestant Lisburn, Kerrie said she and her contemporaries benefitted from increased integration and that religion or ethnicity are not viewed in the same way as they are among the previous generation.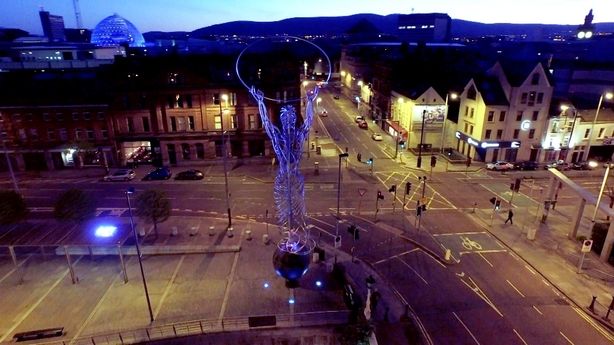 "They just don't care about what school you went to, "she said. "It doesn't mean what it used to and that's definitely for the better."
Kerrie studied at Trinity College in Dublin and still lives in the city, working for an accountancy firm. But she's open to eventually moving closer to home, pointing to economic growth and the tech hubs in Belfast and the North West.
"Those kinds of jobs are really attractive.
"I would love to travel and see the world more but I would be absolutely happy to live in Northern Ireland for the rest of my life."
Kerrie and her parents, a doctor and a teacher, appreciate that the peace that flowed from the Good Friday Agreement is uneven and precarious.
"I saw in the news last night that there was trouble in Derry and the police were attacked so I know there are places where it isn't the same," Anne reflected.
Clive said recent tragic events were a reminder that atrocities were happening "daily" before the agreement.
"I think we need to be careful with the peace process so that it doesn't get passed from generation to generation with a lack of understanding."
While Kerrie's outlook is upbeat and optimistic, her parents' hope for the future – beginning with the name they gave their baby – is as instructive.
"I think we focus a lot on what we aren't gaining yet and what we are fighting over still. But actually we have gained a lot," Anne said.
She explained that while "far from perfect" it is not the Northern Ireland she grew up in.
"It's just better. There is no comparison," added Clive.
While the central prize of the Good Friday Agreement was peace the family believes that the political system hasn't kept up with modern Northern Ireland. Politicians seem unwilling to work together, Kerrie said, adding that getting more young people into politics could help.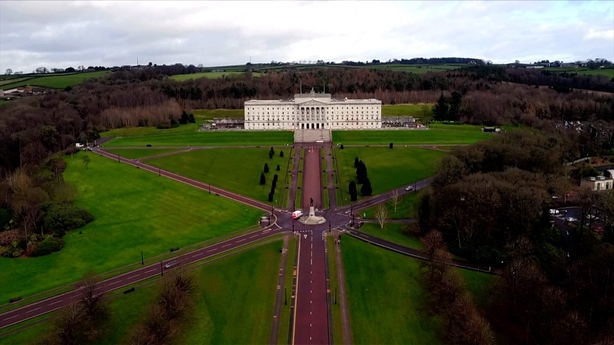 Anne explained: "It isn't a big surprise that a lot of people here don't vote, but I don't know that there's anybody who speaks for me."
There is greater talk of a united Ireland in recent years, Kerrie observed, adding that she wouldn't be surprised if it eventually happened.
"But I do think there's lots of discussions to be had before then.
"I'll be interested to see how people think about it from both the Northern and Southern sides."
While politicians will mark the 25th anniversary of the Good Friday Agreement with events and commemorations, Kerrie has a birthday to celebrate.
She's planning dinner out and possibly a sea swim if she can convince her family into the water.
"You never know when you give a child a story what they'll make of it," Anne reflected, but her daughter is embracing the mantle.
Kerrie explained that it was important to learn from her parents' generation and to "celebrate the peace that we've lived through."
"I love having the opportunity to remind people, in the midst of everything that's going on in the world and in Northern Ireland, that there is optimism and opportunities for the future."