For generations, Killarney's place on the map has been that of a tourist destination.
January is a quiet month in the Co Kerry town, which is surrounded by the spectacular McGillycuddy Reeks.
The dramatic landscapes are of course there all year round, but tourists usually start arriving after St Patrick's Day in March, when the weather gets a little better.
This year, however, some locals are wondering if there'll be enough hotel rooms to accommodate them.
Following Russia's invasion of Ukraine last February, the Kerry town warmly welcomed thousands of Ukrainian refugees who fled their homeland. Many of them are now living in the town's hotels and guest houses.
"They're more than welcome and we will be welcoming and we'll do whatever we can, but we have well over 3,000," Niall O'Callaghan, a hotelier and Independent Councillor, told Prime Time.
"We don't know what's going to happen to our tourism season. If you're going to take 40% of the beds out of the system, what's the plan for that?"
Last year's census, meanwhile, found that Killarney has a population of over 10,000. The influx of more than 3,000 Ukrainian refugees has therefore changed the dynamic of the town.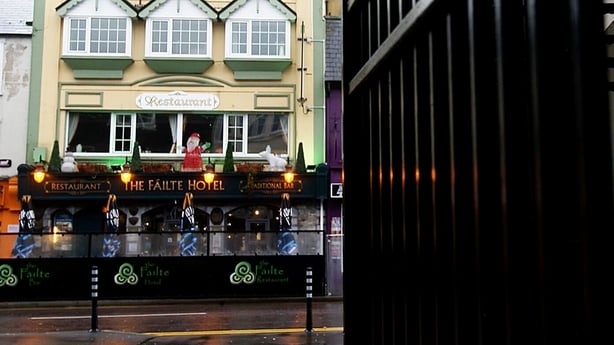 Hundreds of international protection applicants from other countries are also being accommodated in direct provision centres in the town.
Mr O'Callaghan's family has owned and operated the Fáilte Hotel in the town for generations. While his hotel has not been used to accommodate refugees, he is concerned about the wider impact on tourism.
As far back as Queen Victoria's visit in 1861, visitors have flocked to Killarney, with the tourism industry now worth €400 million annually to the town.
That is part of why so many refugees have been placed there: its proliferation of hotels made it an ideal place to accommodate refugees during the winter.
Mr O'Callaghan noted that many small businesses in Killarney, such as cafes, taxi firms and souvenir shops, depend on tourists to survive.
"You have 40% less people walking down the street to buy the souvenirs. Those businesses still must pay their bills," he said.
In her native Kyiv, 28-year-old Alina Maslak is a well-known professional dancer where she has performed on stage with some of the biggest stars in Ukrainian pop music.
She will never forget the sound of air raid sirens on the day Russian rockets started pummeling Kyiv last year.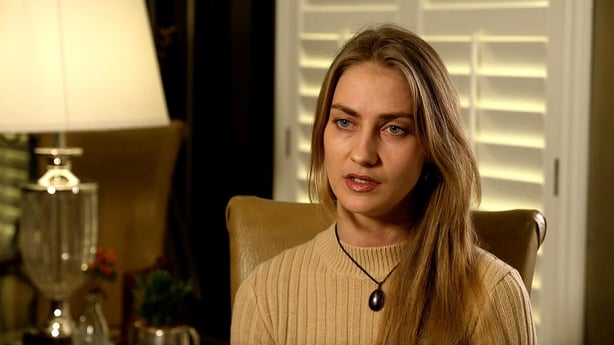 She recalls waking at 5am to the sound of those sirens and explosions.
"It was like the movies, because I had never heard that before," she told Prime Time.
As Russian attacks continued, Ms Maslak and her sister Jane decided to flee for their lives. They fled to Ireland, where they were later joined by their mother Hannah.
Since arriving in Ireland ten months ago, Ms Maslak has lived in four different hotels in Killarney.
She has given free dance classes to locals in Killarney.
Conscious of returning to Ukraine as a different person, she is also studying at Kerry College in Tralee to become a personal trainer.
Last October, local people protested against the decision to move over 130 Ukrainians – including Ms Maslak – from their Killarney hotel to alternative accommodation in Mayo, some 280 km away.
The locals campaigned for them to stay in Killarney, since many of the adults had found work and their children had settled in local schools. The decision was reversed – much to the delight of the refugees and locals alike.
People in Killarney are undoubtedly sympathetic to the plight of those fleeing war. The town has a proud history of accommodating those in dire need – more than two decades ago, it welcomed Kosovan refugees in the town following the outbreak of armed conflict.
But local journalist Anne Lucey told Prime Time that the atmosphere in the town has shifted.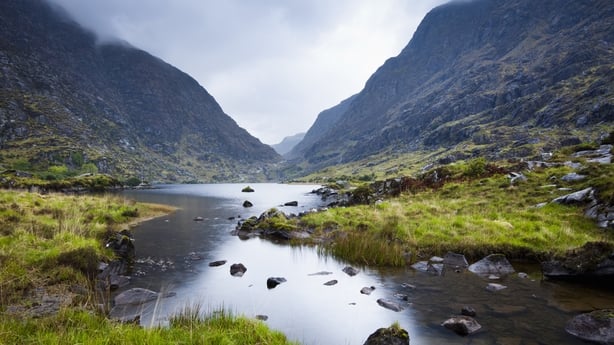 "At the start of the war in the Ukraine and when people began to arrive in numbers in March, you had an enormous response. It was very welcoming," Ms Lucey said.
"But then, as the volume, the sheer volume, and the numbers began to grow, I think the mood has changed somewhat."
For Ms Lucey, part of the problem is a lack of Government assistance.
"There's the odd pat on the back being given to the people in Killarney and how great they are," she said.
"But there's little else, and there's no practical supports being given – and people do feel overwhelmed."
Already under pressure, local GP services are feeling particularly overwhelmed by Killarney's sudden population increase.
Dr Gary Stack is one of the three GPs who run the Park Medical Practice. When there were about 1,000 Ukrainians in Killarney last May, the 20 or so GPs in the town took on around 50 Ukrainians each.
He told Prime Time that the increase to around 3,000 Ukrainians and 400 to 500 international protection applicants staying in hotels makes it "impossible" for them to manage.
The volume of refugees in Killarney poses practical issues for the day-to-day work of the local GPs.
The language barrier is one issue, and Dr Stack said consultations are often "twice as long or maybe three times as long as normal".
Dr Stack also said that Ukrainian patients also expect to be able to see a specialist far sooner than the Irish health system can accommodate.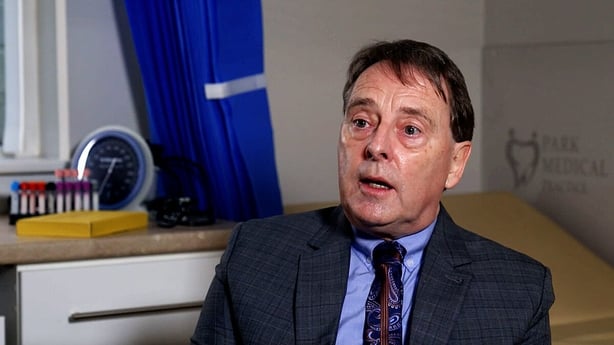 "They don't appear to have a GP system like we have here. They would generally have direct access to specialist within a week or two," he said.
Figures supplied by the Department of Equality to Prime Time show there are 5,880 Ukrainian refugees in Kerry.
According to Ms Lucey, locals in Killarney have been welcoming of Ukrainian refugees. But the response to asylum seekers from other countries has been less warm.
"Unfortunately, I think the division is falling along the lines of white Christian versus people of colour," she said.
"There is this big danger that it will settle along those lines. This division is being created inadvertently."
32-year-old Ali Djacem is an international protection applicant.
He has been living in a hotel in Killarney since September. He said there is a "critical situation" in his native Algeria where people are being "persecuted in their own country and there is no freedom to talk about, to express your ideas".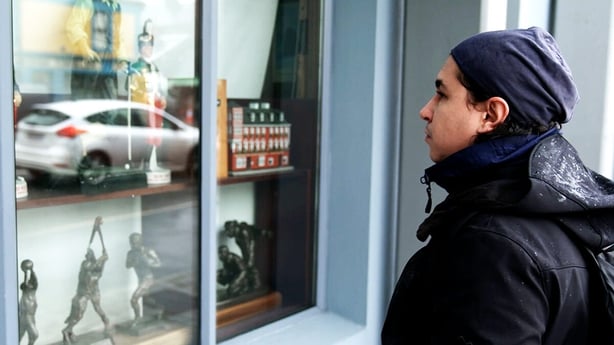 After completing a doctorate in economics after studying in Russia for five years, Mr Djacem wanted to return home and work in Algeria. But he has concluded that it is not safe to live there.
Eight men have been charged in connection with a violent incident on New Year's Day at a reception centre for asylum seekers in Killarney.
Mr Djacem told Prime Time that, after the incident, some international protection applicants have been approached while walking on Killarney's streets.
"Some Irish people came to them and started to insult them and to be aggressive with them," he said.
Mr Djacem insisted that most people in the community were welcoming.
"They are always trying to help me and to give me support," he said.
There have been some minor protests against the accommodation of asylum seekers in Killarney since Christmas.
Dr Stack and Mr O'Callaghan said that many of the protesters were not actually from the area.
"I have absolutely no time for that. And those people, for me, can jog on. I have absolutely no interest in 'us and them'. We're all in it together. Everybody's a human being here," Mr O'Callaghan said.
But Dr Stack said that, on a practical level, Killarney was overwhelmed with refugees.
Mr O'Callaghan concurred. Given there is no end in sight to the war in Ukraine, he said, there needed to be some realism.
"There's only so much that the system here in Killarney can take before it breaks."