At most, Richard Hinds has 23 days left in prison in Tokyo, Japan.
In 2013, the American musician was sentenced to 5–10 years in prison with labour for the murder of Nicola Furlong, a 21-year-old Wexford student.
"He's counting days till his freedom," Nicola's mother, Angela, told Prime Time.
"He gets on with his life, and we still have to carry this burden every single day."
Hinds strangled the Irish woman in 2012 after transporting her to his hotel room in Tokyo while she was unconscious.
The age of adulthood in Japan is 20. Because Hinds was 19 when he murdered Nicola Furlong, he received a lighter prison sentence than he otherwise would have.
His term expires on 19 November, by which time he must be released.
"I'll never forgive him for what he did, ever. And I know people say forgiveness will help. I don't believe so. I can't see how that would help," Angela said.
"How would it help?"
Angela travelled to Japan with Nicola's father, Andrew, and sister, Andrea, to attend Hinds' trial in Tokyo in 2013. But there was also another reason for the trip.
"I just wanted to make sure there were no traces of Nicola left in Tokyo," Angela said.
"The clothes she wore the night she was murdered – I have those at home."
The only thing that is missing, Angela said, is one of Nicola's shoes.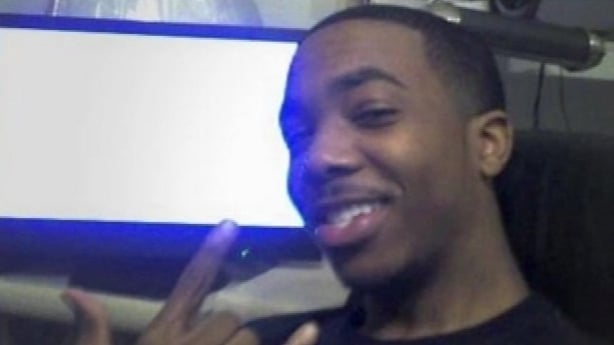 "Everything else, all trace of Nicola, is gone from Tokyo, back home with us, where she should be," she told Prime Time.
Nicola had been studying at a university in Takasaki City over 100km north of Tokyo, on a one-year DCU study abroad programme.
She had travelled to Tokyo with her friend to attend a Nicki Minaj concert when she was killed.
After the concert, she met Richard Hinds by chance when she and her friend stopped Hinds and his friend, James Blackston, to ask for directions. "What if?" is a question that often crosses Angela's mind.
"Always 'what if?' What if she didn't go to the concert? What if she didn't meet those boys? And then there's the why. Why Nicola? Why that night? Why? We will never get answers to those," she said.
Nicola had texted her mother the day before the concert to say that she was "all ready for the concert mam, am so excited 10 weeks & I will be back in Ireland".
But she never came home. Nicola and her friend ended up in a bar in Tokyo's Shibuya district with Hinds, then 19, and Blackston, then 23.
Nicola's friend later told a Tokyo court that she lost consciousness in the bar soon after drinking a shot of Tequila that James Blackston gave to her.
The men then took the women in a taxi to the men's hotel.
Hinds sat in the front passenger seat, Blackston in the back with the two women.
The taxi's CCTV recorded the men speaking excitedly about what they planned to do sexually to the women, who appeared to be unconscious. The CCTV also recorded Blackston sexually assaulting Nicola's friend.
The men took the women out of the taxi and put them into wheelchairs. Blackston took Nicola's friend to his room and Hinds took Nicola to his room.
"We saw the video footage. They showed it to us at the trial," Angela said.
"It was awful. She couldn't stand. To put two girls into wheelchairs – that's some sort of sick mind that would do that. Horrendous."
Hours later, at 4:11am, police were called by hotel staff after noise was heard from Richard Hinds hotel room. Nicola was found unconscious. The trial of Hinds would later hear medical evidence that he had strangled her for several minutes and that she died painfully.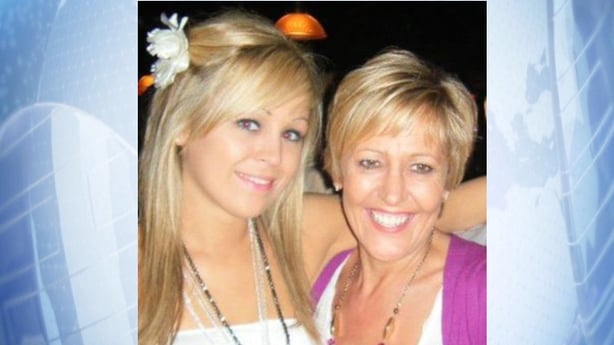 Angela Furlong was at work in Wexford on a Thursday when she heard the news that the eldest of her three daughters was dead.
"I just fell to the ground. There was a noise came out of me – it wasn't human. It was just a shock. It was horrendous. I'll never forget that morning," she said.
"At that time, we didn't know the circumstances surrounding it. When you hear of an accident, you automatically think of a road traffic accident."
It was not until the Saturday morning that Angela received a phone call about exactly what had happened to her daughter.
The pain of that phone call is etched on her face.
"Not my baby. Not that way. No, not that way," she said.
During the trial, Hinds, who was music director at his local church in Memphis, Tennessee, denied his crime, despite overwhelming evidence.
"In my short little life" he said, "I have never hurt anyone, physically or verbally."
Addressing Nicola's parents, he said: "It takes faith for me to believe that nothing good, bad or ugly will go through me without going through God first."
"I don't know who his God is," Angela said, "but no God would allow anyone to do that to a little girl."
"The fact that he showed no remorse – he's just a horrible, nasty person to do that."
Hinds' friend, James Blackston, a professional dancer who, like Hinds, was working in Japan with a touring musician, was jailed for sexually assaulting Nicola's friend and for a separate sexual assault just weeks earlier – on another woman who also said she lost consciousness after taking a swig of a drink offered by Blackston.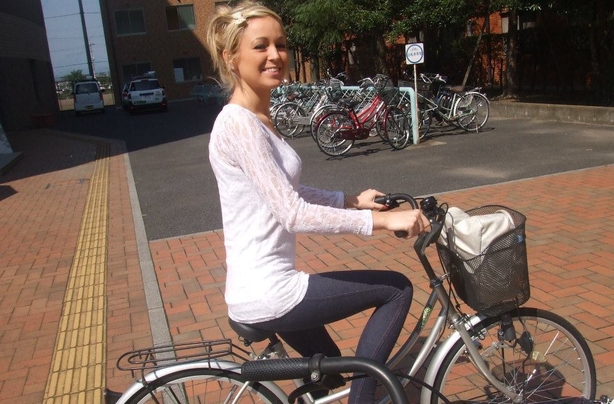 The flexible 5–10 year sentence is partly designed to allow a prisoner to be released ahead of time if they show remorse.
But, a decade on from the murder, Hinds has still shown no remorse. In 23 days, he will have served his full prison term, which was reduced by 120 days for time served in pre-trial detention, and must be released.
"Even now, it's 10 years. I still miss her. It hurts so much to miss her," Angela said.
"I miss her coming through the door, just to hear her key in the door. I'd give anything for her to come through that door now."
As the years pass, when Nicola's mother needs to be reminded of her eldest daughter's voice, she puts on a recording of her at her 21st birthday party.
"I don't want to forget her. I don't forget want to forget anything about her. And when I can't remember the sound of her voice, I need to hear it," she said.
"I can hear little squealy voice for a few seconds. I can see her – it's just sometimes I can't hear her. I forget what her voice sounds like."
Ahead of Hinds' release, and his likely immediate deportation from Japan, Angela said she hopes she never hears his name again.
"I will carry this pain with me till my dying day. I'm not afraid of death, because I know she's there waiting for me," she said.
"I've watched my brother pass away. I watched my mum pass away. I watched my dad pass away. I never got the opportunity to see Nicola go. [When] my dad died, I said to him: just tell her that I miss her."