Crystal balls, squeezed middles and cold shoulders – there was a full house of political catchphrases as Minister for Finance Paschal Donohoe and Sinn Féin finance spokesperson Pearse Doherty clashed on RTÉ's Prime Time.
For six years, the pair have debated budgets but this year was arguably the most tense exchange.
In less than two minutes, the deputies began talking over each other, disagreeing over the Government's income tax measures.
Workers earning more than €35,000 will see tax benefits four times as great as those earning between €25,000 and €35,000. The squeezed middle, Mr Doherty said, were losing out.
"You gave the cold shoulder to 1.8 million workers," the Sinn Féin spokesperson argued.
But Minister Donohoe insisted the measures must be seen in the round.
"Many workers don't qualify for [welfare] supports and need money in their pockets," he said.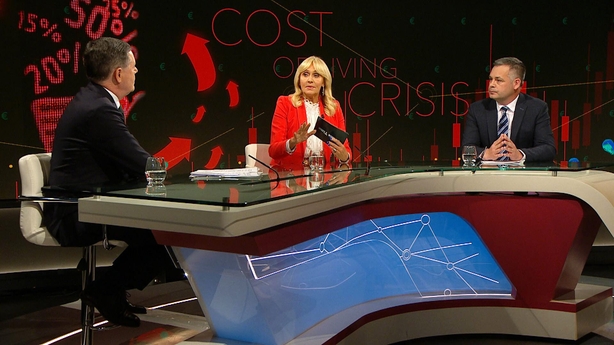 "That's why we have concentrated money on middle-income earners and changes in personal tax credits."
He explained that, for those whose income isn't high enough, changes have been made to the Working Family Payment, Child Benefit, fuel allowance and childcare costs, among other measures.
Mr Doherty suggested a cut in USC would have been a more equitable way to tackle rising inflation.
"Many years ago, it was a party policy of yours. Didn't your party leader walk around carrying banners saying that you were going to abolish the USC?" he asked.
Undeterred, Paschal Donohoe insisted the one-off measures announced in the Budget would have a significant impact.
His point was illustrated when the Head of Tax at KPMG, Tom Woods, confirmed that a working couple sitting in the audience, Eileen and Liam Hurley, would be better off by more than €6,000, including more than €4,000 in childcare savings.
"It should be the minister telling you this," Mr Woods quipped.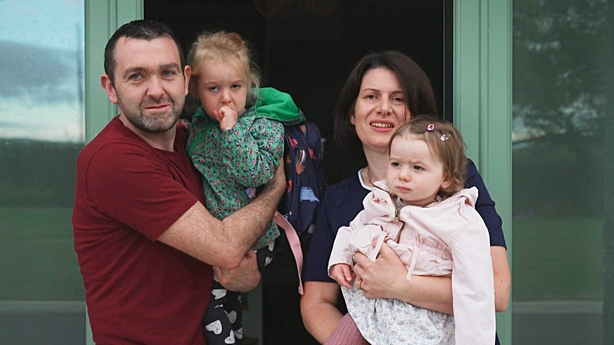 While welcoming the financial boost – "it's brilliant. It means the rat race is worth it for us" – Ms Hurley cautioned that wider reform of the childcare sector remained a challenge.
"I don't know how the workers in the creche pay their own childcare fees. They are exhausted and creches are finding it tough to stay open."
As he challenged Mr Donohoe on energy costs, Pearse Doherty put himself in the minister's shoes.
"If I was minister, I would be saying I will provide certainty on energy costs."
The Government's €600 of energy credits was the "cheaper way to go", Mr Doherty conceded, but could leave bill-payers in a difficult place if prices continue to rise. Sinn Féin has proposed a cap on the price paid by customers for electricity for six months.
"There's no certainty unless you can afford it", retorted Mr Donohoe.
"Do you have a direct line to the Kremlin? A crystal ball?"
It was a sharp exchange but it didn't deter the Donegal deputy.
"You were the minister who argued against a windfall tax until Europe called you in and said they're introducing it."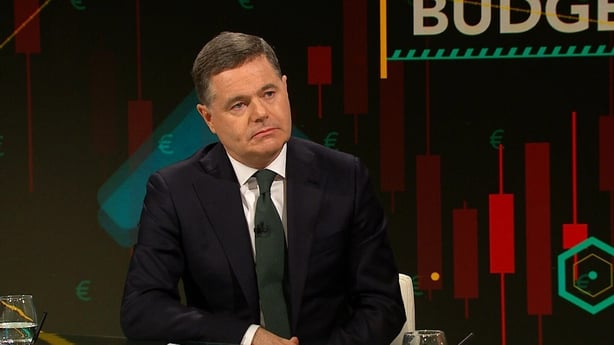 For shop owner Luke Mee, the new business energy credit won't go far enough.
Mr Mee, who was sitting in the audience, said his bills had jumped from €2,700 to €5,700. A 40% reduction would still leave 60% to pay, he explained.
"No small business can take it."
Last year, in a Covid-constrained and almost empty Prime Time studio, Sarah McInerney opened the debate between Mr Donohoe and Mr Doherty by observing that a "common theme" in the responses to the budget speech then had been the cost of living.
What was a common theme in 2022 was the beginning, middle and end of Budget 2023.
Despite the assertion that the €4 billion allocated in new measures were not targeted sufficiently at those in need, Paschal Donohoe insisted that "those who have the least get the most".
In the absence of the elusive crystal ball, inflation and energy costs remain the great uncertainty for the months ahead.