For Helen Kotrusa, the most uncomfortable thing about living in the Gormanston army camp in Co Meath is the wristband she has been told to wear.
Ms Kotrusa and her mother, Maria, have been staying at the camp, where tented accommodation is being provided to Ukrainian refugees, since last weekend.
"You have to wear a wristband with the number of your tent and the number of your bed," she told Prime Time, describing the practice as "humiliating".
The mother and daughter are among 650 or so Ukrainian refugees who have had to leave student accommodation in the last fortnight.
Until last week, they were living in student accommodation at Dublin City University, where they spent several months.
With third level colleges set to return for the autumn, the Department of Children, Equality, Disability, Integration and Youth said that a further 1,250 refugees are set to leave student accommodation by mid-September.
Ms Kotrusa and her mother were placed on a bus and brought to the Co Meath camp, where they share an eight-bed tent with other Ukrainian women.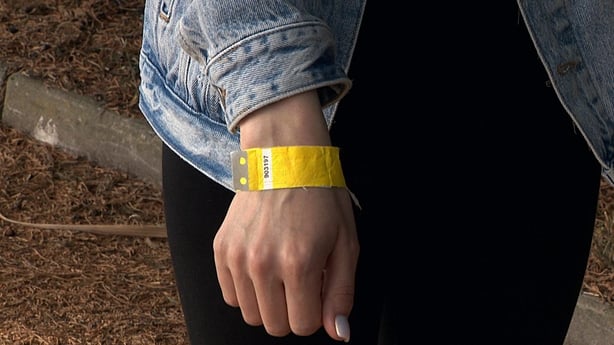 "We were a little shocked when we saw the tents," Ms Kotrusa told Prime Time.
The tents are basic. All they have is a bed. There are no chairs, and there is no place to hang their clothes.
They must also walk 300 metres to the nearest toilet and shower.
Ms Kotrusa told Prime Time that she is extremely grateful for the welcome that Ukrainian refugees have received since they arrived in Ireland. But she is also concerned about conditions in the tents.
"If it's raining, it's really wet and damp. So, you can feel it even in your clothes, your hair – everything gets too wet. And, during the night, it's quite cold," she said.
While she said that there is a small heater in her tent, she said that there is a draught on windy nights.
With winter approaching, the emergency facilities at Gormanston are far from ideal. Ms Kotrusa has been told that she will be there for a maximum of three weeks.
A spokesperson for the Department of Children, Equality, Disability, Integration and Youth told Prime Time that "tented facilities are being used to provide short-term emergency accommodation while additional accommodation capacity is being sourced".
They added: "The Government is working within the limits of accommodation availability to move people out of tented accommodation as soon as possible. The length of stay will range from a few days to a maximum of a three weeks."
Polina Grishenko, one of the Ukrainians currently still housed in student accommodation at University College Cork, told Prime Time that she has been moved four times since arriving in Ireland in April.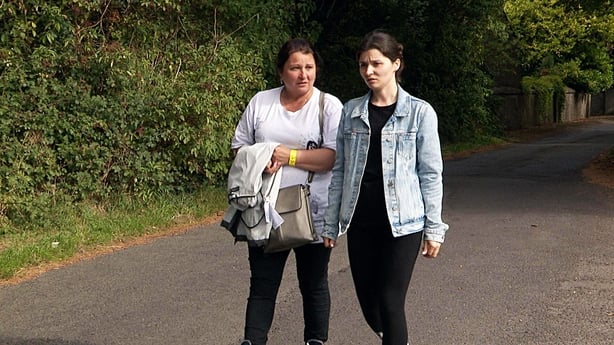 More than 7,100 Ukrainian refugees are now in full-time employment and Ms Grishenko said more of them would be in jobs if they had more certainty around where they will be living.
She also said that more permanent accommodation arrangements are necessary for Ukrainian parents trying to enrol their children in schools in Ireland this month.
Amid the broader housing crisis, the Government is under pressure trying to accommodate the almost 50,000 Ukrainian refugees who have arrived in Ireland since the start of the war.
Looking at the months ahead, Emma Lane-Spollen, the national coordinator of the Ukraine Civil Society Forum, told Prime Time that there is likely to be 65,000 Ukrainian refugees in Ireland by Christmas.
About 50,000 refugees are likely to need support in securing accommodation from the State.
"At about €50 a night, roughly for everything, that would be a €2.5 million cost per day," she said.
The Ukraine Civil Society Forum has written a letter to Taoiseach Mícheál Martin requesting the Government "move from continual crisis management to a stable and long-term approach" when dealing with the refugee crisis.
"Ireland has actually done a really good job. We've taken 50,000 people in in six months and that is a success," Ms Lane-Spollen said.
"But we need to see a medium-term plan. The war in Ukraine is not ending. People may need to stay here for two to three years before they go home.
"And we need to have a shift, in my opinion, from 90% reliance on the hospitality sector to more stable, family friendly accommodation."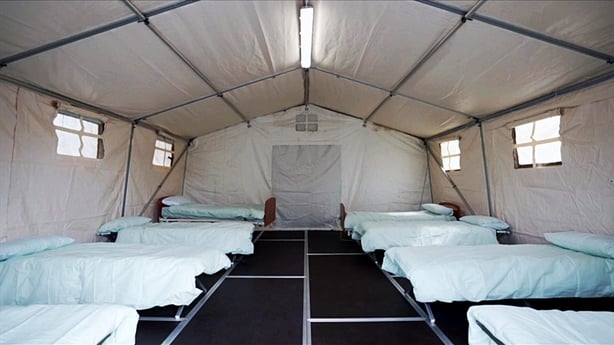 "And I am not talking about forever homes. This is temporary homes that could be on loan, that could be returned to the community," she added.
Some people in Kildare have raised concern about plans for two sets of modular homes for Ukrainians in Newbridge and Rathangan.
Ms Lane-Spollen said the Government needs to "think carefully" about the locations it chooses to ensure that the communities have the resources to support the additional homes.
"If there is a lack of GP services, for example, that we address that," she said.
"Secondly, they need to communicate and engage with the community and local representatives to answer questions and there may be legitimate concerns."
Ms Lane-Spollen also warned about the far right and far left, who she said are looking "to stoke people's agitation and conflate issues".
"That's saddening. And I think it's really detrimental for the entirety of our society because we can do this – and it's not actually insurmountable what has to be done," she said.