Paul Brophy spent years building his horticulture business to become the largest broccoli producer in Ireland.
He said that the dry spell in Ireland, on top of low rainfall for many months, is threatening his crop.
"You just look at the plant and the coloration on the plant. It's got signs of stress from heat that's reflected then in the head size that the plant is going to produce.
"It's probably impacted the yield of this crop by about 50% because of lack of rainfall."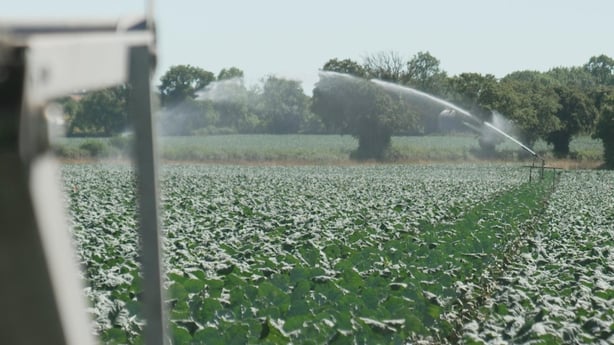 The problem is that most irrigation systems supporting horticulture rely on local rivers, many of which cannot be used this year, due to low water levels.
In 2018, the last summer of a prolonged dry spell, Paul's company, Brophy Produce in Naas Co Kildare was able to rely on the local river, the Moneen, to irrigate the broccoli fields, but not so this one. It's currently too low and too slow moving to provide water for irrigation.
"I'm 39 years growing vegetables on this farm, and I cannot believe in the last five years how quickly this has changed. It's like a freight train coming down. It's code red," he said.
Elsewhere across Europe, many rivers have been affected by drought, which in turn is affecting food production.
With the hottest July on record in several European countries, the European Commission confirmed yesterday that most of the continent is currently under a drought warning or in the most severe "alert" status, which means that vegetation is stressed.
This impacts negatively on agricultural produce. For example, in parts of Tuscany, olive growers report a 50-60% drop in production last month compared to the average yield.
Damian O'Reilly, Senior lecturer in Retail at the Technological University of Dublin, said that a shortage of supply now means that already high prices for certain foods will rise further.
"So, in terms of olive oil, we can see the prices gone up 14% on the last year. That's partially due to the Ukraine war. But what's happening now is we're going to see these prices exacerbated and increased because of the drought in Italy," he said.
He said French wine has also particularly badly affected this year and last. "It's the lowest number of litres produced since 1957," he said.
Some of the worst impacts are happening in the southern hemisphere where much of the world's coffee and cocoa is grown. For example, Rabobank reported Brazil Robusta coffee bean exports this month are down 60% from this time last year.
This impact is consistent with a 2021 study carried out by climate scientists at the Institute for Environmental Studies in Amsterdam, which reported that "more than 44% of the EU agricultural imports will become highly vulnerable to drought in future because of climate change".
"The drought severity in production locations of the agricultural imports in 2050 will increase by 35% compared to current levels of drought severity."
Speaking to RTÉ'S Prime Time, Dr Peter Alexander, one of the lead authors of the UN's Intergovernmental Panel on Climate Change (IPCC) report on Impacts, Adaptation and Vulnerability, said climate change is putting an end to the era of cheaper food.
He said: "Food is already becoming more expensive, and I don't think it's going to return to sort of the levels that we've previously seen.
"Food is going to be less of a disposable kind of cheap commodity, which in some ways there are some benefits to that, but there are also some downsides. It has an impact on the poorest in society globally, not just within Europe."
Dr Alexander said that a refocus on how we produce food and food waste might be one of the few benefits from the way in which climate change challenges supplies.
"Arguably, we weren't paying the full cost of our food production, that is the full "environmental cost", because a lot of fertilisers are produced from inorganic nitrogen, for example, produced through fossil fuels and natural gas. The environmental outcomes are not really embedded in the cost of food. And similarly, biodiversity loss and so forth are not accounted for in the price of the foods that we're consuming," he said.
As stated in the latest IPCC report, Dr Alexander said adaptation to climate change is necessary across many systems including agriculture.
"If we all eat the way we're eating at the moment, then that's going to be very challenging to accommodate. But actually, our current food system isn't terribly efficient. All is not lost, but it does mean that we need to make some tough choices," he said.
Damian O'Reilly said that this means that Ireland may have to adapt or expand its horticulture and agri-food industry to what grows well – this year being a bumper year for certain food producers, namely fruit and grain growers.
"Of the winners this year, we have those producing strawberries and any types of berries: they are plentiful this season also. We also have grain growers. Farmers are always wondering when are they going to take in the hay? They've had plenty of opportunities this summer. It's been a very good harvest," he said.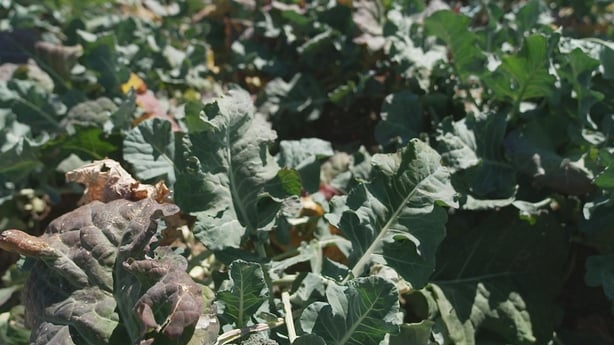 Broccoli grower Paul Brophy said that, for our own food security, Government policies and regulation of supermarket pricing need to change to allow people like him to stay in business.
He said: "We'll have to invest in winter storage of water to have it available during the prolonged dry periods. If we don't do that, we won't be able to continue to grow the crop.
"Do I want to turn around and invest a million euros in water storage when it's not going to be reflected in the price that's returned to me? Absolutely not."
He hopes that this year's poor rainfall and current dry spell will be a "wake up call" that more needs to be done and fast, given the speed with which our climate appears to be changing.
"You talk to any farmer, anybody that works with nature, and they'll tell you that the change normally in nature is very slow. The pace of this is frightening, actually," he said.