The workshop in Damien Maguire's home in north Cork is part mechanic's garage, part mad scientist laboratory.
Electrical instruments flicker in one corner. Beside the work bench is a drivetrain salvaged from a crashed electric car. As with new electric vehicles, new parts are expensive, and Mr Maguire is constantly on the look-out for second-hand and salvaged parts.
The yard outside the converted barn holds a small fleet of old BMWs, all of which Mr Maguire has converted to fully electric vehicles.
The process, he told Prime Time, is quite straightforward.
The radiator, exhaust, fuel take and fuel lines come out. "We replace them with components that make it an electric vehicle – a motor, a means of controlling the motor, a battery and a way to charge the battery," he said.
It's easy when you know how.
Converting cars to electric vehicles has been a hobby since 2009. Though it is at times an expensive one, Mr Maguire recently completed a full retrofit for under €1,000.
These cars are for his personal use, but he uses them to test the components developed in his workshop, which he then sells across the world to people carrying out their own conversions.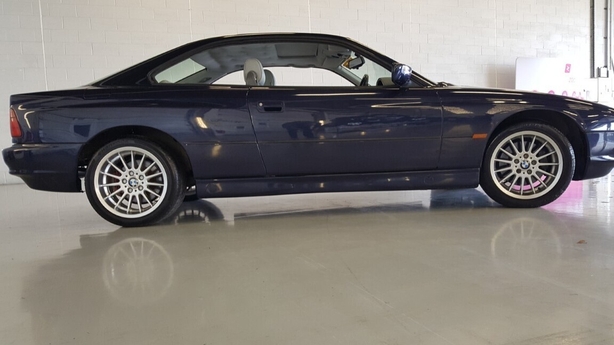 The performance of the vehicles varies, depending on the parts used. But his 1996 BMW E31 "will pin you to the seat when you put the foot down", thanks to its Tesla drive unit, he said.
Though it wasn't always easy, Mr Maguire has managed to get his vehicles insured, taxed as battery electric vehicles and NCT certified.
At the moment, it's a niche endeavour. But Mr Maguire would like to see retrofitting of this kind happening on a much wider, commercial basis, with more businesses getting involved.
An electric retrofit could give a second life to many vehicles otherwise headed for the scrap heap.
Yet there currently are not many options for people who lack the expertise and skill that has allowed Mr Maguire to carry out his own conversions.
Studio AVA, in the heart of the Powerscourt Estate in Co Wicklow, carries out bespoke conversions, but not for the banger sitting in your driveway – and only for those with very deep pockets.
"A lot of what we focus on is ultra-high-net-worth individuals, business people from around the world – also actors and actresses," Norman Crowley, the CEO of Studio AVA, told Prime Time.
"We've done cars for Dev Patel from Slumdog Millionaire. We did Ellie Goulding's wedding car. And there are other actors and actresses we can't talk about."
A gold, fully electric Land Rover Defender, with sumptuous leather interiors and a ferocious 500 horsepower drivetrain, drives beautifully. It is worth more than €250,000. A 1964 Corvette StingRay, currently being retrofitted by the company, is expected to sell for around €500,000.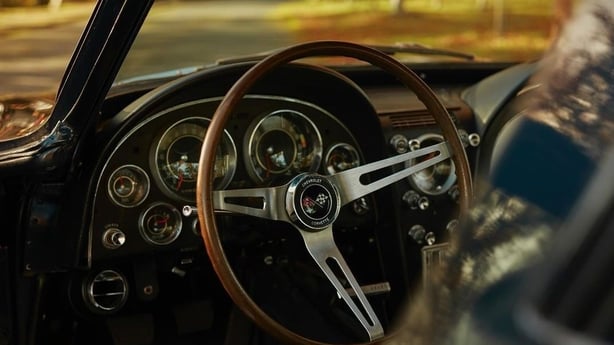 Buying cars for more than the cost of a decent-sized house isn't an option for the average driver. But the classic and luxury conversions are only a small part of what Studio AVA does.
The company is primarily focused on converting fleets of vehicles used in industries such as mining. Part of the Cool Planet group, the prime focus is on the existential threat of climate change, Mr Crowley told Prime Time.
"We're very focused here on one thing – which is stop the large carbon emitters around the world from emitting as much carbon and also showing them that it's not just an ecological opportunity, but it's a financial opportunity for them as well to cut costs."
Further afield, other countries are beginning to make commercial retrofits a real and affordable option.
In Orléans France, one company is currently producing kits to convert small cars. They have a small battery range of around 100km – but also a small cost.
Aymeric Libeau, the CEO of Transition-One, told Prime Time that customers will be able to order the kits, have them delivered to their local, authorised garage and be able to drive away in a fully electric vehicle just four hours after they drop off their old internal combustion engine jalopy.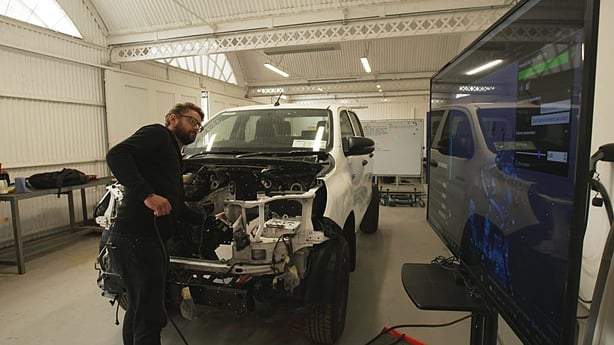 The company is currently supporting seven vehicle models – all small, mostly French – though they aim to expand this to between 60 and 80 over the next five years.
Affordability is key, which will be helped by subsidies from the French government. Once these are factored in, Libeau says the cost should be around €5,000 per conversion.
The company plans to carry out the retrofits on a grand scale.
"One of our objectives on the sector of the retrofit is to convert three million vehicles before 2032. This is possible. It depends on the ambition. And with the climate emergency, we need a lot of ambition," Mr Libeau said.
Tom Spencer, the editor of website Irish EVs, said that that the French example should be something watched closely from here, particularly the government subsidies.
We also have some ambitious targets for electric vehicles here in Ireland. The aim is to have one million on Irish roads by 2030, from just over 40,000 at the moment.
The cost of new electric vehicles is still high, with second-hand models not a great deal lower.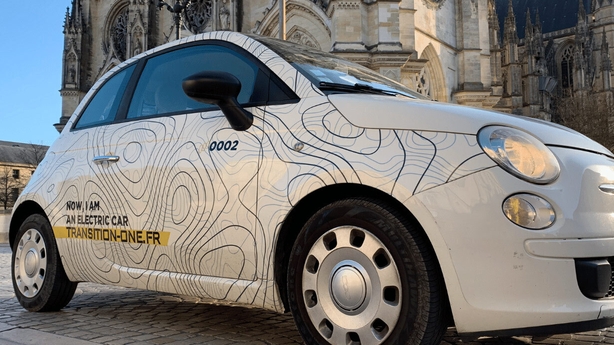 They are great options for people who can afford the initial layout, but there are no realistic options for those on tighter budgets. How much of a role could retrofitting play in bridging that gap?
Mr Spencer believes it could be "huge", with the right government support.
Mr Maguire said there is "not a chance" that Ireland will hit the one million target without a proper retrofitting scheme, though is pessimistic about the prospects of government support.
Mr Crowley struck a different tone, saying that he doesn't believe a wide programme of retrofitting is the answer.
"There are very strict safety laws in Europe now. They need to be crash tested, they need to be built properly," he said.
Instead, he believes that the cost of new electric vehicles will continue to fall.
While not a carbon emissions panacea, a scheme to retrofit Ireland's fleet of diesel and petrol vehicles would seem to make a lot of sense. On a mass scale, though, we may yet be some way off Ireland's cars of the past being given a second life as the cars of the future.