This year will be looked back on as an eventful year for Ireland's Defence Forces. It's been a year of celebrations, punctuated by centenary commemorations for the establishment of the Army and Air Corps, as well the handover of military installations and barracks from Britain to the Irish Free State.
2022 is also the year that an independent report declared that the Irish Defence Forces are not fit for purpose – and incapable of carrying out the duties tasked to them by the State.
The Commission on the Defence Forces took 13 months to carry out its comprehensive review of staffing, capabilities and overall structure of the Defence Forces, presenting its findings in a report published in February of this year.
After 100 years, the Irish military is at a crossroads: continuing on the same trajectory is not tenable, but bringing the Defence Forces up to the standard of other small European countries will require serious investment.
The decisions on what direction will be taken will be made by the Government in the coming days and weeks.
A framework for those decisions has been laid out by the Commission's report, with three levels of ambition defined and costed.
Level of Ambition One would maintain current capabilities, essentially a continuation of the status quo, with no increase on the current budget of €1.1bn a year.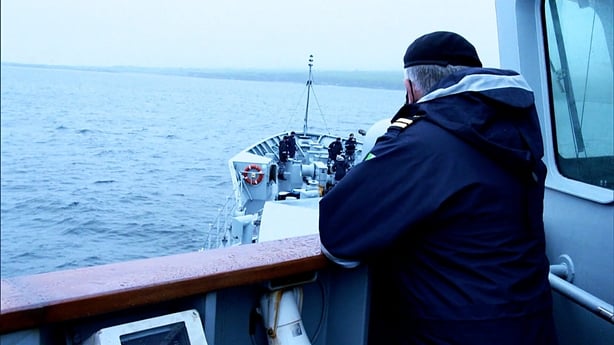 This would leave the Defence Forces incapable of mounting a meaningful defence of the country against a sustained act of aggression. It would most likely mean that Ireland would have to scale back its participation in UN and EU missions abroad.
Level of Ambition Two would urgently identify and fill existing staffing gaps and crew the naval vessels that are lying idle. It includes the purchase of a primary radar system. Adopting the recommended measures would require a 50% increase in the current budget, to €1.6bn annually.
Level of Ambition Three would bring Ireland's military in line with other similarly sized European countries. It would involve a major expansion of the naval and air fleet, including the purchase of between 12 and 24 fighter jets. It would also increase Ireland's capacity to participate in foreign missions. This option would need the most significant budget increase, a tripling to around €3 billion.
Admiral Haakon Bruun-Hanssen, a member of the Commission and Norway's former chief of defence, said the decision on which path to follow is a political one.
But continuing as we are, Admiral Bruun-Hanssen told Prime Time, would be akin to an admission that the Defence Forces is "not capable of defending Irish territory or the Irish population".
While the case for change has been made starkly, the landscape of European security and defence has already shifted since the commission published its report.
Ben Tonra, a professor of international relations at UCD, said that Russia's invasion of Ukraine had changed the context in which the report needs to be viewed.
He said that the range of responses across Europe has overturned decades and centuries of security and defence policy.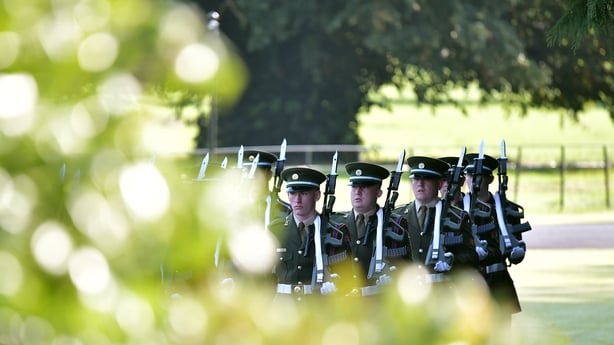 "The horizon, the field of vision if you like, has entirely transformed from what it was in January," he told Prime Time.
Ireland was already a European outlier in how little it spends on defence. This gap has only increased since the beginning of the war, according to Dr Gerry Waldron, a former Defence Forces member who also served on the commission.
"Since the second invasion of Ukraine, we've seen funding commitments increase in most of these comparative countries and across most of the EU. So, I would say Ireland is even more of an outlier since we published our report," Dr Waldron said.
Perhaps the most significant problem for the Defence Forces in recent years has been its personnel. Members are leaving the organisation faster than they can be replaced – often highly skilled men and women whose replacements will take years to train.
Between 2016 and 2020, the Defence Forces inducted 3,116 personnel, while 3,679 left in the same period – 41% of the average strength during that time.
It's a trend that has continued in the last two years. Infamously, staffing shortages left naval ships unable to put to sea.
For Erika O'Leary, a retired Lieutenant Commander in the Naval Service, it's a source of huge disappointment.
"It's actually quite upsetting for those of us who served for such a long time and have a sense of loyalty and a sense of connection to the Defence Forces," she said.
"It's terrible to watch something you have a huge affiliation to coming to a situation where they're in crisis."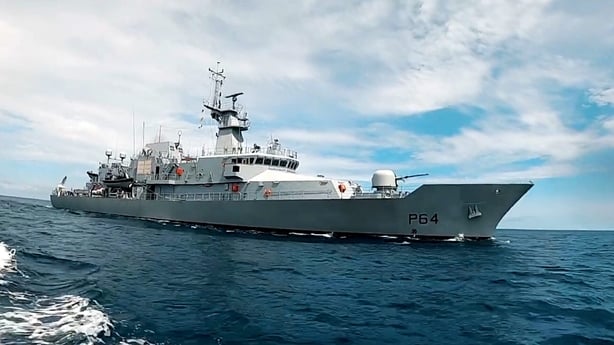 Conor King, general secretary of the Representative Association of Commissioned Officers said that 3,000 new members are required to bring the Defence Forces' strength up to a level recommended by the commission's report – but that it's difficult to boost numbers when people aren't staying.
"There's no amount of water will fill a bucket that's leaking," Mr King said.
Pay is also a factor in recruitment and retention. Wives and partners of Defence Forces members have been campaigning about poor rates of pay for years, with some having to avail of the Family Income Supplement.
Dr Waldron said that, though the Commission concluded that basic pay rates were in line with other comparable militaries internationally, or the wider public sector, there are issues around the minimum wage not being applied, the European working time directive not being applied, and an unlimited liability of service.
The commission's report also raised concerns about what it called the Defence Forces' "masculine" and "patriarchal" culture – concerns, it said, that were reflected by the personal testimonies given by the Women of Honour Group.
While an independent review is currently examining those serious allegations, the commission has recommended a radical increase in female participation across the organisation – from 7% now to 35% by 2025.
Aside from having the available personnel, there is a question over whether the Defence Forces members have the necessary and appropriate equipment in order to fulfil their duties.
Prof Tonra said this needs to be at the centre of the conversation.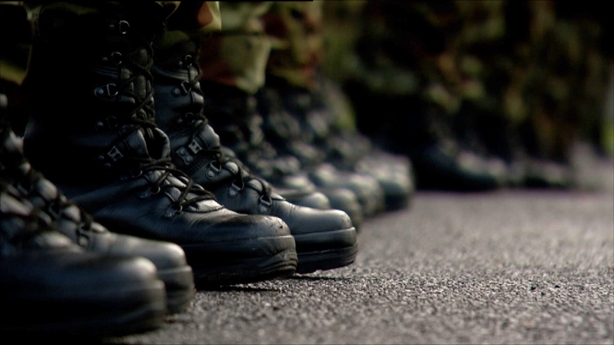 "There is no point having highly qualified, highly trained and well-resourced personnel to defend the state if you don't give them the kit with which to do that," he said.
"We have an issue here in this country in talking about the use of lethal force, in talking about the Defence Forces with guns and bombs and bullets, but that is part of what the Defence Forces need in order to execute their mission."
Dr Waldron said that Ireland is lacking in military hardware, particularly in the air domain, impinging on our ability to patrol, monitor and deter threats in our airspace.
Currently, Ireland doesn't even have a primary radar system that can identify enemy aircraft that have switched their transponders off.
If a sufficient primary radar system was purchased, we could identify potential threats. But the Air Corps would still be without a single aircraft in the fleet capable of intercepting or engaging those threats.
Though it has never been confirmed nor denied by an Irish government, rumours have persisted for years of a secret deal with the UK government to allow RAF aircraft into Irish airspace to pursue and intercept threats.
George Allison, editor of the UK Defence Journal, told Prime Time that there's certainly an understanding in the UK that the deal exists, though it's not a selfless act from the UK, because it benefits both countries.
He cited an incident in 2015 when he says a Russian nuclear bomber flew close to the Irish coast and was subsequently intercepted by RAF Typhoons dispatched from Lossiemouth in Scotland.
Such a deal, while solving some problems for Ireland, also presents difficulty. Admiral Bruun-Hanssen told Prime Time that any deal, secret or open, that allows another country to fulfill part of our defence, would compromise Ireland's military neutrality.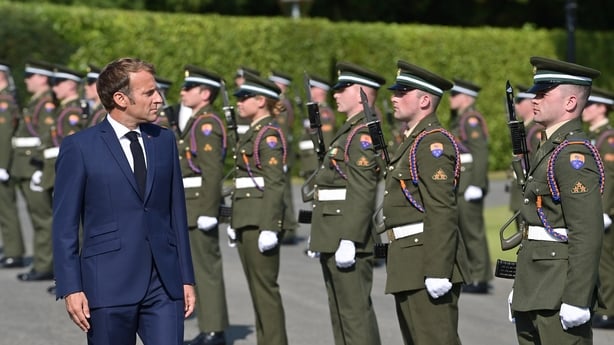 "You can very easily be seen to be taking sides in a conflict between other parties," he said.
Prime Time understands that Minister Simon Coveney will next week bring a memo to cabinet with recommendations based on the commission's report.It has been speculated that this will be see the forces move beyond that of Level of Ambition Two – adopting most of the measures in Level of Ambition Two, with some additional measures.
The question that will remain is how Ireland intends to bridge the gap between that level and the capabilities that are outlined in Level of Ambition 3.
Any increase in budget now, at a time when there's so much demand from other sectors, will be politically challenging.
The argument against big investment now might be that Ireland has managed and muddled through thus far with a modest outlay.
Dr Waldron argues that there now needs to be a proper conversation about what we want from our Defence Forces, particularly on how we want them to defend the State.
He asked why Ireland would even retain an armed Defence Forces if it's only being used as a national ornament to be wheeled out on State occasions or when foreign dignitaries visit.
"We're very happy to see them perform exceptionally well overseas," he said.
"But we're not particularly willing to discuss how they should perform at home and their role in terms of national defences at home."