In the early stages of the invasion of Ukraine, troops from Russian-occupied Crimea entering the country quickly took control of a number of cities and towns on the southern coast.
One such town is Berdyansk, 85km west of the besieged city of Mariupol. On the Sea of Azov, the port town of just over 100,000 is now three weeks into Russian occupation.
On 27 February, Russian troops and tanks rolled and installed Russian military police in the City Hall.
Local Berdyansk journalist Galina Plahotnik documented life there for Prime Time over recent days.
On Monday, the town became the first stop for many evacuees fleeing Mariupol. Some 160 cars escaped the city yesterday and 2,000 are reported to have left on Tuesday. Those stopping temporarily are en route to Ukrainian-controlled Zaporizhzhia.
One evacuee, a woman, spoke to Ms Plahotnik through flowing tears.
"There is no city. There is no longer a city at all. Everything is destroyed there. There are no apartment buildings left. Nothing is left there."
"I was working at the hospital. But [the Russians] have bombed everything. There were many wounded in the hospital with debris wounds [from explosions]. The surgeons are real heroes," the woman said.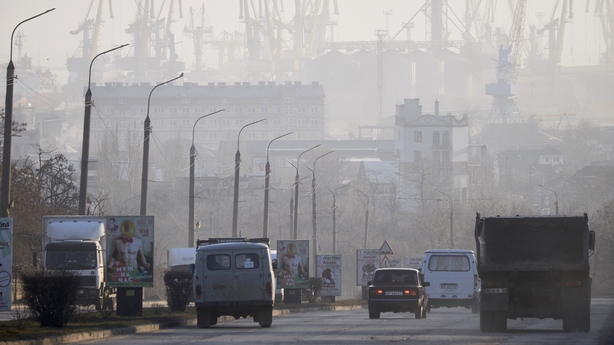 "They perform surgeries and, when they finish, they sleep on the surgical theatre floor. The only electricity in the building is from a generator, reserved for the surgical theatre."
Mariupol evacuees won't stay long, since Russian-controlled Berdyansk has little to offer them.
There is no gas or heating in the town, and some parts have no electricity. The few locals walking the near-empty streets are out in search of supplies. Anywhere that is open has long queues, particularly the few remaining pharmacies, where medicines run short.
People also queue long hours at banks to get cash, since ATMs are empty and bank cards don't work.
In the supermarkets, most of the shelves are bare. Junk food is the only thing left, such as sugary drinks and other non-essentials like ice-cream. People preserve their precious cash to pay farmers in outlying villages for their produce.
Despite the hardship, most locals refuse food aid offered by the Russian militia. On 5 March, supplies were offered out of the back of a military van. Local reports, according to Ms Plahotnik, suggested that only a few elderly people, desperate enough, approached it.
But this is not how Russian propaganda, which is now broadcasting on a local FM frequency, tells it.
"During the first two hours, Russian militia has distributed aid to more than 3,000 people who need aid the most. This is the elderly and families with kids," it said.
Local TV and radio stations have shut down and the broadband was cut. The only local news available is via patchy internet connections from the mobile network.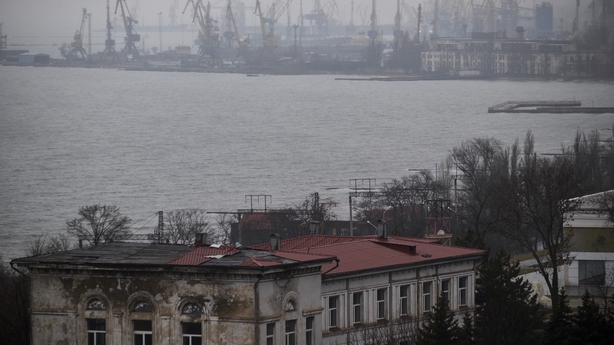 By contrast, the Orwellian Russian propaganda drones out over the airwaves hour after hour.
"Locals were complaining to Russian militia about their poverty, which was caused by high unemployment, low pensions and salaries, high prices for food and utilities. Be healthy and know Berdyansk is ours and only we can make it better."
Locals show their resistance and opposition with daily protests in front of the City Hall.
"Militia out, militia out" they shout. Or, "Go home, go home, Russkies, go home."
One local man worried about too much defiance and shushed the crowd with "quiet, quiet".
He has good reason. In nearby occupied Melitopol, the Russian military have signalled that defiance can only go so far.
At the weekend, Melitopol's mayor, Ivan Fedorov, who refused to cooperate with the Russians, was paraded out of the City Hall there with a plastic bag put over his head. He has now disappeared.
But on Wednesday, in southern Ukraine, humiliation and hardship was relative.
Berdyansk locals have been busying themselves gathering up supplies in the hope of getting them to Mariupol.
At one of the many community centres across Berdysank, which serve as collection points, Ms Plahotnik met two women putting warm clothes into bags.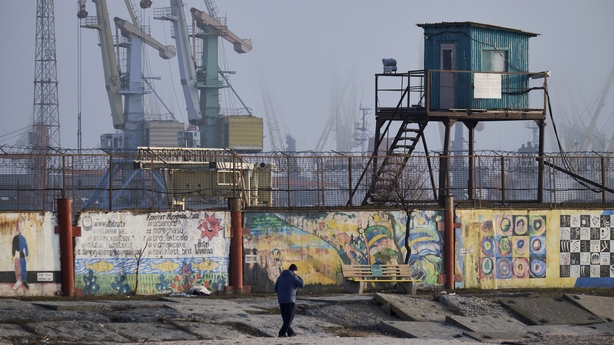 One woman herself explained that she has been internally displaced since 2014 from Donetsk in eastern Ukraine, where fighting between pro-Russian separatist forces and the Ukrainian military has been ongoing.
Taking off her fur hat and putting into a bag, she said: "Here is my hat, I am willing to share everything. No regrets!"
Another woman put one of her child's jackets into a bag.
"I brought one here, because why would you keep two when you only need one?" she said.
But truck convoys taking supplies, like those gathered in Berdyansk along with food, water and medicines, are being turned back by Russian troops.
Ms Plahotnik, who worries about her own relatives in Mariupol, takes consolation from the recent flow of evacuees out of the city.
Arriving to this community centre in occupied Berdyansk, Mariupol evacuees know it is not a true "safe haven".
But Ms Plahotnik offered encouragement.
"In fairness, it's not great here either. But you've managed to get out."
Expressing her relief through tears, a woman who had just fled said it could not compare to a place that is under constant shelling and bombardment.
"There are bombings from all the directions [in Mariupol]," she said. "You cannot comprehend it."