The Chief Medical Officer Dr Tony Holohan is to examine whether the 15-minute observation period after vaccination is still required in Ireland.
Minister for European Affairs Thomas Byrne told Prime Time that Dr Holohan will be "guided by the science" in respect of vaccine protocols.
Mr Byrne's comments came after pharmacies said they could potentially double the number of booster doses they administer if they could forgo the 15-minute period.
The Irish Pharmacy Union told Prime Time that the National Immunisation Advisory Committee should consider whether the observation period could be scrapped in order to speed up the booster rollout.
In line with NIAC and European Medicines Agency (EMA) recommendations, people are usually asked to wait for a period of time to ensure they do not experience an immediate reaction to a vaccine dose.
However, this limits the number of doses that can be administered in GP surgeries and pharmacies, which often have limited space.
"It wouldn't make a huge difference in the vaccine centres but it would make a difference in pharmacies and GPs," Mr Byrne said.
The UK's four chief medical officers on Tuesday recommended temporarily suspending the observation period.
While they acknowledged that scrapping the observation period would mean a "marginal increase in risk for a very small number of people", they said it would help expedite the UK's booster rollout.
Pharmacists said NIAC could consider whether the observation period is still required in Ireland.
"If there's data there, I think it's probably worth the experts looking at it and asking whether we absolutely need to keep people for 15 minutes," Darragh O'Loughlin, the CEO of the IPU told Prime Time.
"If experts agree it is safe, then we could probably double the number of vaccines that could be done in a small pharmacy."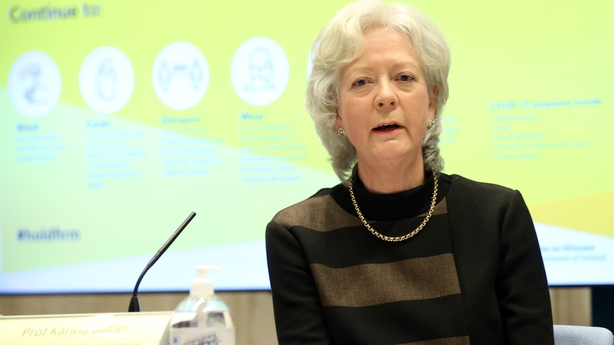 Pharmacists have been working with the HSE to increase the number of vaccines administered on their premises. It's understood pharmacy students may be involved in an expanded booster rollout.
Pharmacies administered 45,000 vaccines last week and the IPU wants to increase that to 100,000 vaccines a week.
"There's a huge sense of urgency. We are exploring everything possible to increase the capacity of pharmacies," Mr O'Loughlin said.
Dr Paul Carroll, a GP in Churchtown, Co Dublin, also called for the 15-minute wait to be reviewed.
"In the beginning, we did it because no one really knew what the allergy or anaphylaxis profile of these vaccines was going to be. But now some people are on their third dose of the same vaccine, and we know that they've had no reaction to the first and the second one," he said.
"The chances of them having an anaphylactic reaction or a severe allergic reaction to their third dose is minuscule."
Dr Carroll said he has yet to see a serious allergic reaction to the Covid vaccines.
"We're part of a bigger group of practices that have given around 100,000 doses and we haven't had any significant reactions," he said.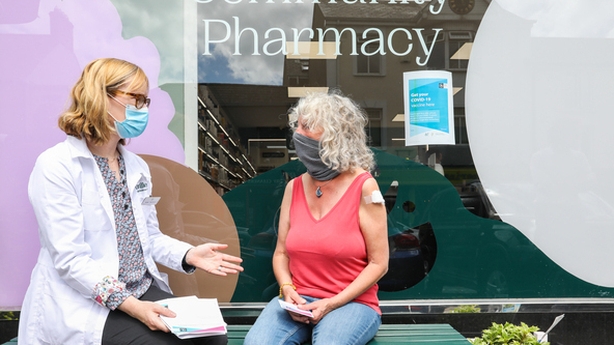 He said removing the observation period would make a huge difference.
"At some stage, the incidence of severe allergic reactions that we're protecting against has to be set against giving so many more Covid boosters which could protect many more people."
"The more arms have needles in them, the better."
Ireland's Health Product Regulatory Authority (HPRA) told Prime Time that, up to the end of last month, there were 12 reports of anaphylaxis following the administration of 7.5 million Covid vaccines. It added that other cases may have been treated before progressing to a full allergic reaction.
In a statement, the HPRA said the latest international research suggested the frequency of anaphylaxis was in the region of 2-5 cases per million doses, "possibly reflecting screening and mitigation measures."
The authority said any changes to the recommended vaccine observation period would require approval from the EMA.
"Recommendations for (Covid vaccine) use, as described in product information, state that appropriate medical treatment and supervision should always be readily available in case of an anaphylactic reaction following the administration of the vaccine. Close observation for at least 15 minutes is recommended following vaccination."
Eileen Flynn, the HSE clinical principal lead for the vaccination programme in North Dublin, told Prime Time that there have been no instances of anaphylaxis in the National Show Centre and described the risk as "minimal" for those receiving boosters.
However, she said that changes to the observation period would have to "depend on the cohort going through."
"There tends to be a high percentage of fainters in the teenage group. That would be something we are very mindful of," she explained.
"Each person has a personal journey. If they feel well after ten minutes sometimes they vote with their feet and go anyway."