Ordinarily, daily ticket sales at the pantomime held each year in Ireland's National Stadium are in the hundreds. On Monday, just six tickets were sold.
The latest Government advice is that parents should restrict their children's indoor socialising for the next two weeks. At one point on Monday, it seemed like the advice was for pantomimes to go ahead – but for children to stay at home.
The gymnasium in the stadium, located in Dublin's south inner city, is normally home to Ireland's high-performance boxing team.
But, right now, the boxing ring has been cleared away and the only sparring is of the verbal kind.
On Tuesday, Sammy Sausages and Buffy – played by Alan Hughes and Robert Murphy – ran through lines with Jake Carter and Johnny Ward as the Aladdin pantomime gears up for the first performance on 9 December.
Alan Hughes' husband, Karl Broderick, watched from the director's chair. As the pantomime's producers, they're both certain that the cast and crew will be ready for opening night. But they aren't sure about the audiences.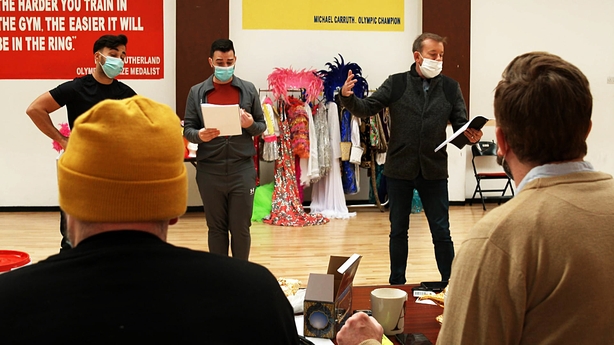 "Our first day of booking this year was our biggest in our 24-year history. People want it, the appetite is there, and they just want to be told they can go," Mr Broderick told Prime Time.
He said that ticket sales had flatlined in the last couple of days, and noted that other productions have also hit the wall. Ticket sales to schools would usually be worth €40,000 to them, but he believes the latest advice has put paid to that.
A recently announced Government grant for performing arts will cover pantomimes, but only up to 50% of their costs.
As such, Mr Hughes said that the duo will still face significant personal financial exposure.
"We're concerned. We have already invested €300,000 and we'll invest more because advertising will have to be nearly trebled. This is us two putting our own money in," he said.
"We're not big people with big production companies and big promoters. This is just ourselves. We're small, local, independent producers who have been doing this for many years."
Both men are critical of the messaging and what they see as a lack of clarity from the Government in recent days.
"I walked in there to rehearsals yesterday. 38 people turned around and said to me 'what's happening?' And I had no answer for them," said Mr Hughes.
The Taoiseach told the Dáil on Tuesday that positive Covid cases among 5-11 year olds are "going through the roof".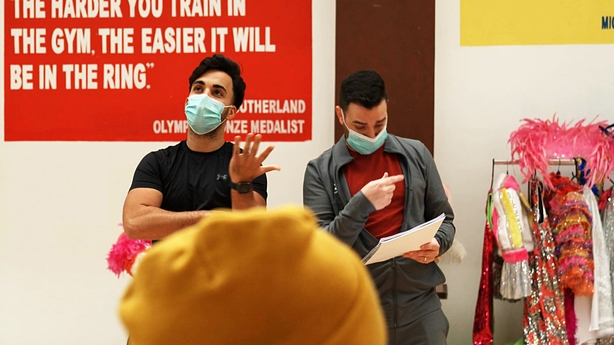 Measures announced on Tuesday evening will see children aged nine and above wearing masks in school, shops and on public transport.
Parents will need to make decisions as to what activities their children will attend outside of school. It's not just pantos and playdates – but indoor sports and the other scheduled activities that have only recently recommenced.
Parenting journalist Jen Hogan told Prime Time that she feels relief that these activities haven't been cancelled entirely. But she also feels frustration that children will once again be missing out on the fun and the joy that birthday parties and pantos have to offer.
From speaking to other parents, she also said there's a sense that children are picking up the slack for the measures that haven't been introduced to stop the spread in schools.
"The onus has very much been put back on children at this age - on their parents to turn things around," she said.
"And that narrative is very concerning for parents, particularly if they stay with the masks for the nine plus year olds."
She noted that many parents may have instead preferred to see improved ventilation measures, or perhaps a return to full contact tracing in schools.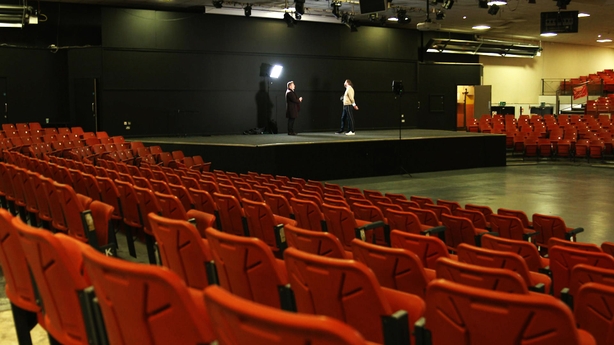 "Now we're faced with a situation that we have huge numbers in this age cohort and children will have to reduce their activities as a result."
On the back wall of the National Stadium is the roll of honour – charting the medals won at European, Olympic and World Championship level.
The other walls are adorned with quotes from those same greats – Michael Carruth, Katie Taylor, Darren Sutherland and others.
The main stage of the main arena is surrounded by 2,000 empty seats.
In a little over a week, the stage will be dressed as the troupe looks to bring the story of Aladdin to life, with a uniquely Dublin twist.
As for the empty seats, Mr Hughes and Mr Broderick made the decision to sell only 60% of the arena's capacity this year, to facilitate social distancing and make people feel safer.
For Mr Hughes, the panto is not just about the money. This year in particular, he said it could serve a higher, more symbolic purpose for performers and audience alike.


"I want to be back as Sammy Sausages, on a stage," he said, "performing to smiling children and adults alike and going, 'Yes, we've saved Christmas!'"