Electric scooters have become a constant in Ireland. This is especially true in our cities, where they punctuate the stream of cars, buses and bicycles during rush hour.
Their extraordinary rise in popularity is made all the more extraordinary by their status in law: It is technically illegal to use e-scooters on Irish roads.
Legislation to regulate and legalise e-scooters has already been approved by the Cabinet, but it has been a long time coming.
In Dublin's Temple Bar, Marco Sants has been selling e-scooters in his shop, Lifty, since 2018.
He told Prime Time that, by August, he had already received 500 orders for scooters for this Christmas.
"I think it's going to be insane," he said, predicting that this year will be his busiest yet.
On the face of it, electric scooters make a lot of sense, particularly as we're encouraged to consider more sustainable forms of transport.
They're quick and nimble enough to move through traffic like bicycles. But they're also lightweight and compact enough to carry on public transport or stow beneath an office desk. And they're powered by rechargeable electric batteries.
It's also clear that there is no one type of e-scooter user.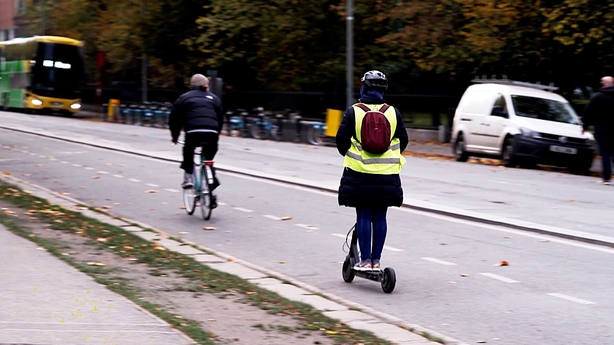 During one recent rush hour, tradesmen wearing hard hats zipped past en-route to building sites. A transport worker told Prime Time that he gets the train from Cooley, Co Louth, to Dublin's Connolly Station before hopping on his scooter to get to O'Connell St.
A woman working in a law firm said she used to cycle to work, but didn't like arriving sweaty to the office. With her e-scooter, she can leave home in her work clothes without a second thought.
Everyone said they felt safe on their scooters during heavy traffic. But as the popularity of e-scooters has risen, so too has the number of injuries sustained by people riding them.
"We saw a very sharp increase in the number of serious accidents involving e-scooter users," said Dr Frank Lyons, a consultant at Dublin's Mater Hospital.
He is one of several Irish orthopaedic surgeons who have published research on the nature and severity of those injuries.
"We were carrying out surgery two to three times per week on electric scooter users with fractures and dislocations," he told Prime Time.
He noted that he now operates on injuries sustained by e-scooter users far more often than those sustained by cyclists.
In many cases, e-scooter users sustain complex fractures around the joints, leaving them with lifelong impairment or reduced functional use of a limb.
"Life-changing injuries is the exact term for them", he told Prime Time.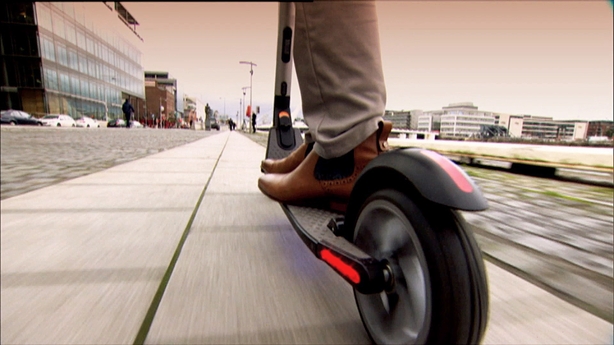 Dr Ciara Fox, of Dublin's Connolly Hospital, told Prime Time that the average age of those presenting with e-scooter injuries in the hospital's emergency department was 38.
She said that most injuries were sustained by middle-aged commuters during daylight hours.
Speed is a critical issue here. Riders can push their thumb on the throttle and soon reach speeds far in excess of what the average cyclist can achieve.
And when a lack of experience meets speed and power, the consequences can be drastic.
Dr Lyons' research found that a very high proportion of serious accidents involved riders who had used their e-scooters only a handful of times.
The forthcoming legislation will restrict e-scooters to 25km/h and make it an offence to supply them to those under the age of 16.
The Department of Transport told Prime Time that the issue on age limits on the use of e-scooters is yet to be determined and will be addressed in the regulations.
The speed limit might end up being difficult to enforce. With no driver's licence or vehicle registration required, gardaí would have to pull people over there and then.
The delay in legislation has also meant that there are now any number of electric scooters currently on the roads that are capable of speeds far in excess of this limit.
Mr Sants said he has sold close to 100 models of an off-road scooter that can reach speeds of up to 90km/h.
While he said they are typically used on farms, he noted that people will always find ways to make their scooters go faster.
And though he advises against it, Mr Sants noted that this particular model can be modified to reach a staggering top speed of 120km/h. YouTube, meanwhile, is awash with videos that show users how to easily remove speed inhibitors from scooters.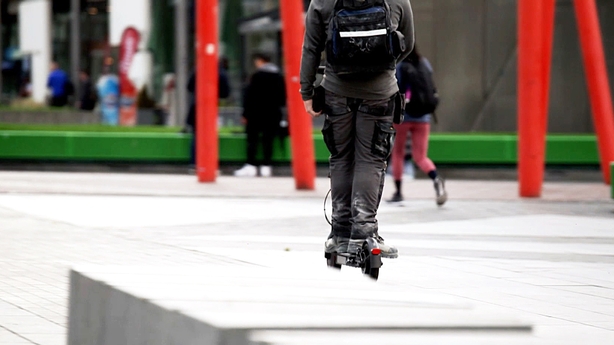 Dr Lyons said that a collision at that speed would involve what's known as a multi-system injury. Not only would a rider sustain injuries to their brain, limbs and internal organs, but they could also die, he said.
"I'm deeply concerned with a scooter that's capable of that type of speed," he told Prime Time.
The legislation that will legalise e-scooters will wend its way through the Oireachtas, but it could be next year before it's actually made law.
Ireland has been slow to introduce regulations that would make them as safe as possible for those using e-scooters, as well as pedestrians and other road users.
It's decades since any new motorised vehicles became so widely popular and the effort to reduce emissions from transport may mean that the era of the e-scooter will last for some time.
But will we look back on e-scooters as something that ushered in a greener age of transport – or are they just a passing fad?
Research carried out in France suggests that only 3% of e-scooter journeys actually replace car journeys, motoring journalist Geraldine Herbert told Prime Time.
Most e-scooter users are instead using them to replace walking, cycling, or public transport.
"Ideally, the use of e-scooters is that they reduce pollution and that they'd aid congestion, but they would have to reduce car journeys in order to do that," Ms Herbert said.
"I think we have to be very clear in how we regulate them – that they complement public transport and active travel, but that they don't replace it."