Before this week, I hadn't travelled by ferry for years. I'll be honest: when I was first told that this is how we'd be getting to COP26 in Glasgow, only the roughest sea journeys came to mind.
But the entire future of our planet is at stake – and we are all being told, constantly, that we have to play our part. So we were of course going to play our part.
It was always going to take longer than flying. We just didn't realise it would take so much longer.
It was a minefield, to put it lightly, to select the correct route. Initially, we planned to travel to Holyhead and head up to Scotland from there. In the end, we decided to go via Belfast.
That involved a train from Dublin's Connolly Station, which is where I did my first interview of the day.
"Your journey is not fossil-fuel free at present," said Andrew Murphy, a member of Ireland's Climate Change Advisory Council.
"It can be in the future. Boats and coaches can be made fossil-fuel free. We can run trains on 100% renewable electricity – we can get there. It will take a bit of time."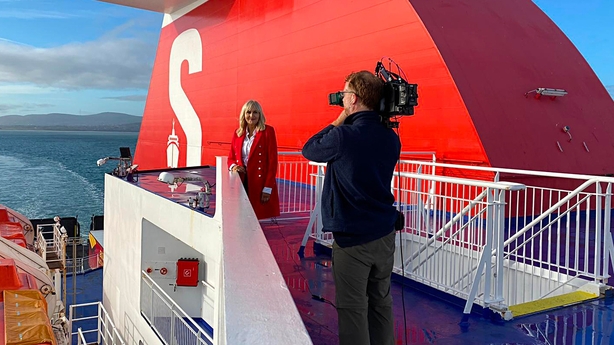 While he said that it will be a challenge to reduce emissions from the aviation industry, he noted that it was not impossible.
As it stands, though, flying is a very carbon-intensive transport method – and that made us feel a lot better about our decision to go by ferry.
But the realities of our journey dented the feel-good factor a little. With our train to Belfast delayed, there was a good chance we'd miss our bus to the ferry terminal.
What followed was a scramble to get an electric taxi, in the hopes of keeping our carbon footprint low. That wasn't an easy task, but we were luckily able to hail a Toyota Prius – a hybrid vehicle.
But, even then, that 10-minute taxi trip added about 8kg of carbon emissions to my journey – more than the 7.4kg from the two-hour train journey from Dublin.
The ferry itself was a great surprise – it was much larger than I expected, and very comfortable. It even had a spa and a cinema, but I had no time for either, unfortunately.
The weather was stunning, so I spent much of my time out on the desk in the glorious sunshine enjoying the sea air.
Here, I spoke to a young couple – both climate activists – who had the same idea as us.
"We're going over to Glasgow for COP26," said Emer Smyth.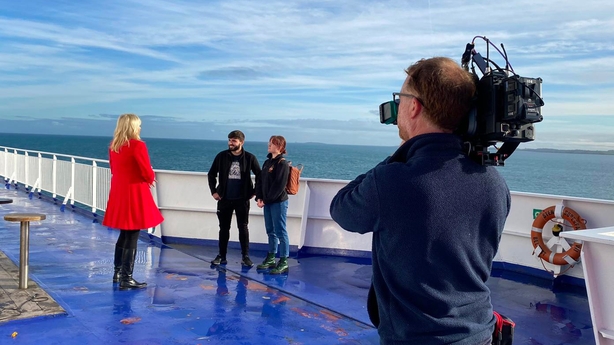 "It would be a bit hypocritical to go over and protest while taking a plane."
All in all, it took around two hours and twenty minutes until we arrived in Cairnryan in Scotland.
The ferry journey added about 1.3kg in carbon emissions to my trip – less than the train, and less than the taxi journey.
The next stage of my journey was to board a coach to Glasgow – for another two-and-a-half hours.
As we drove through the scenic Ayrshire, we passed Donald Trump's golf resort, and even spotted a gorgeous Scottish pheasant.
But the traffic was very heavy, and we arrived into the bus terminal just before 5pm – almost 12 hours after we had left our homes in Dublin.
That journey added about 3.6kg of carbon emissions.
And it was in the bus terminal that I decided to call Professor Michael Mann, one of the most renowned climate change experts.
The big question was: was it really all that important for us to think twice about flying? Are individual efforts worthwhile?
He noted that it suits governments and big corporations to focus on individual responsibility. But that doesn't mean that we shouldn't all make a real effort to reduce our own carbon emissions, he said.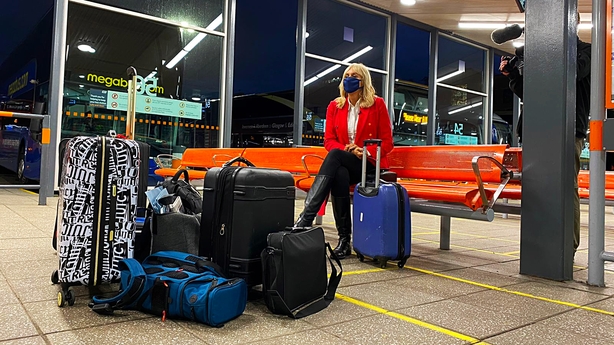 On the flip side, he said, we shouldn't engage in finger pointing or carbon shaming.
"We know that backfires," said Prof Mann. "The social science research tells us that, when you criticise people, when you attack them because of their lifestyle, they're likely to respond to that in a way that sort of doubles down on the very behavior you're trying to call out."
"The fossil fuel industry and those advocating for them would love nothing more than for us to be fighting with each other – and for us to be deflecting attention away from the need for systemic solutions for policies that will decarbonize our economy," he said.
The final carbon emissions tally from my journey? 20.3kg. A 40-minute flight from Dublin to Glasgow, however, would have seen me accrue 59kg in carbon emissions – and that doesn't even include transport to and from the airports.
I'm very glad we made the effort, and we had lots of fun along the way. But it did take us almost 12 hours. And that underlines the difficultly we all face when it comes to reducing our own carbon emissions.
But, while we can do our part, there is another element to this: companies, transport operators and, ultimately, governments have to make it easier for us to make the right choices.