If you're wondering why RTÉ's Prime Time is airing a report with Christmas music in September, it's all my fault.
After a stroll through the Christmas shop at Arnotts on Dublin's Henry Street, I'm not even a little bit sorry. The baubles are shining, the tinsel is twinkling and they can hardly keep door wreaths on the shelves because the demand is so great.
But, amid a global supply chain crisis, that Christmas products are on the shelves at all is a feat of foresight and planning.
"Before the start of January, we were ordering for next year," Mark Limby, the store's director, told Prime Time.
While retailers such as Smyths, Penneys and IKEA have all warned that Christmas supplies could be constrained, Arnotts is satisfied that there's no need to panic. Gift sets are already in stock and they've taken delivery of the autumn/winter clothing collections.
"We have a good supply line coming in. We've been planning to be ready," Mr Limby said.
But the department store's neighbour on Henry Street, Marks and Spencer, is less confident. It emailed Irish shoppers last week to tell them it wasn't taking Christmas food orders, warning that there was a risk customers could be "let down with key items."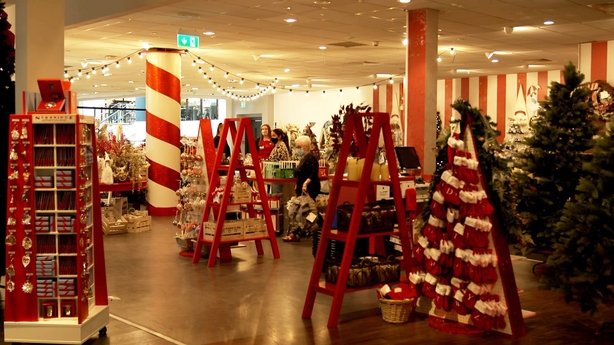 So do we really need to write Santa letters in September?
The global supply chain is often compared to a light switch. It just works, and nobody wonders how it works until it doesn't.
Factories in Asia have had to shut down intermittently because of Covid. There's a shortage of shipping containers. Brexit is causing delays to UK deliveries.
And don't forget the small matter of the Ever Given, which blocked the Suez Canal for almost a week in March. Months later, we are seeing the repercussions.
Aidan Flynn, the General Manager of Freight Transport Association Ireland, said it's been a "perfect storm".
"There's been Covid outbreaks in ports around China and around the world, which effectively shut them down," he told Prime Time.
As a result, Mr Flynn explained, container ships have been stuck outside the ports for weeks.
The confluence of factors has consequently led to a huge increase in the price of shipping.
"In normal times, pre-Covid we were looking at costs of around €1,500–€2,000 for a container. That cost has now gone up to €8,000, depending on where it's coming from."
One of the leading logistics companies in Ireland, Woodland Group, has described the situation as "unprecedented".
In a report on the impact of the Asian supply chain, it forecast "no real let up on container pricing or the current challenges" until at least the second quarter of 2022.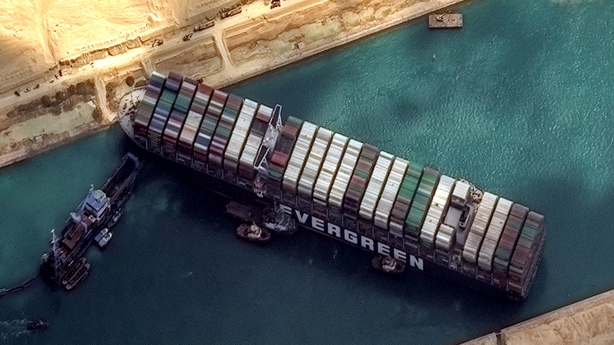 "There is no quick fix, and we can expect current rate levels to carry on through to at least Chinese New Year 2022," said Kevin Brady, the Director of Global Business Development.
Last Christmas, we spent our way out of the Covid lockdowns. Research showed that, while shoppers spent less time going into stores and browsing, they still managed to spend 8.2% more in retail than Christmas 2019. It's hard to see much changing this year – and one particular festive favourite is now among the hardest to get.
Bike retailers, who have been busy throughout the pandemic, are facing a second Christmas with constrained supplies.
"There are a whole string of different factories spread across different countries that have locked down at different times," Dave McLoughlin of Joe Daly Cycles told Prime Time.
Because bikes are made up of components built at a number of different locations, a shutdown at one factory can have a knock-on effect at many others, he said. And while supply is improving, he thinks the disruption could be felt for at least another year.
For now, retailers are dealing with a peculiar quirk in deliveries.
"Factories are manufacturing in batches, so when they ship to us, we get an entire year's supply of a particular model in a particular size," Mr McLoughlin explained.
It means there might be plenty of large bikes, for instance, but not necessarily smaller sizes in popular models.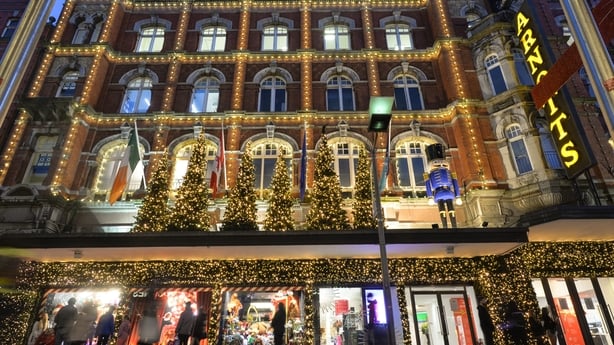 Last Christmas, the Trek Marlin 5 was by far the most popular child's bike.
"Last year we could have sold 10 times as many as we actually got. Parents were phoning around every shop in the country to see if anyone had one in stock," he said.
Joe Daly Cycles has Marlin 5 bikes on order, but the shop is making no promises.
"We're not taking deposits, and we're only selling them when we physically have our hands on them."
Mr McLoughlin said that, although demand for the very popular bikes will undoubtedly leave some disappointed, there is something for most sizes and budgets.
"Where previously we might have shown somebody 10 bikes, now it's two or three that will fit them. That's the choice."
Mr Flynn, of the Freight Transport Association, agreed that the main impact of supply chain issues this Christmas won't be widespread shortages - but less consumer choice.
"It's trying to get a product at the price you want to pay for it," he said.
"You won't necessarily be unable to get a television or a set of golf clubs, but you might have to pay a little bit more for them."