Sam Donnelly has tried it all: Putting "help wanted" signs in the window of his barber shops, hiring a recruitment company, and even creating an advert in Portuguese.
"Estamos Contratando Barbeiros", or "We are Hiring Barbers," was the message to the Brazilian community here.
But Sam, who runs seven shops across Dublin, is still struggling to attract staff.
He usually employs up to 40 people but there are currently just 32 employees. He has been forced to close two of his barber shops on Mondays.
"Since reopening, staff recruitment is non-existent," he told Prime Time.
Recruitment consultants have proved unsuccessful while social media adverts received "zero" replies.
Sam reckons there is not enough incentive for those who are receiving pandemic-related State benefits, such as the Pandemic Unemployment Payment, to come back to work.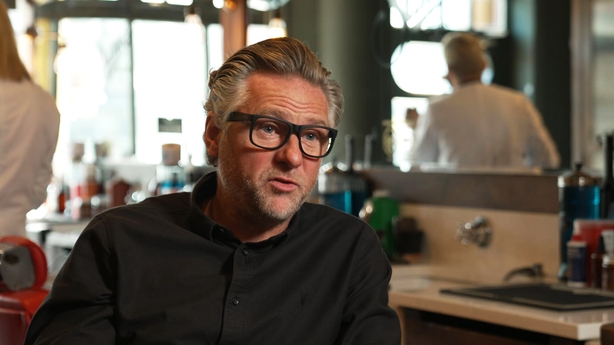 He wants to see those that do apply for jobs retaining some level of subsidy.
"If it means that an individual could earn a full week's wage and hold on to some sort of benefits I think they should," he said.
"I wouldn't go back to work if it was going to cost me money. Let's be real."
When an individual applied directly from Brazil to Sam's ad in Portuguese, he had to turn them away as his industry isn't on the "critical skills" employment visa list.
"If I have someone that's qualified to do the job and I can clearly prove that I can't get someone here to do that job, I should be allowed to employ them."
While there are still 140,000 people receiving the Pandemic Unemployment Payment, those numbers are continuing to fall and the unemployment rate of 12% is at its lowest level since the start of the pandemic. So in an increasingly competitive jobs market, is higher wages the only answer for business owners?
"There's no such thing as a free lunch and I'm happy to pay whatever it needs to be. But you can't give something that you don't have," Sam told Prime Time.
Restaurateur Angela Ruttledge, who owns Moncks Green in Phibsboro and Olives Tea Room in Clontarf, is also unconvinced that increasing pay is the key to staff shortages.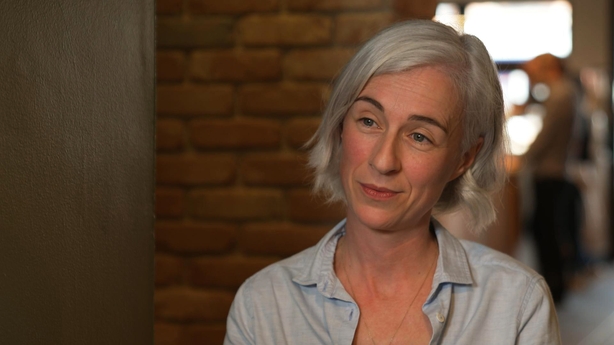 "It doesn't seem to matter how much you are willing to offer. We still can't find qualified people," she said.
Angela recently advertised a Kitchen Porter role with a salary of €30,000 a year – far above pre-pandemic levels. Inflated wages, she said, are being supported by the State's wage subsidy scheme.
"When the scheme is withdrawn we will effectively have written cheques that we can't meet," she said.
"What are we going to do? Turn around to our staff and say sorry we can't pay you that amount anymore?"
Almost nine in ten businesses in the tourism and hospitality sector are struggling to recruit, according to Fáilte Ireland. Angela reckons the other side of the "living wage coin" is compounding recruitment issues.
"While there is a shortage of accommodation in Ireland it is always going to be too expensive to live here and that's feeding into the viability of the wages that we can offer."
While certain grades of chef can come to Ireland from outside the EU on work visas, it's a different story for front of house staff. No full-time work visa is available. Chronically short staffed, Angela has had to ask her chefs to help out on the restaurant floor.
"They have been fantastic and adaptable but they are trained as chefs and that's where they want to be."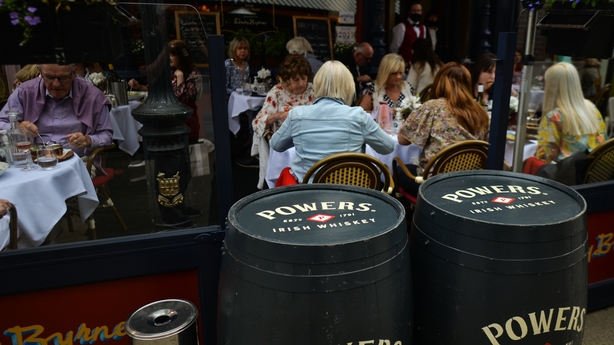 She's also worried that there are fewer students coming from Brazil who are able to work part-time. A previous requirement to show financial support of €3,000 before entering Ireland has been increased to €7,000.
"Those people that were coming to Ireland to study part-time and work part-time had become an important part of the industry. That pipeline has dried up," she said.
CSO figures bear out the industry's anecdotal experience.
In the 12 months to April 2020, 85,400 people came to live in Ireland. But over the following year that fell to 65,200 people. In particular, there's been a pronounced drop in the number of people coming to live in Ireland from outside the EU.
For business owners like Angela Ruttledge the staffing shortage means putting plans for expansion on hold.
"I can't talk about going on to having another business if I can get enough people to run the one I have."
Expect to see a lot more of the "Estamos Contratando" signs in the months ahead.