At Scoil Bhríde National School, in Kilbride, Co Meath, children taking their breaks in the yard must wear different-coloured high-vis jackets – a blitz of luminous pink, yellow, orange, and blue.
The measure, which is used to facilitate staggered yard breaks, is one of several steps the school has taken to try and keep all their students in school during the Delta wave of Covid-19.
Children also start and finish school at different times and have been assigned to pods and bubbles to reduce the risk of transmission, Julie Dowd, the school principal, told Prime Time.
To increase ventilation, windows and doors are kept open at all times, and children are encouraged to maintain good hand-hygiene routines, she said.
But the school has already been forced to send an entire class home from the start of this week due to a positive case reported last weekend.
The class of 24 are among between 10,000 and 12,000 children currently out of school restricting their movements at home due to Covid, according to estimates by the HSE.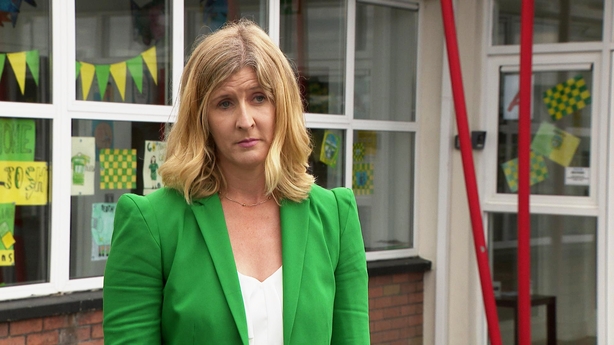 The high volume of cases related to the return to school has seen an increased reliance on the HSE's Covid helpline, which gives advice as to who is deemed a close contact and thus must stay home from school.
Like many principals who spoke to Prime Time, Julie Dowd felt she had to act quickly and inform parents of the situation before getting a call back from the local Department of Public Health.
She said she was concerned that children would be mixing with potentially vulnerable family members over that weekend, particularly because Meath was a contender in the All-Ireland Ladies' GAA Football final.
"I informed parents of the fact that we had a positive case in the school and that they should act accordingly until I got such official advice from a public health," she said.
While the public health support service called back later the next day, Julie said that others have had to wait much longer.
"Unfortunately, a lot of my principal colleagues are waiting days for this advice, and it would appear that the public health teams don't seem to be sufficiently resourced to go with what appears to be quite a mammoth task at the moment."
One positive case, a teacher in Scoil Bhríde who was a close contact of a pupil, is still waiting for public health to verify her vaccination status, despite the school already having done so.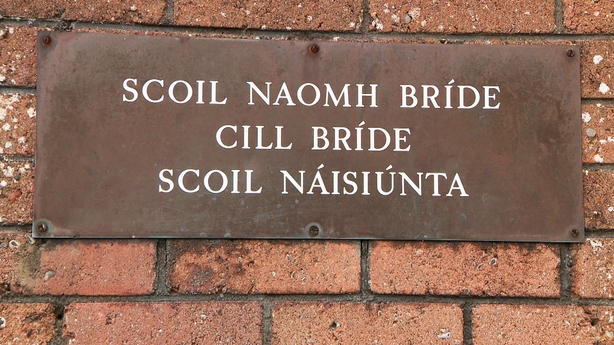 "So she is now waiting for four days for Public Health to contact them, and is working remotely."
Although data on transmissibility within schools will not be available until next week, today's HSE figures indicate a steady stream of children under 18 going testing positive: of those going for a test in the past seven days, some 6% tested positive.
With high numbers out of school the second week into re-opening, Dr Abigail Collins, who leads the HSE's public health response in schools, said today that advice relating to how long children who are close contacts should stay out of school should be reviewed.
Currently, the advice is that children who are close contacts should stay out of school for 10 days, providing they receive a negative PCR test result on day 10.
If a child doesn't get tested, it is 14 days. And, in the case of children with siblings in the home, the restriction period is 17 days.
In contrast, in Northern Ireland, children who are close contacts can return to school if their first PCR test is negative and they remain asymptomatic, while awaiting a second test on day eight.
At Mary of Mother of Hope National School in Huntstown, Dublin 15, school principal Enda McGorman told Prime Time that he would be very reluctant to see a change on current public health advice to schools. He has had plenty of experience of dealing with the impact of positive cases occurring among his pupils.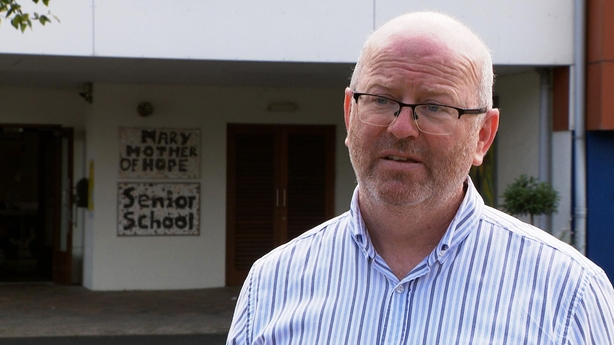 Over one eight-day period last year, 157 students were sent home as close contacts from the school. Mr McGorman said that he found that, frequently, pupils who tested negative on their first PCR test later tested positive on day 10.
Despite his deep concern about the disruption Covid has caused to their schoolwork, he would be worried about any move to return children to the class sooner.
"We have never reopened schools with numbers so high in the community. We're the only setup where you have mass gatherings of unvaccinated, unmasked people – and they are primary school classrooms, and they are preschool settings. "
The Department of Health would not confirm to Prime Time that NPHET intends to decide on this matter when it meets next week.
But if fifth-class children at Mary Mother of Hope National School were making the decision, it's clear what they would choose: getting back to school as early as possible, given how hard it is to learn at home.
They had an outbreak in their class in early December last year and were not back in school until just before Easter last year.
"If it would happen again, it could be bad. Face to face is so much different," said Yasmine.
Caoileann said he would be worried if he had to stay out of school for long periods again this year.
"I would feel upset because I wouldn't be face to face with my friends, and learning is so much harder. I just feel that if we spend more time in school, we can pick up what we lost out on."
Meanwhile, Michael is worried about the many things he might miss out on, such as school tours, his confirmation, and even learning.
"We are going into secondary school next year, so we don't want to be behind."