Along the border with South Armagh and South Down, communities have become increasingly concerned about law and order and policing.
Crime in these mainly rural areas is nothing new. Tax fraud such as fuel and cigarette smuggling and diesel laundering have long occurred. But recently, there has been a growing problem with drug-dealing and anti-social behaviour, including arson attacks and assaults, much of which is believed to be drug-related.
"The drug barons [are] driving big expensive cars and buying big houses," local resident Paul Rooney told Prime Time, "and it is a shame and a disgrace, destroying the local community of Crossmaglen and South Armagh."
Sinn Féin Councillor Declan Murphy also highlighted criminal activity connected with drug dealers.
"Unfortunately, they are feuding among each other at the moment... they are burning each other's cars, smashing windows in houses, assaulting each other," he said.
Martin McAllister, a local man who has long vocally opposed border criminality recalled the unfortunate label that a former Secretary of State for Northern Ireland gave South Armagh.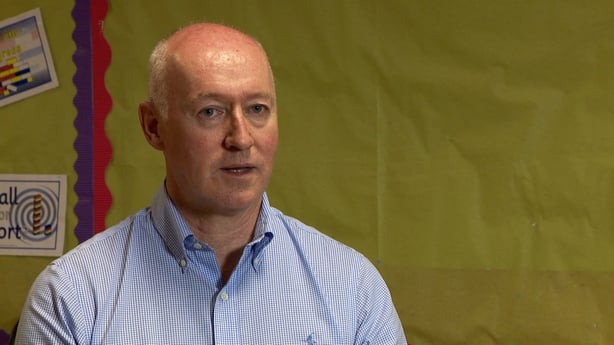 "Merlyn Rees in the '70s named South Armagh and said it was Bandit Country. My fear is now that we are beginning to live up to that name and that, for me, is very hard to take because... it's not a nice tag," he told Prime Time.
The crime problem has created fear and loathing especially in the South Armagh and nearby Newry areas.
Drug dealers and criminals are generally loathed by the community. But they are also feared. Many local people who have information are afraid to make statements to the Police Service of Northern Ireland (PSNI).
"Drug dealers have a bad reputation attacking each other around here, burning property. Other times there were shots fired. So it is not unreasonable that people are afraid to give statements," said former Sinn Féin Councillor Patrick McDonald.
Local SDLP MLA Justin McNulty told Prime Time it was a "cart-before-the-horse situation".
"Police can't make convictions without people making statements and people are afraid to make statements, so therefore the police can't make convictions," he said.
Aside from the fear of retribution, there is also an issue with confidence in the police, Mr McNulty said.
Though things have improved since the replacement of the Royal Ulster Constabulary (RUC) with the PSNI, distrust of the police lingers in nationalist areas. However, with criminality on the rise, there is increased demand from the community for a better policing service – a normalised policing service.
Last month, an incident of anti-social behaviour in South Armagh, which Prime Time cannot describe because a man has been charged in relation to it, sparked community outrage. Locals were furious at the PSNI response to the incident, which injured two people.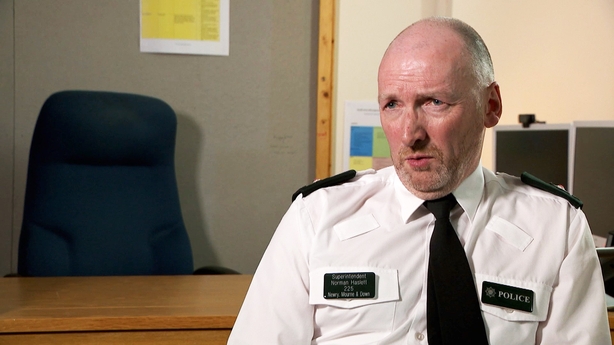 Sinn Féin called a community meeting – one not open to media – but attended by senior PSNI officers who faced, according to attendees, constructive but robust criticism.
Locals at the meeting complained that police took 45 minutes to get to the scene, that key witnesses were still not interviewed several days after the incident and important CCTV evidence was not gathered.
PSNI Superintendent Norman Haslett, who is the commander for the Newry, Mourne and Down District, which includes South Armagh, acknowledged that they "could have done better" regarding the response time. But he defended police gathering of CCTV footage.
The community meeting, which he estimated was attended by around 100 people, however, was "hugely significant," he said.
"It is certainly significant for me it is the first time police have been asked to go to a public meeting" in that area.
"The fact the meeting was called in the first place, the fact that people listened to what I had to say and had a chance to voice their opinion. It showed that police were willing to turn up, that we were willing to listen to what they had to say and now we are willing to act to do something about it," he said.
Inviting senior police officers to address a public meeting in nationalist South Armagh "would have been inconceivable" 15 or 20 years ago, said Crossmaglen-based councillor Pete Byrne, who noted that his town was "the last place to demilitarise."
Councillor Byrne sees it as a step towards the regularising of policing in South Armagh.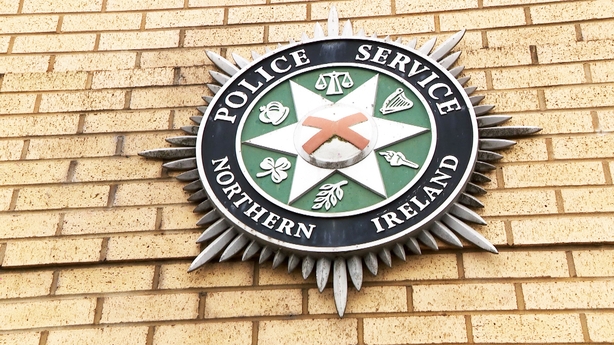 Early last year, PSNI Chief Constable Simon Byrne apologised after tweeting a Christmas photo of him and his colleagues standing outside Crossmaglen police station, with two of the officers holding high-powered weapons with large military-standard vision sights.
"The tweet from December 2019 from the Chief Constable showed that we hadn't moved as far as we thought we had," said Councillor Byrne. "It was a hark-back to the past, the image of the militarised PSNI, harking back to the RUC," he said.
That tweet prompted an in-depth review of policing in South Armagh by the PSNI, which was published last week.
It recommended that "...in order to build legitimacy and confidence in policing" in South Armagh, "neighbourhood policing should be front and centre."
The report also recommended that "visible patrolling on foot and bicycle should be coordinated" ... and that "G36 assault rifle weapons should no longer be routinely carried" by officers.
"The whole thrust of the review is to increase and make the style and tone of policing in south Armagh to be more neighbourhood-policing focussed," said Superintendent Haslett.
"We want the same access to policing as everybody else," said Councillor Byrne.
"There is no reason why we shouldn't have foot patrols, cycle patrols, engagement with the police. There is no reason why there should be unmarked cars going behind a fortified station that harks back to 30 years ago and the Troubles. We are well out the Troubles in Crossmaglen."
The South Armagh Policing Review also recommended the closure of Crossmaglen Police Station, a grey forbidding structure that looks like it was built as an island fortress to keep out a hostile community. "It hasn't changed since the '70s," said Mr McAllister.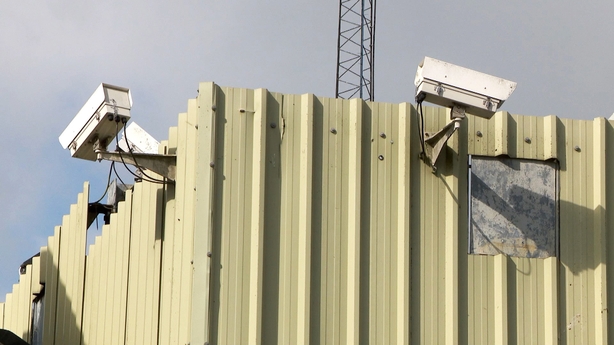 "You can't walk up to the door and ring a bell and walk in and show your license... You can't do that in Crossmaglen and you can't do that in Newry. You have to go through a procedure to get into the place, and it's the same procedure, in reverse, getting out again."
The only other PSNI station in South Armagh, at Newtownhamilton, is similar and so, too, is the nearby station at Newry, Co Down. All are fortified complexes with no easy public access.
"I would say they were stations that were built for a different era and the [terrorist] threat and risk that they were designed to mitigate... has certainly diminished. I think as a service we have been quite slow to adapt to the change in that threat," said Superintendent Haslett.
"The current threat in South Armagh for the community and for the police," he noted, "is not a terrorist threat; the main threat… relates to organised crime gangs, relates to dangerous driving, relates to anti-social behaviour, relates to drugs."
Instead of going to the PSNI with information about crime locally, some anonymous person or group has recently been using social media – mainly WhatsApp messages, to publish detailed, but unsubstantiated allegations, about dozens of people living in the South Armagh and Newry areas, accusing them of connections to drug dealing.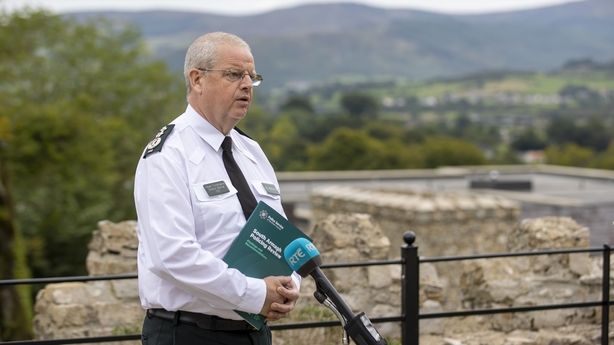 Some widely circulated and very detailed WhatsApp messages have named wives and family members of those alleged to be involved in criminality, referencing alleged spending on designer goods and high-end vehicles, implying guilt by association.
"Nobody knows exactly what the source or who the source is," said Councillor Murphy.
"The bona fides are questionable, an awful lot of names have been left out... so that would make you question the motive," he said.
"If someone is dealing in drugs, it is not really fair to include their family members or family members' business when they have absolutely nothing to do with the drugs trade."
"So I think that really tarnishes the type of information that has been given out. If anybody has got any hard information they know exactly who to go to, that has to go straight to the PSNI," he added.
"Who's behind the social media messages?" Mr McAllister asked rhetorically.
"I have no idea. I don't think anybody has."
He added that the motivation was very hard to decipher.
"If somebody's is doing it for what they perceive to be the right reason, I would say, it's not the way to go about it. It smacks of vigilantism and that's the last thing we need here."