Stewart Kenny is a lifelong fan of gambling. He made one of his first bets on Richard Nixon resigning in 1974, and he's enjoyed a bet ever since – so much so that he made a career, one spanning four decades, in the betting industry.
In 1988, he was one of the founders of Paddy Power. But now the 69-year-old sees things very differently.
Ireland, he told Prime Time, is "so far behind in regulating the gambling industry that there is no protection for the young and vulnerable".
The former chief executive of Paddy Power said that "governments for the last 20 years have been totally negligent" when it comes to regulating the gambling industry.
In an interview with Prime Time, Mr Kenny was also extremely critical of the industry.
He said he resigned from the bookmaking giant in 2016 "because they refused to do anything meaningful on gambling addiction".
Mr Kenny still loves gambling, and he thinks it can be a great pastime, when done the right way. But things have gone too far, he said.
For one thing, the internet era and smartphone technology have "brought gambling into every pocket", turning gambling from a pastime into a "major social problem".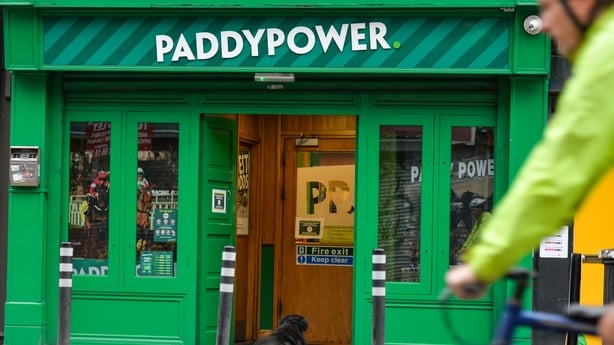 After co-founding Paddy Power more than 30 years ago, Mr Kenny went on to become chief executive of the company as it grew internationally in markets such as the UK and Australia.
Online gambling undoubtedly helped Paddy Power's growth, but Mr Kenny is particularly concerned about the pervasiveness of gambling.
"The internet was the explosion," he said. "In fairness to the industry, we didn't realise how much it would take over people's lives."
Mr Kenny does not think his resignation from Paddy Power vindicates him.
"I must take responsibility for some of the developments. I was part of it, and I have deep regrets that I was not more proactive," he said.
He is particularly concerned about betting companies targeting "highly addictive" online casino games at people who are under 25, and notes that the frontal lobe of the brain, which gives us control over impulses, is not fully developed until a person is 25 or 26.
Young people, who download betting apps to place accumulator bets on a few soccer matches, are then being lured into highly addictive online casino games.
As somebody who has enjoyed having a bet for his entire adult life, Mr Kenny said he would not want his grandchildren opening a betting account.
In a statement, Paddy Power said it has been a longstanding supporter of efforts to introduce gambling regulation.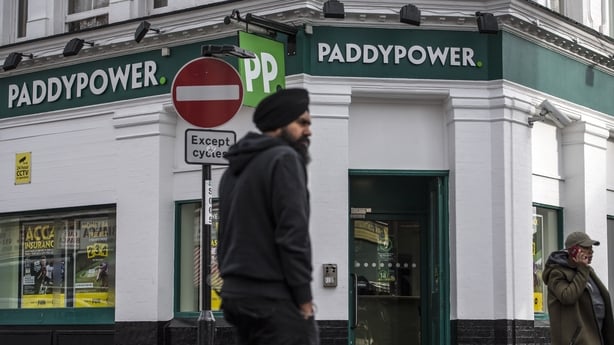 It continued: "Much has changed in Paddy Power in recent years including establishing a full-time team dedicated to safer gambling, alongside investment in a predictive model to help identify the likelihood of someone suffering gambling related harm which enables communication and intervention."
The company has introduced "initiatives such as banning credit cards for online betting and gaming, a pre-watershed whistle-to-whistle advertising ban for live sport and the dedication of 1% of net gaming revenue (€3 million per year by 2023) to support research, education and treatment of people who have suffered gambling related harm in Ireland."
The company concluded: "We haven't always got it right regarding safer gambling, but we are committed to using evidence and innovation to do all we can to prevent problem gambling."
Such is the scale of Ireland's problem gambling issue that Cuan Mhuire addiction treatment services, which has treated drug and alcohol addicts for over 50 years, has recently set up a specific gambling treatment programme.
Michael Guerin, an addiction counsellor with Cuan Mhuire, said that gambling, by its very nature, was "a very secretive surreptitious pursuit".
The advent of online gambling, he said, has created the "perfect environment" for people to indulge this addiction.
The consequences can be tragic.
One women who spoke to Prime Time on the condition that she not be named said that she had only discovered her husband's gambling addiction when he tried to take his own life after racking up hundreds of thousands in debt.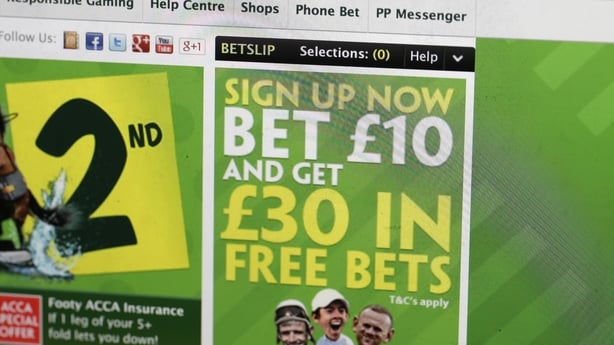 She said that her husband had enjoyed gambling on horses for most of his adult life. But his subsequent online gambling "got out of control".
"After the suicide attempt, the only thing I was concerned about was that I wasn't planning his funeral," she said.
"I just kept saying that it's got to be better than bringing the kids to a funeral."
She has since discovered that her husband, who is now in recovery, was gambling online at all hours of the day and night.
"There's no barman there calling last orders. If a barman gives you another drink, and you're clearly intoxicated, he's responsible for anything that happens to you," she said.
"Who's responsible when you've bet your entire month's wages in one night? Who's calling a halt? Who's saying stop?"
She accepts that her husband is responsible for his own actions, but she's also angry with betting companies.
Though he was betting multiples of his salary each month, there was no system to raise red flags.
"If he went a couple of days without a bet, somebody would ring him and say, 'you haven't been betting, is everything okay?' And they might offer him a free bet then if he hadn't been betting for a while."
Former Tyrone football star Cathal McCarron is a recovering gambling addict who now helps problem gamblers.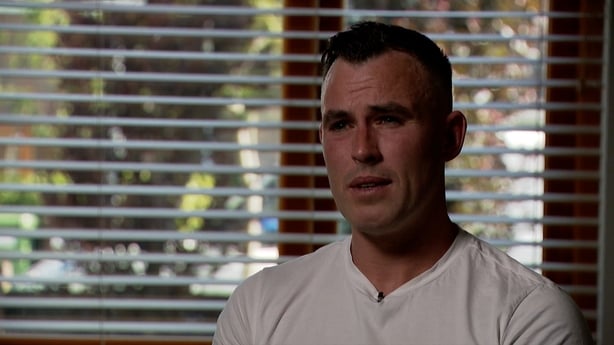 He said that when he was gambling heavily that he "never got a free bet until I lost. So if I was winning, I never got a free bet".
While Cathal started gambling on horses as a teenager, he moved to online and "in-play" betting on all sports.
The Irish Bookmakers Association, the umbrella body for the industry in Ireland, told Prime Time in a statement that its members had made "significant strides in recent years to update our safer gambling policies".
"It is an evolving process with more work to be done," it said.
Last month, Englishman Andy May was sentenced to four years for fraud at Norwich Crown Court. He stole £1.3m from the clothing company where he worked to fund his gambling addiction.
Three days before he was jailed, he told Prime Time that he had not gambled for seven years until he saw an advert for a £50 free bet with a large betting company on TV during the 2014 World Cup.
"That took me down a journey that saw me then spend a little bit more than £1.25m on gambling," he said.
"I was spending vast amounts of money. They would offer me lots of free bets. When my account balances were low, they would offer me free bets to try and keep me gambling with them. And I was invited to a whole host of top-flight sporting occasions."
In a recent High Court case in London, a businessman sued Flutter Entertainment Plc, the parent company of Paddy Power, claiming that money he had loaned to a man called Tony Parente to invest in Dubai property had in fact been used to gamble by Mr Parente.
Because the businessman could not prove a direct link between the stolen money and the problem gambling, he lost his case.
However, the judge was critical of Paddy Power's approach to the problem gambler in his final judgment, delivered on 4 June.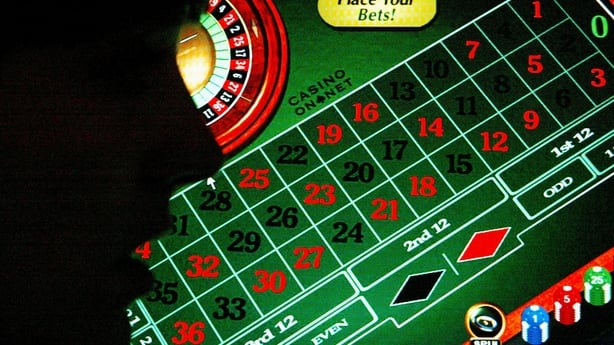 "Paddy Power knew from its own monitoring of Mr Parente that he was gambling like a problem gambler with an unhealthy and unsustainable gambling addiction on an escalating and desperate scale," Mr Justice Griffiths said.
"Paddy Power knew that his losses were unsustainable on his known income and assets. Paddy Power knew that when they tried to get information from him to show source of wealth and source of funds, they failed."
The two cases involving Andy May and Tony Parente have spurred calls for tighter regulation of the gambling industry in the UK, where there is a gambling regulator.
There is currently no regulator in Ireland. The Department of Justice said a gambling regulator will be fully operational by 2023.
Addiction counsellors say the Irish Government needs to make regulation a priority.
"Those of us who work in the field are at a loss as to why the establishment of a regulator's office has taken so long, given the fact that we were told in 2013 that this legislation for gambling was at an advanced stage," said Mr Guerin.
During a Seanad debate in April, James Browne, the junior minister with responsibility for gambling, said that it was hard to deny Ireland's gambling laws had led to a "Wild West" situation.
"They are simply not for purpose, which is why I am determined to have them changed."
The Exchequer benefitted from €4.75bn in taxes from gambling in 2019. When you add in the National Lottery and other forms of gambling, the Department of Justice values the Irish gambling market annually at between €6bn and €8bn. The industry employs more than 8,000 people.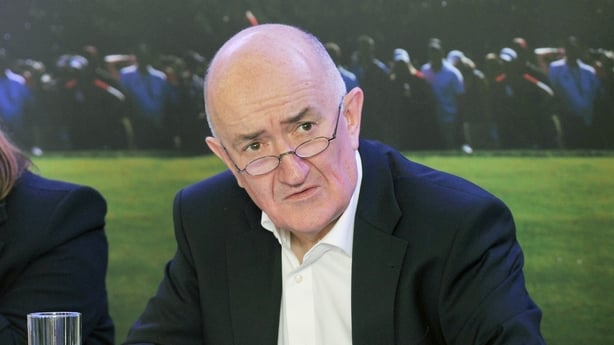 "The Government are as addicted to the tax revenue from gambling as the unfortunate vulnerable customers are to the gambling," said Mr Kenny.
"Are the Government prepared to take a slight downturn in their taxation revenue from gambling?"
Mr Kenny has also warned that a gambling regulator is not a "silver bullet solution".
"The Government needs to legislate, not hide behind a regulator," he said.
He advocates in favour of more protection for under-25s from being "bombarded" with online casino adverts, including a TV advertising watershed to limit children's exposure to gambling adverts, as well as the introduction of mandatory deposit limits.
Boyle Sports also issued a statement to Prime Time, saying its team is "trained to intervene where they believe a customer may be experiencing difficulties".
"They also advocate the establishment of a national register where a customer who self-excludes with one company is prevented from betting with all others," the company said.
"The gambling industry has become the new cigarettes," said Mr Kenny.
Tobacco companies claimed to encourage people not to smoke in the past, but the Government had to step in.
"We need the Government to legislate now."
If you have been affected by any of the issues raised in this article, you can contact Gamblers Anonymous Ireland on 01 872 1133, you can text Problem Gambling Ireland on 089 241 5401 to arrange a call-back, or you can call Cuan Mhuire on 059 86 31090 or 059 86 31493. You can reach the National Problem Gambling Helpline on 1800 936 725. You can also contact the Samaritans by calling 116 123.