Live music has been missing from our lives since March 2020. There are few industries that have been hit harder or for such a long period. It's been a complete shutdown.
On Thursday, James Vincent McMorrow and Sorcha Richardson took to the stage in Dublin's leafy Iveagh Gardens, for what many saw as more than just a concert.
It was not just the significance of it being the first Irish gig since the beginning of the pandemic. It was also the first in a series of pilot events to see how live entertainment can be resuscitated.
Barry Walsh, the National Concert Hall's head of operations, said that he and his team are aware of the significance.
He told Prime Time that they're trying to wrest back the bit of joy that people had in their lives pre-pandemic – and that he feels live music is the best vehicle for doing that.
He also understands what this gig meant to the thousands of people who earn their living in the industry.
"We're all emotional and we're all hard-nosed professionals. I'm in this business 35 years and this is something that none of us have experienced before," he said.
The entire gig was designed to reduce the risk of infection. It was outdoors, no alcohol was served, concert-goers were kept in pods of four and masks were mandatory in all areas outside the pod.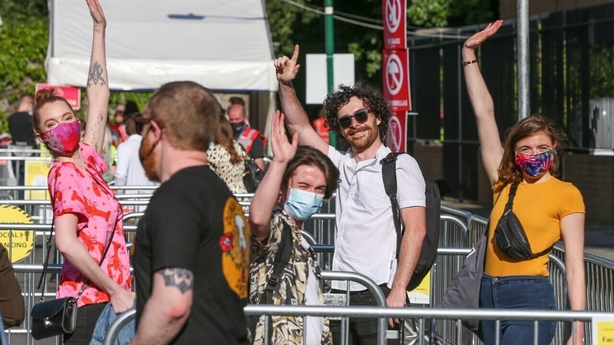 To the surprise of many, there was no antigen testing on entry. This is despite both Tánaiste Leo Varadkar and the National Concert Hall's director Robert Read telling RTÉ radio that the testing kits would be used.
Pilot concerts in Barcelona, Liverpool and elsewhere have used antigen testing as a requirement for entry, with encouraging results. So why the U-turn for this concert?
Barry Walsh said that it was a decision made by Government, though it's one he says is completely understandable.
"What we are tasked with here is to create that controlled environment. We are very comfortable that what we are doing here is probably more sustainable."
The Ferguson Report into the feasibility of antigen recommended their wider use, specifically for pilot events in live entertainment. Despite this, several senior National Public Health Emergency Team members are dubious about widespread use of antigen testing.
Both Dr Tony Holohan and Prof Philip Nolan have expressed their reservations publicly.
Antigen testing picks up the vast majority of the most infectious Covid cases but, when it comes to asymptomatic cases, it misses a far greater percentage than a PCR test.
There remains a concern that people will treat a negative antigen test as a green light and will change their behaviour, when they might very well be positive.
Proponents of antigen testing will point out that it is better deployed as a screening tool than a diagnostic tool.
Prof Paddy Mallon is a consultant in infectious diseases and sees the lack of antigen at Thursday's concert as a missed opportunity.
"Although the overall risk is low in this setting, I'm surprised we're not using this event as an opportunity to at least test feasibility, logistics of use of pre-event testing for these types of activities going forward, because obviously, as the months go on, we're not always going to be able to do everything outdoors," he said.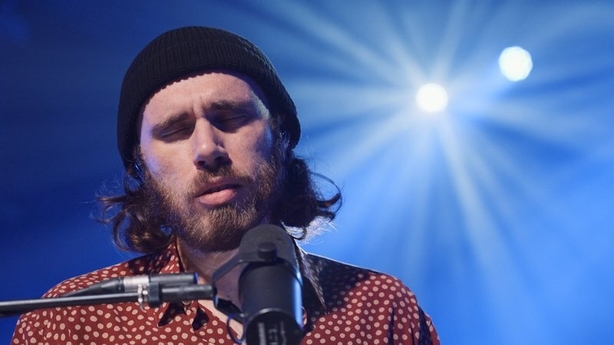 "We're not always going to be able to do everything, maybe in pods, and we are going to be reliant on other risk reduction methods."
The conditions for attending the concert were such that they actually went further than the guidelines on people's behaviour in a public park, where they can already gather in larger groups.
If the environment and behaviour was so strictly controlled, what are we really going to learn from this pilot event?
For Prof Paddy Mallon, it won't be something that moves us much further beyond where we already are.
"The key learning is from this is that if this particular event in the format that it's in, which is quite restrictive in terms of its social interaction format, if it works and I really hope it does, it enables other events to take place."
However, he noted that we will not learn much when it comes to events that do not fit within those strict parameters.
It was not realistic to imagine holding a music festival where people remained masked and in their pods, he said.
With the hazy evening sun shining on the Iveagh Gardens, people began to filter through the barriers. They' were in their small groups, and they were all wearing masks.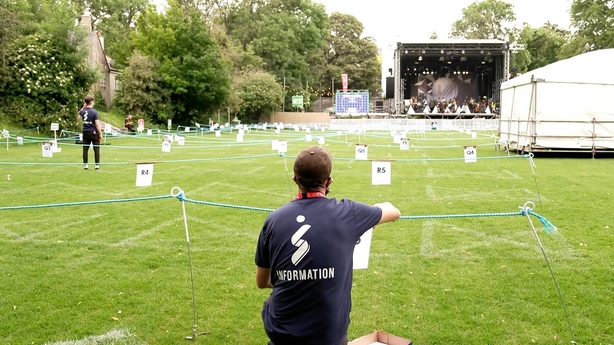 Some had been taking advantage of the pubs now serving outdoors again. None of them were too concerned about what we were going to learn from this.
They were just happy to be here, to be part of it. "It's exciting," said one girl.
"It's emotional. We would have gone to a lot of gigs before this and we're lucky to be here today," added her friend.
"It feels normal," said one man in a Kerry GAA shirt, his arm around his girlfriend. "Normal in a good way."
Normal life has been a jigsaw full of gaping holes since March of last year. Those holes are slowly being filled and it feels like the return of live music is a crucial piece being added to the puzzle.
The jigsaw isn't complete. There are still holes in it, but we can see the picture now and we can see how far we've come.