They give quick results. They are cheap. And they are relatively easy to use. But the arrival of rapid antigen tests on supermarket shelves last Friday has not been without controversy.
Lidl stores are selling their Covid-19 test kits at €24.99 for a box of five. NPHET has cautioned consumers not to use them, with Chief Medical Officer Dr Tony Holohan noting that he is very concerned that they will "falsely reassure people".
NPHET's Prof Philip Nolan, meanwhile, traded barbs on Twitter with Harvard epidemiologist Prof Michael Mina, saying his "snake oil" comments "further sows confusion".
For an advisor to your government - you don't appear to know what you are talking about @President_MU wrt rapid tests.

The comment adds nothing of benefit and further sows confusion.

You should be ashamed of your demeanor here.

— Michael Mina (@michaelmina_lab) May 9, 2021
Today, Health Minister Stephen Donnelly said they are "not a silver bullet". But he did acknowledge that they are "one of the tools" we can use in dealing with the spread of Covid-19.
While they are less accurate than PCR tests, they will find the virus in most people who are displaying symptoms. But, in some cases, antigen tests may not pick up that someone has the virus, potentially giving false confidence.
A review of antigen tests found that they correctly identified Covid-19 infections in around 72% of people with symptoms, and 58% of people without symptoms. PCR tests, on the other hand, correctly identified more than 95% of all infections.
Lidl sold 10,000 testing kits on the first day they put them on the sale. So there is clearly a demand for them.
This morning, Prime Time went to Bray, Co Wicklow to gauge public opinion about the testing kits. We set up a mobile testing unit on the seafront promenade.
After testing myself and getting a negative result, we asked passers-by to trial the testing kit.
Most people were following the debate on the airwaves about the merits and flaws of the tests.
"Once you read the instructions properly, you can see it's fairly straight forward and you get your instant reading," one woman told Prime Time.
"I think the majority of people will be sensible about it and use them correctly."
The convenience of being able to test yourself anywhere, at any time, is a key selling point.
"You can do it at home. You can do it in your car. If you are going out to a party or something, you get everybody tested," said one man.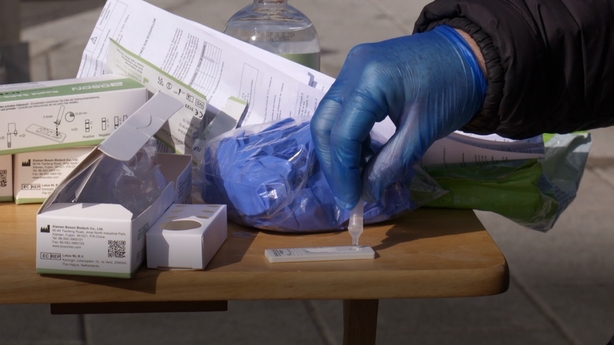 He said that the tests can give people working close to each other in retail environments some peace of mind and reassurance.
Another man was critical that some other countries in Europe are distributing antigen tests free of charge, while Irish consumers have to pay for them in a supermarket.
He added that, if he did test positive with one of the Lidl tests, he would isolate himself and contact his GP straight away.
Prime Time makes no claim that the trial on the Bray seafront was a scientific experiment. It was simply trying to see if people would change their behaviour having taken the test.
Of the seven tests we carried out, six were returned negative. There was one invalid reading.
Despite the broadly comforting results, people were aware of the limitations of these tests. One woman said their availability in supermarkets was a welcome development but that people still needed to be careful.
"You still need to take the measures that are being advised by the Government," she said.
The woman, who is in her early 30s, acknowledged that she was well down the pecking order when it comes to getting a vaccine.
"If the people around me are vaccinated, I think that having access to these tests would make me feel more comfortable being around other people – and I would feel less anxious."
Made by Chinese company Boson, the Lidl test kit is one of 16 antigen tests that was approved for use by the EU Health Security Committee in February. It is already used across a number of EU member states.
Speaking on Morning Ireland on Monday, the CEO of Lidl Ireland, JP Scally, said his customers and the general public should be trusted to use the tests appropriately and to continue to take all the necessary public health measures along with the antigen tests.
The debate on rapid antigen testing is by no means a new one in the life of this pandemic. The tests are not a silver bullet, but their arrival on our supermarket shelves has undoubtedly injected new urgency into the debate on their use.