It was a scene that made lovers of live music everywhere yearn all the more for pre-Covid days. But it was also perhaps a glimpse of days to come: Some 5,000 people dancing and clapping along at an outdoor concert in Barcelona the weekend before last.
It could almost have been a scene from before the pandemic – it was only the masks that gave it away. The concert was made possible by the use of rapid antigen tests.
Every person attending was screened on their way in, with the price of the test factored into the ticket. 
It feels like we've been hearing a lot about antigen testing in this country, but seeing very little. 
Barely a week goes by when it's not touted as one of the weapons that could help us better manage the pandemic. 
The pros are significant: antigen tests are cheap, easy to use and very fast. Most will deliver results in under 20 minutes, and some in under three.
It involves a quick nasal swab that people can be trained to oversee or administer themselves very easily. They usually cost between €5 and €10 per test, compared to the standard PCR tests, which cost as much as €150 for a single test. 
However, antigen testing is also less reliable than PCR. Though they're very effective at identifying the cases of Covid-19 that are most infectious, antigen tests will miss a lot of cases.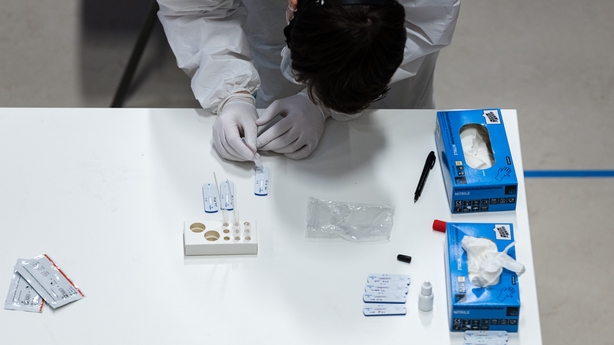 It's a trade-off that many consider worth making, if the tests are deployed and used properly and in the right circumstances. 
At the moment, anybody wishing to avail of antigen testing in Ireland will need to purchase them privately. Many businesses are already doing it.
Arthur Griffin of Covisal told Prime Time that the company is providing kits to companies who want to test drivers or factory workers – to prevent outbreaks before they happen. 
One such company is Setanta Vehicle Import in west Dublin, where staff are screened using the test kits twice a week. Managing Director Harry Nash said that using the tests has enabled them to identify six positive cases in workers who had no symptoms. 
The company has spent almost €30,000 on testing since November, but Harry said it was a cost worth paying. 
"That sounds quite a lot of money. It's a reasonably sized business. We're 130 or 140 employees," he said. 
"The cost of us closing down would be huge – so we thought it would be probably something we could bear." 
The regular and repeat antigen testing at Setanta Vehicle Import offers a glimpse into how it could be used very efficiently in other settings, according to Dr Gerald Barry, an assistant professor of biology in UCD.
"Any extra layer of protection that we can provide in those environments reduces the risk for all the people, in that it actually creates an extra layer of risk mitigation," he told Prime Time. 
While antigen testing is far from perfect, it will help to identify people who are positive and could infect others. 
"So, in a university environment, in a workplace environment, in a school – any situation where you have people gathering like that – there's no doubt introducing antigen testing on a regular basis will reduce the risk in those environments," Dr Barry said.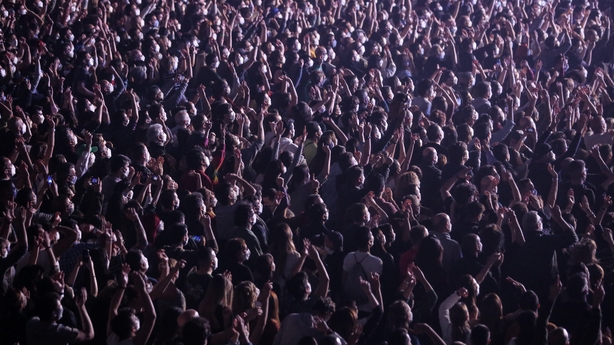 There's no doubt that those working in hospitality, hotels or hair and beauty will look at the concert in Barcelona and see an opportunity for reopening their own sectors.
Could clients be screened for Covid at the door and be assumed safe if they don't test positive? 
That could spell trouble, said Dr Barry: a negative antigen test should not be seen as a green light. 
"All a negative test by antigen is really saying is: 'Currently we weren't able to pick up any virus particles'. But that's not to say that tomorrow, or the next day, you may suddenly start to shed the virus," he said. 
Problems would also arise if negative antigen tests caused people to change their behaviour, he said, noting that people should continue abiding by the public health guidelines. 
In other words: Antigen tests aren't designed to confirm negative cases, but rather to find positives.
Large-scale testing of asymptomatic people in Slovakia and Liverpool, using antigen tests, was able to find those positive cases who had no symptoms.
Those people could then self-isolate, reducing their risk of infecting their families, co-workers and communities.
In Liverpool, the data from this ongoing study is being evaluated by Prof Louise Kenny and her team.
They have now completed over 750,000 tests in the city and surrounding region, which has experienced what she called a "very significant and hard third wave" of Covid-19. 
During the peak of the pandemic in Liverpool, up to a third of positive cases were being detected using rapid antigen testing.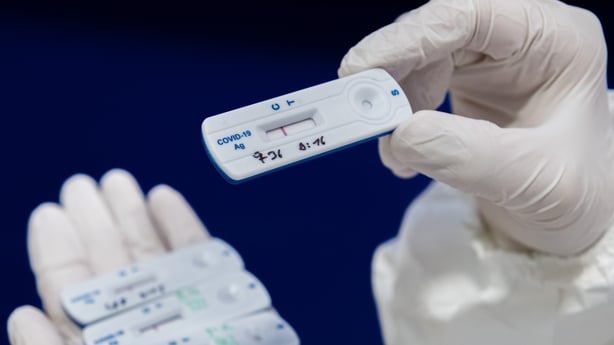 "That's important, because we know, by definition, they were occurring in people who were presenting for asymptomatic testing," Prof Kenny told Prime Time. 
"They had no symptoms and yet they were positive and certainly at risk of passing on the infections to their loved ones and their communities. So, in our minds, and, in our experience, it's been a really vital public health intervention." 
The UK government is currently providing antigen test kits free of charge to any business who wants to use them. Its most recent initiative will see two antigen tests offered every week to every person in the country. 
While we've been slower to embrace antigen testing in Ireland, an expert group examining its feasibility published its report last week.The report recommends a widespread rollout of the tests. 
This will initially be done through a series of pilot schemes in schools, colleges and the construction sector. 
Dr Barry believes the reluctance to roll the tests out to as many people as possible as soon as possible is based on the number of cases that will be missed by antigen testing.
"There's a hesitancy around the fact that it will miss cases, but I tend to look at it the other way: what it will do is it'll pick up cases. It'll pick up more cases than we're picking up at the moment," he said. 
"And that's only a good thing in my mind: the more cases we pick up, the less potential there is for other people to be infected." 
For Prof Kenny, it's a hesitancy that has gone on too long. Antigen testing could facilitate the development of a good outbreak management system and allow us to get ahead of the virus.
"We think we've got some pretty definitive scientific proof of the clinical utility of these tests. And we have rapidly available, very cheap, very easy to use, very rapid tests," she said. 
"So we've argued as scientists and medics that there is an ethical imperative to increase the availability and the rollout of them."