This time last year, the country's high streets were festooned with the trappings of Valentine's Day – love hearts, soft toys and chocolates in almost every shop window, the flower sellers doing a roaring trade.
This February, the shops are almost all shuttered, the flower sellers conspicuous by their absence. Any couples hoping for a romantic meal will have to eat it at home.
Is romantic Ireland dead and gone?
According to sex educator Dr Caroline West, 11 months of restrictions have taken their toll in several ways.
"Some parts of the population have been having a really good time. Sales of sex toys are through the roof, sales of lingerie are through the roof," she told Prime Time.
"On the other side, there's people having no sex whatsoever. We know there's really high levels of anxiety and depression in the country at the moment – and that impacts libido."
The most obvious impact is on those looking for love: singles who are unable to mingle because of lockdown.
There is no shortage of smartphone dating apps, all of which tantalise their users with the prospect of love being a mere swipe away.
But taking a relationship from a phone screen to real life is difficult at the best of times, and Covid-19 has made it next to impossible.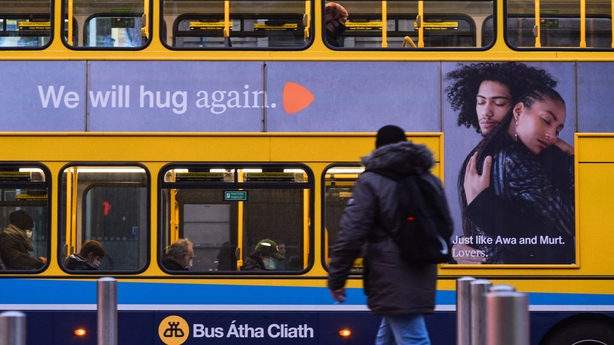 There is also an intensification of what experts call "the halo effect", as cyberpsychologist Dr Nicola Fox Hamilton found in her study of online dating during the pandemic.
If you have an initial good impression of someone, you are more likely to view every interaction after that in a positive way, she said.
This has particular implications for communication over text: because we can't read body language, tone of voice, or someone's facial expression, we fill that knowledge gap with more positive information.
As a result, conversations can become intimate – or hyperpersonal – very quickly.
"Even if the person is really nice, when they show up in real life, they can't possibly meet that ideal impression," Dr Fox Hamilton told Prime Time.
For obvious reasons, the pandemic is increasing the prevalence of hyperpersonal communication, she said.
We've all missed real, physical social interactions over the last year but for those who are trying to meet someone who they hope might be the one, it's a year lost.
Journalist Nicola Bardon is in her mid-30s and feels that the clock is ticking.
"There's definitely a feeling of loss. I feel like a year is taken from me that I'll never get back. I'm in my mid-30s, and as a woman, it's all we think about at this stage," she said. "If I meet someone now, how long before I'm able to have a child? Will I still be able to have a child?"
It's a feeling that tallies with Dr Fox Hamilton's research, though it seems to be exclusive to the women participating in her study.
"Certainly, a number of my female participants in particular talked about the fact that they're maybe at a point in their life where they'd like to meet someone and have children and they could see time ticking away, and they felt a little bit of pressure about that," she said.
None of her male participants talked about time ticking by and not being able to have children if they didn't meet somebody, even though several of them were actively looking for a long-term relationship.
While the pandemic has kept some people apart, it has brought others closer together.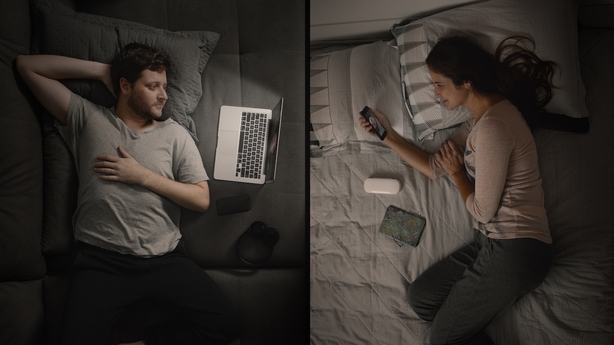 As the outside world became smaller and some people's partners or spouses became their only adult human contact, it has brought many couples closer together than they had every imagined.
Dr West said that while good relationships may have been tempered and strengthened by the challenges of the last year, the pressures of being cooped up together for so long have in some cases widened existing fault lines in relationships.
"I think there's going to be a lot breakups after the pandemic ends, because I think it's time to reflect on the relationship itself," she said.
"Maybe if it's a new relationship, sex is really important at the start and going out and socialising is a really important part of the relationship – but people haven't had that opportunity and maybe people are reflecting on what's actually binding us together."
With restaurants and hotels closed on this Valentine's Day, some couples may feel a pressure to conjure up the romance at home.
It may be a much-needed tonic, though clinical psychologist Dr Maureen Gaffney explained that, after the year we've all had, this might be an ideal time to reduce expectations, rather than create additional burdens for ourselves.
"I think Valentine's Day is a very mixed blessing. I think it's fine for young dating couples in the first flush of love, or honeymoon couples. But for everybody else, the most you can expect this year is that if you get a card, you're doing well. I think we have to give each other a pass."