The Covid-19 variant known as B117 has already been identified in dozens of countries.
The Irish Government was briefed today that 25% of cases in a recent sampling contained the variant and it's been cited as a major factor in the surge of hospitalisations across the UK, where it was first detected.
Announcing a third national lockdown on Monday night, British Prime Minister Boris Johnson said the variant was spreading at a "frustrating and alarming" rate.
"It is clear that we need to do more to bring this new variant under control," Mr Johnson said.
But what do we know about B117? To what extent is it a factor in the spiralling numbers of cases here in Ireland? And why do we need to be concerned?
"It's spread across the UK very, very quickly, and it's become the dominant strain now and almost replaced the previous strain in many regions within a matter of weeks," said Dr Deepti Gurdasani, a clinical epidemiologist at London's Queen Mary University.
Dr Gurdasani told RTÉ's Prime Time that it was particularly concerning that the new variant seems to spread rapidly even when restrictions are in place.
"That means that restrictions are not going to be as effective in containing this variant compared to before. So were we to put in place lockdowns of the style, for example, we had in March, we might not see the rapid reduction of cases that we saw then," she said.
And it could mean that, unless this variant is contained across the world, it could become the dominant strain of Covid-19.
"And if it becomes a global strain, it makes the pandemic much harder to control," Dr Gurdasani said.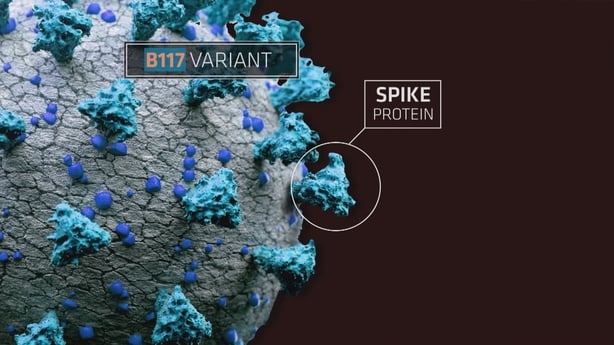 The proportion of recent samples containing B117 shows that the variant is already reasonably widespread in Ireland. But just how much of a factor has it been in the extraordinary rise in cases over the last week?
"At the moment, we've got very little data. It's unlikely that B117 is responsible for the recent surge of cases of Covid in Ireland," said Prof Derek Doherty, an immunologist at Trinity College Dublin.
"It's more likely that the recent surge is due to the relaxation of the restrictions that we've been observing – the opening of restaurants, the indoor gatherings in houses, and the opening of travel," he said.
---
---
The evidence so far doesn't suggest that the approved vaccines will be any less effective against B117, but there are concerns that a variant recently identified in South Africa may prove to be more resistant to current vaccines.

Mutations in viruses are not unusual, but the B117 variant has a surprisingly high number of mutations, as many as 23.
The most notable mutation in B117 is to the spike protein, the part of the virus that attaches onto human cells and allows it to spread and infect.
Current evidence suggests that this variant is up to 70% more transmissible.
While there is no evidence that this new variant is more aggressive, a more transmissible variant is actually far more concerning than one that causes more severe disease.
Simple maths can explain why: more transmissibility will cause cases to increase exponentially. And that will, in turn, cause deaths to increase exponentially.
"A variant that's more fatal is only going to increase deaths in a sort of linear way," said Dr Gurdasani.
"If I could choose, I would choose a variant that was more fatal rather than one more transmissible."