"The first thing you are told by other parents is to get a medical card. You're going to need it."
Darren Kelly is a parent on a steep learning curve. In November 2012, his son, Éanna, developed bacterial meningitis.
"I had gone up to check him in the middle of the night and saw one of the most frightening things you could ever see: he was covered in the nastiest, angriest rash you could imagine. And, immediately, you know what it is. There was no guessing," Darren told RTÉ's Prime Time.
Éanna survived meningitis but his right leg had to be amputated. The 13-year-old is one of more than 1,000 people who have limbs amputated in Ireland every year.
Only the cost of the first prosthetic is guaranteed to be covered by the State. Most parents of children who need prosthetic limbs are granted discretionary medical cards – but almost everyone you speak to has war stories of the gargantuan efforts required to actually secure the card.
Darren smiles as he recalls Éanna getting his first prosthetic limb. It was a huge moment for the family.
"When we saw him walking like that, it was just amazing," he said.
But the feeling of wonder quickly turned to despair when it became clear that they would have to fight to acquire a discretionary medical card to secure Éanna's future needs.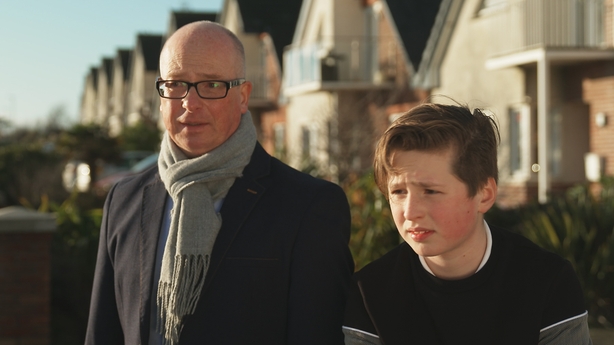 "We went straight into this six-month nightmare. We don't need a medical card – both of us work – but Éanna does. He needs the prosthetics so that he can walk."
"After two years, we had to go and apply again and we went through an even worse nightmare. It took a further six months," Darren explained.
Éanna is sports mad and needs up to three legs a year at an estimated cost of €20,000. His father thinks prosthetics should be part of a separate scheme.
"Éanna has a permanent disability, and the medical card process is more temporary," he said.
"Another parent who was in a similar situation to us ended up in a screaming match with the medical card people. She was crying, saying her child is not a starfish. The limbs don't grow back."
Even when the battles to secure a medical card are won, families can face lengthy delays before receiving HSE approval for limbs – delays that depend on which county you live in.
Michael McWilliams of Amputee Ireland said HSE community healthcare organisations in some counties can take longer than others to approve new prostheses.
"Some are very fast and some are very slow. It's dreadful," he told Prime Time.
"We have no way of knowing how quickly children will grow, so we have to replace prostheses on a very regular basis," explained Donna Fisher, a Clinical Specialist in Prosthetics and Orthotics at Ottobock Ireland.
Ottobock is the largest supplier of prostheses in Ireland. Limbs are paid for privately or through HSE funding.
"The process can be quite protracted and it is a bit of a postcode lottery," Donna told Prime Time.
"We have to wait until we get sanction from the HSE before we can begin a new job."
Prosthetists have become "very good at managing the system", she said, but they are often put in difficult situations and faced with leaving patients without their prostheses.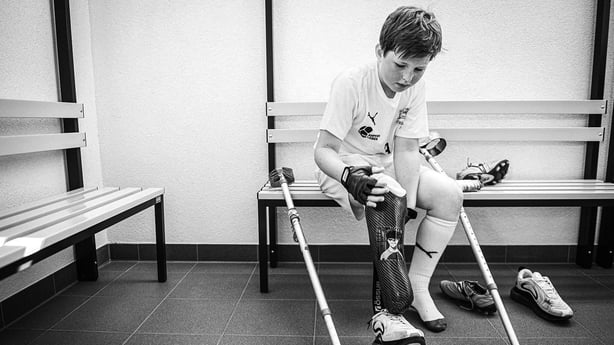 "As far as possible, we don't leave anyone stuck."
Once amputees reach adulthood, they face a new dilemma.
Former Paralympian Darragh McDonald is retired from swimming, and is now forging a career in finance. The 26-year-old needs two prosthetic legs, at a cost of around €16,000, every 18 months. That expense is currently covered by the State but Darragh is worried his discretionary medical card will be withdrawn if he progresses in his career.
"There's always the risk that your medical card will be taken off you and you suddenly won't be able to afford your legs," Darragh said.
"It's a constant stress and pressure. When it comes to a salary review, I'm worried if it goes up a tiny bit... is that going to affect my medical card? It's the equivalent of buying a car every year. No one can buy a new car every year."

In a statement to Prime Time, the HSE said the "postcode lottery" will become a thing of the past.
It said a work stream has been dedicated to standardising the provision of aids and appliances at a national level.
"This work includes the establishment of a national approved list of items, national guidance for prioritisation, and standardised provision across the entire country, to help ensure that both the quality and equity of access to the service is improved."
The HSE said while resources would remain a "challenge" it is expected that going forward "there will be a significant diminution in the geographical variation that has previously existed."
Watch reporter Louise Byrne and producer Lucinda Glynn's report on prosthetics tonight on Prime Time at 9:35pm on RTÉ One and RTÉ Player.