One day, in 1996, a man walked into a bar.
The barman was Owen Smyth, at the time a Sinn Féin councillor in Monaghan town, and the Roundhouse, opposite the courthouse, was no normal bar.
Smyth says there was a trapdoor behind the counter, down which he was ready to disappear should the need arise. Convicted of IRA membership in the early 1970s in Belfast, he says he was constantly wary of a loyalist attack.
To him then, all newcomers were welcomed with caution. This one was small, quiet, and English. He took a seat and ordered a "mineral". He had the air of an eccentric.
A horseshoe-shaped counter dominated the bar - with 20 people, it was full - the wrong place to be if you didn't want to engage with the people around you.
After some exchanges, Smyth says he asked, half seriously, "so are you MI5, MI6 or MI7?"
The man laughed, and introduced himself as Billy Hampton, and told him he was staying in a caravan in Cootehill. In the bar, he was called Willie.
Owen Smyth thinks Mr Hampton knew who he was, and cannot remember exactly when they first met, but drawing threads from different accounts, it seems likely that William Hampton knew someone else in Sinn Féin before his encounter with him.
Smyth described him as quirky, a bit paranoid, but well read and politically informed.
By his account, in dozens of visits over around two years, they developed a "good friendship over a lot of chat", discussing everything from World War I to Ho Chi Minh to the UK miners strike. He recalls him saying that a relative was one of the Jarrow Marchers of 1936 - 200 jobless men who walked 300 miles from Tyneside to London to protest about poverty during the Great Depression.
Mr Hampton, he says, was amazed to hear that a town the size of Monaghan once had a mental asylum, and that in 1919, its staff went on strike, and aided by ITGWU organiser and writer Peadar O'Donnell, established the first 'soviet' outside the Soviet Union there.
Smyth said he knew little of Mr Hampton's family circumstances, except that he appeared to have a difficult relationship with his sister, and had a chip on his shoulder about a lot of things. He also wanted to know if the IRA was serious about peace.
"He did it to spite this government, and that was his total reason - and that is how he would put it: 'I'll stuff this bloody government; I am going to put my money into the IRA'."
He said Willie Hampton first mentioned making a will and leaving all his money to Sinn Féin to his wife Anne, and said it several times before Smyth "took a punt" and introduced him to the solicitor who drafted it.
His account of the making of the will features in the Prime Time report, as does Sinn Féin's at a national level.
But for the most part, as our inquiries continued, William Hampton remained a mystery.
Memory of a sighting of his converted ambulance van here; a query about a safety deposit box there; the use of various offices as a mailing address, an abandoned effort to buy a strip of forestry in Cavan, an abandoned house in Bantry Bay - all just snippets of a man who seemed like the white rabbit of another tale.
Who was William Hampton?
English man left at least €4.6m to Sinn Féin in will
William Hampton was born at the end of 1935 in London. His father, Ted (Edward Charles) and mother, Ethelreda had married at the beginning of the year in Lambeth. Ted was 29; Ethelreda, 21.
They lived in Coldharbour Lane. Ted's father was a road transport contractor; Ethelreda's was Henry Johnson, a carpet salesman. Ted became a transport contractor too, concentrating on food transport. Five years later, in 1940, the couple had a daughter, Jacqueline.
But tragedy struck twice. In 1946, when William was just 10 and Jacqui five, they lost their mother to suicide. She was just 32 years old. Ted Hampton moved with his children to the tiny village of Fenstanton in Cambridgeshire, where he had bought a farm and a garage with money he'd made selling potatoes in the war.
Church Farm was over 110 acres and from there, he grew a vegetable and food supply business, EC Hampton Wholesale Ltd., with warehousing in Cambridge, on Newmarket Road.
Yet despite his success in making money, Ted too was quiet and troubled. He took his own life at Church Farm in 1984, when William was 48.
In Fenstanton, William is described as either "troubled" or "trouble" when he was younger, and is remembered more for his absence than his presence.
He became a wanderer. He later printed a card claiming that he was ex-Royal Navy, but no record has been found to show he served. As yet, there is nothing to prove he was in the merchant navy either, though Sinn Féin's lawyers are in the course of obtaining his previous passports, which could reveal more.
His friend Rosalind Morton says he formed an early attachment to Ireland, from at least the early 1970s.
"I think he must have gone all over Ireland and he just loved it", she says. She feels he associated England with grief and with getting a lot of grief.
"I think he felt 'I cross the sea and I am in another country' and I think that is why he travelled - to get away", she says. He went far and often, camping and caravanning from France to Iceland to Vietnam, with rare returns to park up in Fenstanton itself.
Always, Rosalind says, his troubles were about "the money". The money was his inheritance. Though he had worked as a mechanic in his father's garage in Fenstanton, and once ran a casual stall repairing drills in Kent and later still a small shop repairing electric and mechanical hand tools in Wales, his career was as a wanderer and heir.
"I repeat that after 15 years of English hate I have suffered for having the misfortune of inheriting a fortune, I am not used to the normality of life and people".
A fortune
When Ted died in 1984, he left William and Jacqui almost £1.4m between them, leaving his estate in trust for them with an accountant and solicitors.
Jacqui was perceived as being as "difficult" as William, producer Angela Ryan and I were told, and after Ted's suicide, relations between Jacqui and William worsened over how the estate was to be divided, each side feeling hard done by.
Indeed, just two years after their father's death, Jacqui specifically excluded William from inheriting from her.
"I direct that in no case do I wish any benefit to accrue to my brother William Edward Hampton from my estate", she wrote in her will in 1986. If her daughter did not survive her, she instructed, everything should go to The People's Dispensary for Sick Animals.
The trustees, meanwhile, were focused on the development value of the estate, and through planning permissions, rental income and sales of parcels of land over two decades, they multiplied its worth. In William's letters, he thought he was due £7 million, but those claims appear alongside ridicule, and at times, a measure of paranoia, directed towards the trustees, Inland Revenue, and the government itself.
Writing as "Silly Billy, Lost in France" on 15 January 2000, he summed up his perception that his inheritance was a burden: "I repeat that after 15 years of English hate I have suffered for having the misfortune of inheriting a fortune, I am not used to the normality of life and people".
His letters though, also betray a wicked sense of humour and capacity to make fun of himself.
Jacqui Hampton died in 2009. On extracting probate, her daughter valued Jacqui's estate at just £68,028, about the price of her house on Newmarket Road at the time. Jacqui was worth far more, but she had wanted to keep as much land as possible, so the division of the estate was not settled until by court order in the early 2000s, and even after that, it wasn't until 2007 that the siblings finally reached an agreement - William taking cash and Jacqui, land.
The trustees had long since begun distributing the estate and after Jacqui's death, that continued. A final, modest balance was paid to William in 2016, two years before he died.
As Prime Time reported, William had squirreled away the money he inherited over the years in over two dozen bank accounts worldwide. At the moment, a question mark still hangs over whether all of it has been found. Aside from the cash, he had a few modest properties - a house in Carlow, an apartment in sheltered living for the elderly in Devon, and in Wales, a modest home, and an old shop in a listed building.
A month after his death, one of his Irish properties, in Durrus, Co Cork, was transferred to a neighbour. Sinn Féin sold the old shop in Wales to the National Trust there, for what it called "a modest amount". It also found Mr Hampton had a yacht, disused and rotting, in New Zealand. And it's going through probate for another £900,000 (over €1 million) in a single bank account in Singapore.
In all, William Hampton left Sinn Féin what is currently estimated as €4.7m (£4m sterling). On top of the £1.5m declared and publicised in August, Sinn Féin declared two sums of £50,000 in July and another £400,000 in September, bringing the total donations it has already declared to the Northern Ireland Electoral Commission from William Hampton to £2m.
As probate is finalised in other countries and the money is released to Sinn Féin, yet more tranches will be declared.
A Sinn Féin source also disclosed that, acting through solicitors, it hired private investigators to find Mr Hampton's elusive niece (Jacqui's daughter). Under a legal agreement subsequently made with her, Sinn Féin has agreed to forego any claim on any future profits she makes on the sale of remaining land in and around Fenstanton. In return, the source said, Mr Hampton's niece agreed not to make any future claim on her uncle's estate.
Ashes
When he died in a public nursing home in Wales, William Hampton was elderly and frail and had been diagnosed with schizoaffective disorder, a mental health condition that appears to have symptoms of both bi-polar or mood disorder and occasionally, of schizophrenia.
He had made clear his wish that his ashes be buried in Ireland, and they were interred at a ceremony in Hannahstown cemetery attended by the surviving executor named in his will, Dessie Mackin, the Director of Finance for the republican movement; former Sinn Féin leader Gerry Adams; and Sinn Féin MP for West Belfast in 2018, Paul Maskey.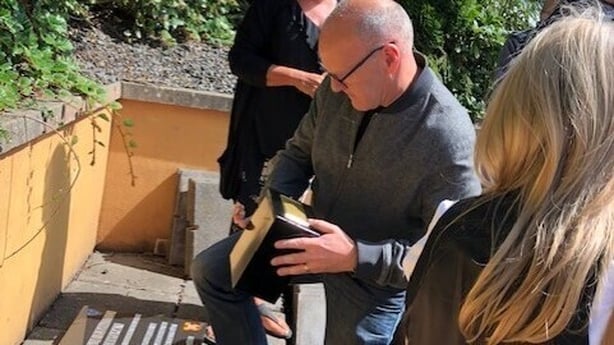 The Declaration
We first heard of William Hampton when Sinn Féin declared the first tranches of its inheritance to the Northern Ireland Electoral Commission last August.
The reports were intriguing - €1.6m (£1.5m) left to Sinn Féin and an estate worth as much as £2.5m. What, we wondered, would his niece say, as William's sole surviving relative.
However, we found her to be as elusive as her uncle. Traced to pub businesses in Cambridge and Leeds, she ignored efforts at contact. She had changed her name by deed poll, preferred to live without a phone, and did not answer callers to her home address. She was entitled to her privacy, so we left it there.
We wondered if people in Fenstanton could shed more light on this mysterious man.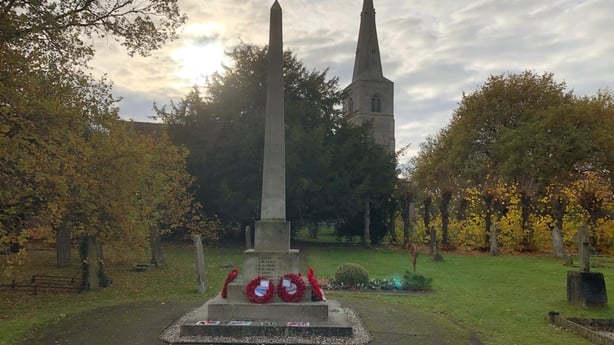 Before William Hampton, Fenstanton's most well known former inhabitant was Lancelot 'Capability' Brown, the 18th century landscape gardener. But as the birthplace of John Howland, one of the first pilgrims on the Mayflower, the village also lays claim to Franklin D Roosevelt, George W Bush and even Winston Churchill as descendants of the Howlands and therefore "sons of Fenstanton".
Villagers we approached were unerringly polite but unstintingly camera shy. To them, what they called the "Sinn Féin-IRA connection" was unwelcome. Here was one son of Fenstanton they would rather forget.
Reminded of him, some looked for an Irish connection, perhaps to explain why he had chosen to turn his wealth to the benefit of Sinn Féin. We tried, but we found nothing in official records to suggest Mr Hampton's family had any Irish connection.
For 21 years, Fenstanton's local MP was John Major, British prime minister up to the month before William Hampton made his will and a man recognised as responsible for making some of the most significant steps towards a peace deal in Northern Ireland.
Mr Hampton's letters are replete with references to him, most of them digs. He wrote one letter headed "Billie Hampton, Itinerant, c/o Mr John Major M.P., Huntingdon, and at his death, his wallet still held the number for Huntingdon Constituency Conservative Association.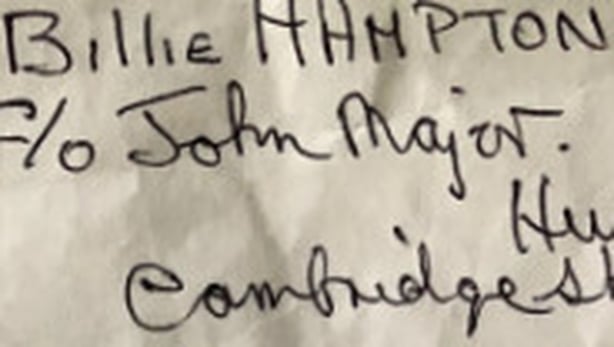 As to why Mr Hampton chose Sinn Féin, Owen Smyth believed it was because of its politics, and the chips on Mr Hampton's shoulder. He accepted: "We could have been a hook for him to hang his coat on".
Others may prefer the reason given by his friend Rosalind Morton, who told us: "He did it to spite this government, and that was his total reason - and that is how he would put it: 'I'll stuff this bloody government; I am going to put my money into the IRA'."
A national Sinn Féin source says William Hampton was "politically astute" and was determined that the money go to Sinn Féin and no other party. They advised the best way to achieve that was specify it was to "whatever party Gerry Adams is in".
Amongst his possessions, Mr Hampton had retained an old ticket for a republican prisoners' fundraising dance in Emyvale, Co Monaghan in December 1997, and Sinn Féin says cheques for £7,000 and £10,000 appeared in the post from him in the early 2000s, but with no accompanying letter or address. The party source says they had no idea how much he was worth.
When they did get a phone call from Pembrokeshire County Council seeking to contact his appointed executors, Dessie Mackin and Joe Cahill, the source admits the first reaction was to be "a bit wary", because of memories of the eccentric little man, and the possibility that they were being asked to look after his affairs for a modest bequest that would not even cover the costs of a funeral.
When they were eventually told he had left "millions", they did their best to sound casual, "and not fall off the chair".
SIPO inquiry
After the first donations totalling €1.6m (£1.5m sterling) were declared, the Labour Party complained to the Standards in Public Office Commission (SIPO) in September. It based the complaint on Mr Hampton's will, which stated that his estate was to go to his executors and trustees, Joe Cahill and Dessie Mackin, "in trust for the political party in the Republic of Ireland known at this time as Sinn Féin."
Labour argued that the bequest was to Sinn Féin in the South rather than in the North where it was declared, and therefore was a prohibited donation under Irish law, being above the cap for donations.
However, Sinn Féin says that because as a party it is registered with the Northern Ireland Electoral Commission with its registered headquarter address in Dublin, its legal advice was that the money could be legally and properly declared to the Northern Ireland Electoral Commission, thus avoiding Irish law and tax.
SIPO's decision on the Labour complaint seems to agree and appears to be final. It replied to Labour on 4 December following clarification from Sinn Féin that the bequest "was not offered to or received by the Sinn Féin party on the Register of Political Parties in this jurisdiction" but "was received by the Sinn Féin party registered in Northern Ireland with the Electoral Commission of the UK".
Labour is not satisfied with the reply it received, but a Sinn Féin source said it is satisfied that there is no issue.
In its direct reply to Sinn Féin, on 5 December, SIPO was even less equivocal, stating: "Following consideration of the matter at a recent meeting, the Standards in Public Office Commission is satisfied with the clarification provided by you in that letter, namely that the donation was not offered to or accepted by the Sinn Féin party in the 26 county jurisdiction. The Commission now considers the matter closed."
For all that, it is clear that not only is Sinn Féin directly benefiting from the bequest in Northern Ireland, but in the south it will indirectly benefit as well, purely on the basis that with its funds now well covered in the North for the foreseeable future, fundraising efforts can be concentrated to the benefit of the south.
A formidable political war chest for its political opponents to face, north and south, two days before a UK NI general election and at most, months before a general election in the south.