"Sorry, what did you say?"
Coupled with an awkward look of confusion, that five-word sentence must be among the most tension-inducing phrases in any relationship.
Most of us can relate to it. You are having a conversation with someone as they stare at their smartphone. Only half listening and distracted, one half of the exchange has to guiltily admit they did not catch a word from their partner. Smartphones are now being described as "the third person in a relationship".
Prime Time looks at our relationship with the devices that are labelled 'weapons of mass distraction' by experts such as adolescent psychotherapist Dr Colman Noctor.
Several studies show that the average Irish person checks their phone over 50 times a day.
We use them to stay connected on social media, watch TV, check bus timetables and do our banking. We sleep with them - they are our alarm clocks. We even use them to monitor our sleep patterns and fitness levels.
A Deloitte study found last year that over half of us check our phones in the middle of the night. 'Nomophobia' is the term used to describe the fear of being without your mobile phone.
During a visit to Hough's Bar in Banagher, Co Offaly, publican Ger Hough claims we are all victim to screen addiction and "mindlessly scrolling" on our smartphones.
"Do you ever get that twitch in your leg where you think your phone is going off? We have become so addicted to them and the phone is not ringing at all," says Hough.
"Instead of making me feel connected and like I was keeping in touch with everyone it made me feel even more disconnected"
There is some debate about the use of the term "addiction" when it comes to smartphones but there is clear evidence that problematic usage is rife.
Psychotherapists and addiction counsellors have noticed smartphone usage coming up as an issue in relationship counselling sessions.
Dr Noctor also pointed out that "five years ago all you would hear were parents saying 'I can't get access to my daughter because she is stuck behind a screen'. Now what we see is young people saying to us I can't access my parents because they are always behind a screen."
Former children's TV presenter Diana Bunici describes how she became too reliant on her smartphone. She recalls living alone in London five years ago.
Her friends and family were only with her on the device in the palm of her hand. So she would find herself constantly going online on her smartphone.
"Instead of making me feel connected and like I was keeping in touch with everyone it made me feel even more disconnected," she says.
"It highlighted all of the worries that I may have had in my head and amplified them all more because of this comparison tool in my hand."
Tiffany Shlain is the US filmmaker behind the idea of a 'Tech Shabbat' - a reference to the Jewish day of rest. She advocates a one phone-free day once a week.
She says that people are "absolutely addicted to smartphones. All you have to do is walk down any street in any city and you see people staring at their phones all the time."
Shlain sees smartphones as a source of stress, anxiety and depression. She has just published a book titled 24/6: The Power of Unplugging One Day a Week.
Along with her husband and two children, they have had a tech-free day every Saturday for a decade. She now says it "feels like you get your mind and soul back. You feel present with the people you love. You laugh more, feel more creative and ultimately feel more productive afterwards."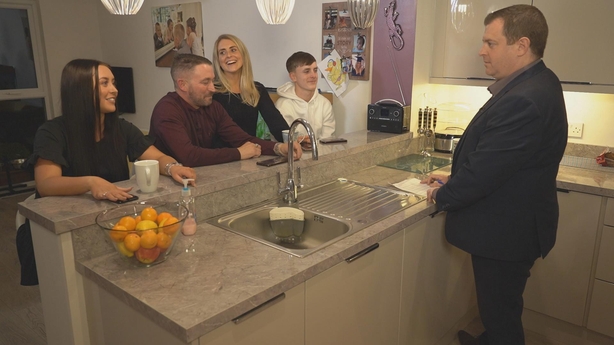 Prime Time has monitored the smartphone use of a typical Irish family - Laura and Mark Russell and their children Lauren (20) and Seán (16) from Clondalkin in Dublin.
We asked the Russells to try out the 24/6 experiment advocated by Tiffany Shlain. Even though Seán, a regular Irish 'screenager', feared the day was never going to end, the results may give other families food for thought.