On Friday, the Court of Appeal in Belfast ruled an investigation must be carried out into the UK security forces's treatment of 14 men in Northern Ireland in 1971. The men - all Catholics - have become known as 'The Hooded Men'. They say they were tortured at a British Army camp outside Derry, and have been fighting for justice through the courts. In 2014, Prime Time's reporter Rita O'Reilly, and producer Brídóg Ní Bhuachalla - then working for RTÉ Investigates - delved into their case, locating new documents in the UK National Archives. Here, Rita O'Reilly writes on the background to the making of 'The Torture Files' and the significance of Friday's ruling. 
Paddy Joe McClean was a pacifist, but he was no pushover. A founding member of the Northern Ireland Civil Rights Association (NICRA), he was one of 'The Hooded Men' interned without trial in 1971 and subjected to what the Appeal Court in Belfast said on Friday (20 Sept 2019) would today be described as torture.
Even as he outlined 22 different 'punishment' techniques perpetrated on him to the Association for Legal Justice in August 1971, Paddy Joe said of the onslaughts, he had "rode with them, making them do the work".
He died on 2 August this year, aged 86.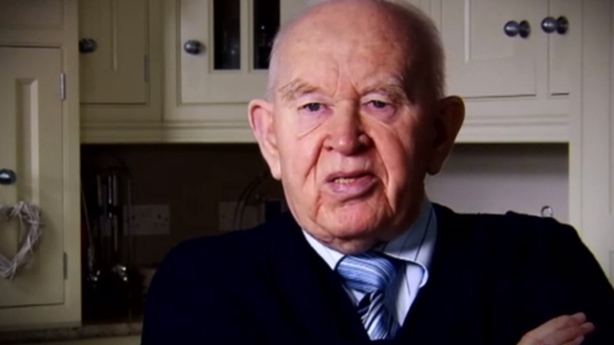 Awoken by soldiers and police, the RUC, on 9 August 1971, Paddy Joe McClean was taken from his home in Beragh, Tyrone at 04:30am and interned, without charge or trial. His wife was due to go into hospital to give birth to their eighth child the following day. At the time, he was a teacher and a father of seven young children. He was one of 14 men selected for "in depth interrogation", which consisted mainly of five techniques of torture honed in British colonies over decades.
When he was released in May 1972, he went back to the school and back to teaching the next day. "I wasn't employed by the Ministry for Education to be in prison", he told us, "so my wife had no money – she was in a worse situation than I was".
At his home in 2014, Paddy Joe – or PJ, as he called himself – told us that he could not come to terms personally with the harm that was done to him, and that he could not forgive and would not forget. All he could do, he said, was attempt to try to understand it, and "in political terms, I can try to influence Government not to do that again."
Producer Brídóg Ní Bhuachalla and I were left with a sense of a man wronged, who, despite a robust nature, still bore the burden of those wrongs in his waking and sleeping hours.
The horror of what he and others went through has occupied dozens of legal minds over five decades, as legal battles over whether what happened to 'the Hooded Men' was torture or inhuman and degrading treatment played out in Ireland, Northern Ireland, the UK and Europe. But behind the question of whether it amounted to the legal definition of torture lies a greater one: was it authorised by British ministers?
Now, Northern Ireland's highest court has told the PSNI there must be a proper investigation into allegations that the UK government authorised and used torture on the Hooded Men in the 1970's. Why? Because in a majority ruling, it said that an initial investigation for the PSNI in 2014 that found there was nothing to warrant such an investigation was "inadequate", "unduly narrow", and "irrational" and so the promise of a full, independent and proper investigation "remains unfulfilled".
What brought the PSNI to first commit to an investigation in July 2014 was the RTÉ Investigates broadcast 'The Torture Files' the month before: it brought to light new material from the UK's own national archives pointing to potential UK cabinet minister complicity in the torture of the Hooded Men.
WATCH: 'The Torture Files', RTE Investigates
The Lost Archives
The material had lain in the UK national archives uncovered for years: amongst millions of documents opened to the public in 2003 it was unseen until researchers connected to the Pat Finucane Centre and the Justice for the Forgotten group became, as they called themselves, "raiders of the lost Archive", pouring through files to find material relevant to Northern Ireland.
In February 2013 they felt they had something: when they approached RTÉ Investigates it was to show around two dozen incomplete and barely legible documents that included military memos detailing how long the Hooded Men were kept in 'deep interrogation' and some of what was done to them there. They showed, for example, that Paddy Joe McClean had been kept hooded and in a 'wall-standing' position for 37 hours.
Were we interested? We were. If those documents were in the Archives, perhaps there were others there that would reveal more.
There are millions of records in the UK national archives, though; needle in a haystack does not even come close. So before we went looking ourselves, who else might have done this already? The Pat Finucane Centre shared with us more of the relevant records they had searched for and retrieved, and we saw the first signs that the torture had been authorised.
Our search took us wider, including to the Irish Centre for Human Rights in NUI Galway. Had anyone there done research on torture in Northern Ireland? No, came the answer in initial calls. Then, a second thought: there might have been a researcher no longer with them who did something on the wider complaint of breaches of human rights taken by Ireland against the UK to the European Court of Human Rights in the 1970's.
Aisling O'Sullivan was that researcher, and when we contacted her and her course director, Prof William Schabas, we learned she had painstakingly copied vast amounts of files from the archives in 2006 for a PhD archive research project on how Ireland decided to sue Britain at the European Court of Human Rights (the case that became known as Ireland v UK). Her work didn't focus on the specific cases of the Hooded Men, she said, but would we like to search through the records ourselves? We would.
As we began that search, lawyers for the Hooded Men had a setback. They had sent a number of the documents sourced by the Pat Finucane Centre to the then Irish Attorney General, Máire Whelan, but she was unimpressed. For a start, she wrote, a substantial number of the documents provided "are illegible either in whole or in part", but also, having reviewed them, she found nothing new or relevant to warrant an application to reopen the Ireland v UK case before the European Court of Human Rights.
"This could grow into something awkward if pursued."
By then, we were examining the thousands of more records sourced through Aisling O'Sullivan - a treasure trove of records relevant to the European case, and amongst them, files directly relevant to the Hooded Men. They indicated that from 1972, UK Cabinet ministers were internally told that what had been approved was illegal and that Ministers from the Heath administration could be liable to conspiracy. And along with hundreds more records we subsequently sourced in the Kew archives ourselves, they showed that three Prime Ministers, Heath, Wilson and Callaghan, all approved settlements of between £10,000 and £25,000 to keep Hooded Men cases out of court.
"Because of the possibility that conspiracy may be proved against those others involved, every effort must be made to continue to prevent the cases coming into court." - Head of Army Dept, UK MOD, October 1974
The records showed that over years, considerable effort was put in to confine the blame for what happened to lower ranks and not to ministers or senior civil servants. All documented. Which is one reason why the memo from Home Secretary Merlyn Rees to Prime Minister James Callaghan in March 1977 sums up, rather than is the sole evidence for, what the records reveal.
We need your consent to load this rte-player contentWe use rte-player to manage extra content that can set cookies on your device and collect data about your activity. Please review their details and accept them to load the content.Manage Preferences

A handwritten note from the head of the UK Army department, John M Parker, in the margins of that memo also sums up the UK's approach to the issue: "This could grow into something awkward if pursued", he wrote.
Pursue it, the Hooded Men and their lawyers have, and pursue it, the Irish Government did, despite the political awkwardness of their plight and their case, which is why the Court of Appeal judgment in Belfast of Friday 20 September was so significant.
When the PSNI decided in October 2014, on foot of its "inadequate" investigation, that there was no evidence to warrant an investigation into the allegation that the UK government authorised and
used torture in Northern Ireland, that decision, the Appeal Court said, was "in effect not to take further steps to investigate the question of identifying and if appropriate prosecuting those responsible for criminal acts".
And addressing that failure, by a majority of two to one, the Lord Chief Justice, Sir Declan Morgan and Lord Justice Ben Stephens concluded: "It is entirely appropriate in a modern democracy that civil servants should protect the political reputation of their Ministers, but there is a real danger that the rule of law is undermined if that extends from protecting Ministers from investigation in respect of criminal offences possibly committed by them."
It's a conclusion that would sit well with Paddy Joe McClean. When he spoke to RTÉ Investigates in 2014, he was still troubled by how counter-productive the treatment of the Hooded Men was.
"The Government must ask what social conditions lead people to take up arms?", Paddy Joe said. "And those social conditions must be examined and dealt with and that takes the ground away from those who would resort to terror.
"I don't agree that arresting general population, subjecting them or torture, produces any positive results", he told us. "I believe it lowers the Government and the instruments of Government to the same level as that of the terrorist, so the local people see one terrorist gang competing against another terrorist gang – that left us with a situation we had for years: no peace, no politics, people being arrested willy-nilly, the rule of law put into disrepute; thankfully we have left it behind."
The test, now, is whether a full and effective independent investigation will take place.