While Michael D Higgins led the way in the Presidential Election race and Peter Casey's share of the vote has surprised many, there is always a proportion of votes that do not count because they are spoiled.
In Wicklow, there were 488 spoiled ballots. Some of the messages written on ballot papers included: "All useless", "No to everybody" and "No to abortion".
In Dublin North West, journalist Gemma O'Doherty, US President Donald Trump, former taoiseach Bertie Ahern and Dublin football manager Jim Gavin were among those mentioned on spoiled ballot papers.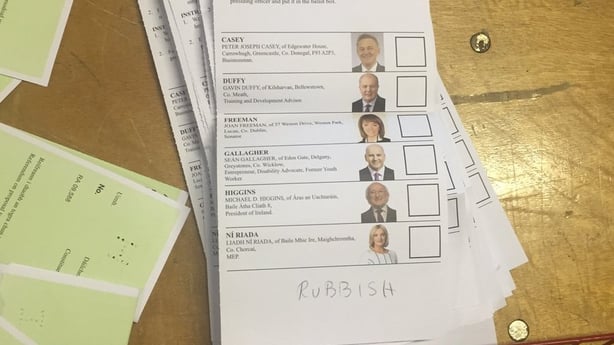 And Mr Trump also proved popular with one voter in Ballindine, Co Mayo, who spoiled their ballot with an endorsement for the US president.
One Ballindine voter tries to vote for Trump in #Aras18 but count officials in Mayo reject the ballot paper... pic.twitter.com/DPo7z1ndH7

— Pat McGrath (@patmcgrath) October 27, 2018
Meanwhile in Limerick City, one disgruntled voter (above) simply wrote "rubbish" on their ballot paper. 
Separately in the Blasphemy Referendum, a number of blank votes were recorded in Galway East.