A new art installation has been erected around an existing memorial to those who died in Mother and Baby Homes as a distress signal to Pope Francis ahead of his visit to Ireland this weekend.
Nine wooden panels with art and graphics detailing the stages of harm endured from child sexual abuse have been erected at the Somebody's Child site at Exchange Street in Temple Bar.
The work was installed by Dublin City Councillor Mannix Flynn, who was subjected to sexual and physical abuse by a priest from age 11, and says he wants the church to admit their guilt in a cover-up.
"This is a continuation of the work which has been done on the site for the last 15 years.
"This however, is directed solely at Pope Francis, with flags of the Vatican turned upside down, as an international distress call.
"Many victims are asking him why he continues to cover up and protect the guilty.
"The nine panels depict the impact of sexual abuse throughout their lifetime, from a child and follows them their whole life, and undermines them entirely.
"Particularly those abused in institutions, who in adulthood are still traumatised.
"His letter does not suffice, many of us have strong faith, and we're not attacking the church, but we need the church to be held accountable.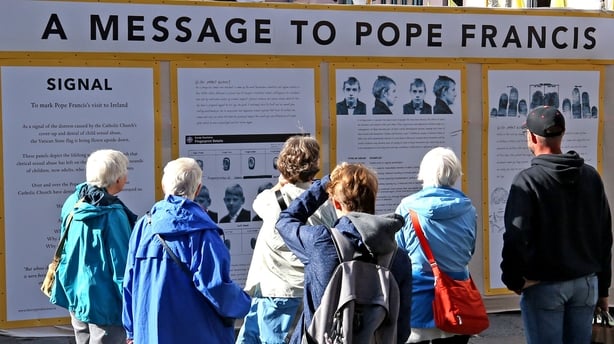 "The gardaí should be interviewing the pope, and the Taoiseach Leo Varadkar should not simply wait until the Pope's visit but ask questions constantly about the cover up of abuse.
"The amount of clerics involved in mass abuse and torture of children, this is a hidden weapon of mass destruction.
"This art is on behalf of the hundreds of thousands of victims of clerical abuse throughout the world.
"Some of which are no longer with us.
"The message is clear, the writing's on the wall, it's already drawn massive crowds."
The feature which is usually at the site was installed by Mr Flynn in November 2015 to remember the children and infants who died in Mother and Baby Homes.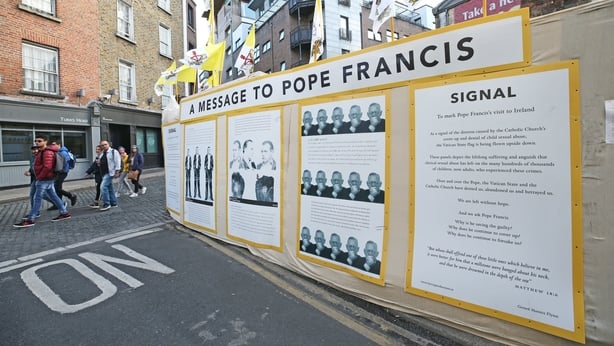 It lists the names of 796 children who died in the Tuam home in Co Galway.
The site in Temple Bar's main thoroughfare will be viewed by more than a million people this week as Dublin prepares for the Pope's visit this weekend.
Mr Flynn added: "The Pope has accepted that there was a cover up and now people are less inclined to throw holy water on it, and more inclined to understand us.
"However, we do not want prayers and fasting or sympathy, we want people arrested and those who covered it up at least held accountable in court."