Archbishop of Armagh and Primate of All Ireland Eamon Martin has said meeting sexual abuse survivors is difficult for all involved, as victims do not trust the church.
Speaking at the World Meeting of Families media briefing, Archbishop Martin said he never doubted Pope Francis would meet with survivors of clerical abuse during his visit to Ireland this weekend.
He said: "Hearing Pope Francis speak on this issue, he has always been very clear that he wants to reach out to survivors.
"It is a difficult thing to do, as I have found in my own experience, while meeting with survivors is not easy for any of us, but survivors sometimes simply don't trust us.
"I think it's important that the meeting is seen as a sacred or special moment for the survivors and Pope Francis.
"I expect Pope Francis will be in listening mode as we all should be in dealing with this issue."
Earlier prominent Jesuit campaigner Fr James Martin told delegates that LGBT Catholics have felt excluded from the church.
He also said that any experience of welcome to LBGT members of parishes can be life-changing.
He was speaking at a session in the RDS titled 'Showing Welcome and Respect in our parishes for LGBT members and their families'.
Fr Martin, who has written extensively about the need for dialogue between the gay community and the Catholic Church, told the session that LGBT members of the church are treated differently depending on what parish they are in.
"I have heard some really sad stories from LGBT Catholics who have been made feel unwelcome by their parishes," he said.
Delegates heard that parishes needed to remember that LGBT people were already members of the Catholic Church.
"They are as much a part of the church as Pope Francis … it's not a question of making them Catholic, they already are," he said.
LGBT Catholics have felt 'excluded' from church, WMOF told | https://t.co/oTWrIuUbsU pic.twitter.com/62PoiEtppD

— RTÉ News (@rtenews) August 23, 2018
Fr Martin also said they had often endured persecution and it should be remembered that they do not chose their orientation.
"Never underestimate the pain LGBT people have suffered," he said.
Fr Martin told delegates they should consider the gifts, who often feel a natural compassion for those on the margins.
"Their compassion is a gift they bring to the church," he said.
Fr Martin added that the LGBT community had persevered with the church in the face of rejection.
---
Read more: Pope Francis in Ireland
---
Alongside Archbishop Martin was Bishop of Chicago Blase Cupich, who referenced the recent Hollywood #MeToo movement in regards to the church's own scandals which he labelled an infected boil.
"People are finding freedom to come forward when they see accusations against certain individuals.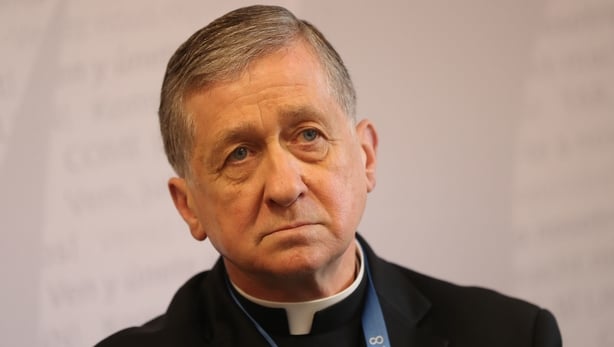 "This might seem threatening to people within the church as it could prompt others to demand justice in their circumstances, but I feel this is the only way we can lance this boil that is so infected.
"This is a dark moment for the church, a black moment, it's causing us shame.
"The real darkness is within the victims, that is where Jesus is, and we must always put the victims first."
Pushed on the topic of LGBTQ+ people within the church, the bishops were asked their view of a recent speech by Fr Martin, who said those who promoted conversion therapy were wrong.
Archbishop Martin said he was not aware of Catholic conversion therapy for LGBT people in Ireland.
"Conversion, change and repentance is something that is offered to all Christians but I don't fully understand the idea of conversion therapy.
"I don't actually fully understand the idea of conversion therapy. I do think a call to chastity, which is there for all Catholics with regard to sexual activity outside of marriage, is something that is very real but I wouldn't support this idea of some type of psychotherapy happening within a church setting", Archbishop Martin said.
Campaign groups such as Hear our Voices have criticised the exclusion of the LGBT community from the WMOF, saying applications from such groups to set up stands were refused.
The event also came in for criticism earlier this year over the removal of images of a gay couple from promotional literature.
Other topics up for discussion today include the role of women in developing countries, human trafficking, and coping with addiction.
The WMOF event will conclude at the RDS tomorrow ahead of Pope Francis' visit to Ireland on Saturday and Sunday.