There will be major traffic restrictions in Dublin as people gather for a mass by Pope Francis in the Phoenix Park. Here is a breakdown of transport options available on Saturday 25 and Sunday 26 August.
---
Buses
Travel on Dublin Bus will be free for people who have tickets for the Phoenix Park mass.
Dublin Bus said it will have the capacity to provide up to 400,000 journeys across its full fleet of 1,000 buses. Up to 1,500 drivers and 100 additional support staff will be scheduled for the day.
An enhanced Sunday schedule will operate on all Bus Éireann commuter routes into and out of Dublin city. All services will operate to and from Busáras.
Expressway is operating special services on all key routes into Dublin for the event.
---
Luas
Travel will be free on the Luas for people who have tickets to the mass.
Luas services will run from 7am-11.30pm.
Red and Green Line tram services will operate at a frequency of six-ten minutes.
There are park and ride facilities available at certain Luas stops but they are expected to fill up early.
---
Trains
Iarnród Éireann said that advance booking of Intercity train travel is mandatory for the mass, as tickets will not be available for sale on the day. 
A number of scheduled and extra trains are already sold out. Tickets can be booked on its website or by calling 01-8366222.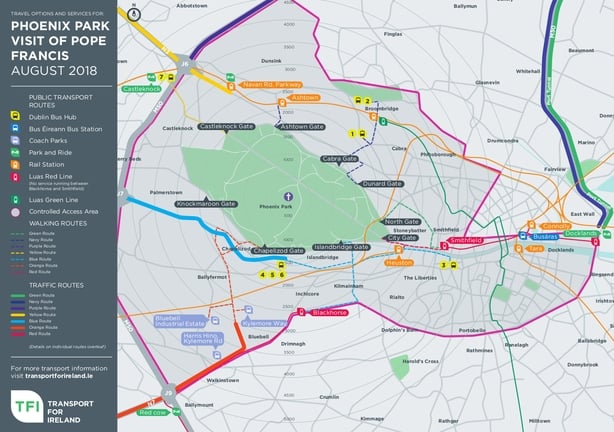 ---
Taxis
Taxis will not be allowed into the traffic exclusion zone, according to the National Transport Authority.
The "controlled access area" will be in force from 6am to 11pm from O'Connell Bridge West along the south quays.
At the Phoenix Park, the exclusion zone will widen to the north of the city nearly as far as the N2. To the south, the zone will extend to the Grand Canal.
However, the NTA said all taxi ranks will be operational with the exception of Aston Quay and Heuston Station.
---
Cycling
People travelling to the mass will be allowed to cycle to bike parks, which will be set up beside the Phoenix Park, but will have to walk from there into the park and to the mass.
It is expected there will be enough parking for around 2,500 bikes. The location of the bike parks will be announced in the days before the mass.
---
Walking
Gardaí have advised people to be prepared to walk, at least part of the journey into the park, and suitable footwear is recommended.
They also advised that people arrange meeting points in the event that they become separated from family or friends or if mobile phones run out of battery.
---
Cars
Gardaí have advised people not to try to drive into Dublin city centre, pointing out that a number of park-and-ride hubs are being set up to facilitate the crowds.