The green vestment to be worn by Pope Francis during the papal mass in Phoenix Park is adorned with a Celtic symbol to represent his historic visit to Ireland.
The sacred item was designed and manufactured especially for the Phoenix Park mass by family-run business Haftina, based in Poland, and the liturgy committee of the World Meeting Of Families.
The papal vestment has a triple Celtic spiral that is associated with Irish ancient manuscripts while some 70 bishops, who will be involved in the papal mass, will wear similar vestments.
The historic cross that will face the pope on the altar is designed to tell the story of the passion and resurrection of Jesus.
Fr Damian McNiece, Master of Ceremonies, said: "We wanted something distinctively Irish and to narrate the story of the resurrection of Jesus.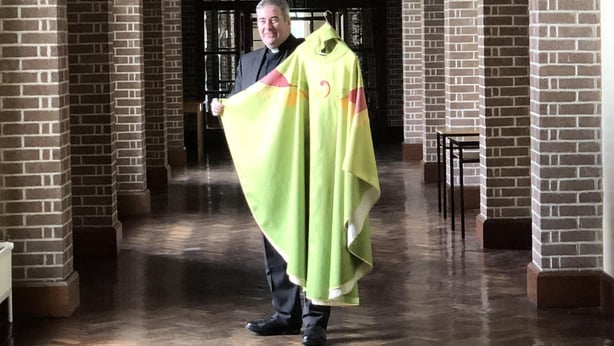 "I was out with Archbishop (Diarmuid) Martin at a small intimate mass in Dublin and they had this cross at the altar. I was completely taken by it.
"It's a penal cross from the year 1763 and is carved from little bits of wood but it's a much loved thing and has been held in so many hands.
"It's designed to tell the story of the passion and resurrection of Jesus."
He also said that the liturgy team wanted to create vestments that would stand the test of time and be a gift of the Irish church for major celebrations in the future.
The papal mass will be celebrated in Phoenix Park at the edge of Dublin city centre on Sunday 26 August 26 with around 500,000 people expected to attend.
Communion will be distributed from some 4,000 Eucharist ciboria and around 200 chalices - with Celtic logos - during the mass.
Fr McNiece said they would be sold on to parishes around Ireland in the hope of "recouping some of the costs".