An Bord Pleanála will have to comply with mandatory time limits and will be renamed an Coimisiún Pleanála, under the draft Planning and Development Bill published today.
The bill has been under a 15-month review led by the office of the Attorney General.
Other changes will mean only named individuals can take a judicial review against a development, something that has been criticised by environmental groups.
A company registered for more than one year and with at least ten members can also take a judicial review.
The draft bill will have to go through pre-legislative scrutiny before it is enacted. It is expected that it will be enacted by the middle of the year.
Under the new bill, An Bord Pleanála will be renamed An Coimisiún Pleanála.
The new body will have a Chief Planning Commissioner with a total of 14 commissioners overall. These will be full-time posts and will replace the current chairperson and board member structure.
An Coimisiún Pleanála's Governing Executive will comprise a chief executive and up to seven non-executive members.
Local Development Plans are to be extended to a ten-year cycle, with a review after five years. At present such plans run for six years.
It is hoped that the new bill will be clearer for the public and practitioners to use.
Planning legislation has not been updated since 2000 and this new bill seeks to streamline the legislation, by stripping out duplication that has built up through legislative updates and EU directives over the years.
Ministerial guidelines and policy directives are to be replaced with National Planning Statements that will be approved by the Government.
Overall, it is expected that the bill will ensure better alignment with environmental and European obligations.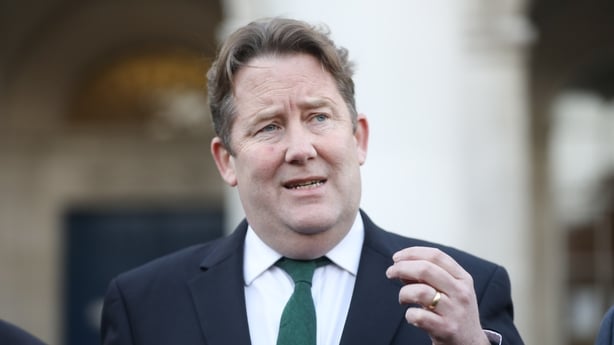 The Minister for Housing said that the new planning legislation will ensure more efficiency and transparency when it comes to developments.
Minister Darragh O'Brien said that all views will be heard as the new reforms go through pre-legislative scrutiny.
He rejected criticism that the bill will curtail the ability of groups to seek judicial reviews and added that there has been a reduction in judicial reviews in recent times.
He said he believed that this was due to the removal of Strategic Housing Developments.
Mr O'Brien told reporters this afternoon that the bill will allow for increased participation for members of the public in the planning process and this would help avoid legal battles over developments.
Separately, Minister O'Brien defended his Housing for All plan, arguing that it had seen its targets surpassed in its first year.
Mr O'Brien said that building capacity in the construction sector was important in terms of increasing supply.
He said that targets in the Housing for All plan were base targets and his intention was to exceed them.
"You'd love to be able to click your fingers and have 40,000 homes built in a year, by next year. There isn't the capacity to do that," he said.