Outgoing British Prime Minister Boris Johnson viewed Northern Ireland "as a nuisance", according to former taoiseach Bertie Ahern.
Speaking to RTÉ's This Week radio programme, Mr Ahern said Mr Johnson did not have a consistent line of policy on the north and had appointed secretaries of state whom, he said, were "not committed to the job".
Mr Ahern said the large turnover of people in the role over recent years had impeded progress in the north.
He said he would not name names, but that with many of the appointees "the only thing they wanted to achieve when they went into the job, was how quickly could they get out of it".
The former Fianna Fáil leader said it was a problem that people not committed to the job had been appointed.
"That is something we have all suffered on and that is the hard reality," he said.
Mr Ahern said it struck him that many northern secretaries in recent years were, "not listening or prepared to listen, or they were one sided".
The Irish Government will have to "work really really hard" to make progress in the north when Mr Johnson's successor is appointed, he said.
On Mr Johnson's resignation, Mr Ahern said it was a "glorious opportunity to amend" the relationship between Ireland and Britain which he said been "fraught" since 2019, something he said it has gotten worse under Mr Johnson's leadership.
He said the Irish Government needs to repeatedly explain in the UK what the Northern Ireland Protocol is and what an international agreement is.
Mr Ahern said it is lost in British media and in the House of Commons that the protocol arose out of an agreement in 2019 between then-taoiseach Leo Varadkar and Mr Johnson.
He said the protocol and trade deal were freely negotiated and the European Union just want it implemented.
He said people on the British side seem to think the deal with them was done in isolation of them and that were not part of the conversation.
Mr Ahern said no one should be going into the campaign for leader of the Conservative Party saying they would stick to Mr Johnson's line on the protocol. He said it was for Ireland and the Irish Government to make the arguments and spell out the reality.
He also said "Boris wasn't interested in listening" because he was "totally beholden to the [pro-Brexit] European Research Group within his own party", but he said Mr Johnson is no longer a factor and there is now an opportunity to explain what had happened.
Mr. Ahern said he feels the DUP would be up to a reasonable agreement on the protocol providing it came through the UK Government.
He said Ireland the EU needs to be open to negotiation.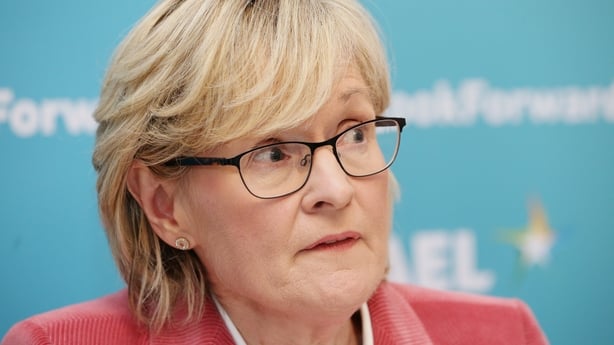 European Commissioner for Financial Stability Mairead McGuinness said that from the commission's perspective, nothing has changed in the relationship between it and the UK government since the announcement of Mr Johnson's departure.
Speaking to RTÉ's This Week, Ms McGuinness said that "although it's been a roller coaster week for politics and indeed for the British government, but the basics of our relationship hasn't changed and the fundamentals of what needs to be finished in relation to Brexit hasn't changed either."
She added that it is very clear from the European side that the Northern Ireland Protocol has to be implemented,
"We want it implemented in a way that is flexible, that answers the challenges that businesses are facing in Northern Ireland with its implementation, and that it works for Northern Ireland - for people and for business."