Teachers and principals have criticised the Government for naming four schools which the Department of Education claims are not engaging on providing spaces for children with special needs.
This afternoon, Minister of State for Special Education Josepha Madigan defended the decision to put the "spotlight" on the four Dublin primary schools.
She said the schools "had not been forthcoming in opening special classes in specific circumstances where we know that they have capacity".
The Government had written to 14 schools to get them to provide places for special education.
Ten of the schools are engaging with the Department of Education but officials said they had not secured agreement with the other four schools which are named on its website.
We need your consent to load this rte-player contentWe use rte-player to manage extra content that can set cookies on your device and collect data about your activity. Please review their details and accept them to load the content.Manage Preferences
Minister Madigan said that the next stage would be to use legal action to compel some schools to take children with special needs.
She told RTÉ's Saturday with Katie Hannon programme: "So if we don't hear from them, with, I suppose, a willingness to open a special class, then we will move to...compelling them under legislation."
There are discussions about amending the legislation to allow the Department to speed-up the process of compelling schools to provide special education.
The minister said 106 children do not have a special school place but she believed the number will go down over the next few weeks because some of the schools on the list of 14 "will be in a position to open a special class so some of that will be reduced".
She said there will be a special school placement for every child outside of Dublin for September and added "so Dublin is at the moment the pinch point".
She said: "It's just not acceptable anymore that a child with additional needs doesn't have a special class place. So I am going to be relentless in my pursuit to open these special classes no matter what it takes."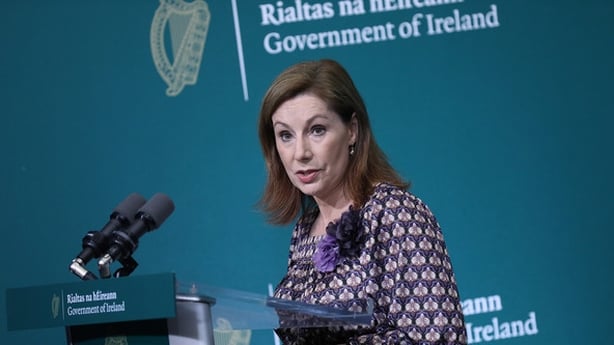 This afternoon the Irish National Teachers' Organisation (INTO) and the Irish Primary Principals' Network (IPPN) said they condemned the "politicised decision by the Department of Education to name the Dublin primary schools".
The organisations said the schools had raised "reasonable concerns relating to a lack of resources required to deliver a quality education to students with special educational needs".
They also called on the Government to ensure no notices to compel schools to take children with special needs would be issued.
The organisations said there was a need for schools to get additional supports including adaptions to buildings, playgrounds and classrooms.
They called for the purchasing of sensory equipment, furniture, protective mats and assistive technologies.
They also said there was a need for occupational therapists, psychiatrists and nursing staff.