Unilateral action by the British government to set aside parts of the Northern Ireland Protocol would mark an "historic low-point", the Taoiseach has told the European Parliament.
Micheál Martin told MEPs that such a move would be "deeply damaging" and "quite literally, be to the benefit of no one".
He said there are solutions to the practical problems of the protocol and a political will to agree them.
"That requires partnership, it requires the UK government to engage with good faith, seriousness, and commitment," he added.
"Unilateral action to set aside a solemn agreement would be deeply damaging. It would mark a historic low-point signalling a disregard for essential principles of laws which are the foundation of international relations.
"And it would, quite literally, be to the benefit of absolutely no one."
Unilateral action by the British government to set aside parts of the Northern Ireland Protocol would mark an 'historic low-point', Taoiseach Micheál Martin has told the European Parliament | Read more: https://t.co/ufmS5NQyHm pic.twitter.com/iWBu14THSX

— RTÉ News (@rtenews) June 8, 2022
Mr Martin said the Good Friday Agreement provides a "clear framework for protecting different identities and interests in Northern Ireland" and appealed to all sides "not to treat lightly what was hard-won".
The Taoiseach said while it is reasonable to look for ways to improve the operation of the protocol, "unfortunately what we have seen are bad faith efforts to undermine a treaty freely entered into".
He added: "Instead of trying to create a constructive atmosphere for all to engage, we have actually seen efforts to block agreements or introduce new problems.
"In contrast, the EU has worked hard to find ways to ensure that where there is a negative impact on businesses and citizens in Northern Ireland it is minimised as much as possible."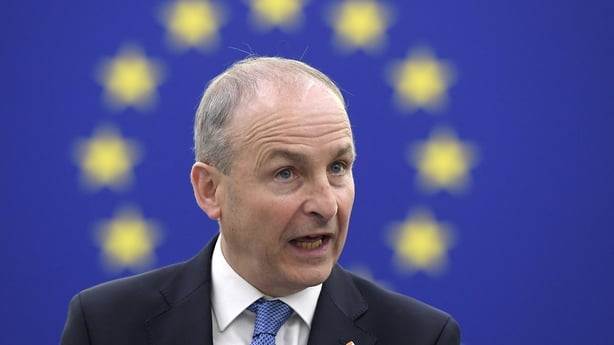 The Taoiseach also told MEPs that Europe and the European Union is at a critical point in history and facing a "series of fundamental challenges".
He said that Ireland's near 50 years of membership have been transformative "across all dimensions of our society".
The Fianna Fáil leader said the democratic majority of the Irish people remain Euro-positive and that "over the last 50 years sharing our sovereignty with our European partners helped to make us all safer, stronger and more prosperous".
Mr Martin told MEPs the Government is clear that the EU "must be strengthened".
He said that since Russia's invasion of Ukraine on 24 February, "member states that secured their freedom from Soviet imperialism and totalitarianism are a powerful voice reminding us that free democracy must be defended".
He said he strongly supports Ukraine's application for EU membership and hopes the European Council will be able to send the people of Ukraine a "clear and positive message", when it meets this month.
Trust an essential ingredient - Starmer
The Leader of the British Labour Party Keir Starmer has said there is a practical, negotiated way through the issues around the protocol that would respect international law.
Speaking at an event in Dublin organised by the British Irish Chamber of Commerce, he said trust was the essential ingredient in any negotiation, but he feared this was missing with the current British Prime Minister.
"Any British Prime Minister should be a trusted honest broker," he said.
He described Monday as a very interesting day in Westminster and there was "a political significance in what happened," given the number of Tory MPs who voted no-confidence in Boris Johnson.
He said what happened "fun though it was" is destabilising and the next British General Election could take place anytime between now and 2024.
"Our politics is in flux," he told an audience of business leaders in Dublin tonight.
He said this will have an impact on things like the protocol, but for the Labour Party the starting point would always be the Good Friday Agreement.
The agreement was as important today as the day it was signed, he said.
Mr Starmer will hold meetings with the Taoiseach and President Michael D Higgins tomorrow before travelling on to Belfast tomorrow night.
The Leader of the British Labour Party Keir Starmer and Shadow Secretary of State for Northern Ireland Peter Kyle arrive in Dublin ahead of meetings with the Taoiseach and President Michael D Higgins tomorrow. Keir Starmer says he is visiting to "listen and engage." pic.twitter.com/YtjEBGENCE

— Mícheál Lehane (@MichealLehane) June 8, 2022
Earlier, British Prime Minister Boris Johnson was asked about plans to override parts of the protocol by SDLP leader Colum Eastwood in the House of Commons.
Mr Eastwood asked the prime minister: "Today, we hear reports that the prime minister refused to consult the first Treasury counsel on his plans to rip up the protocol.
"I know this question might be redundant given he might not be around very much longer, but given the prime minister's casual record of casual law-breaking, will he give a commitment to the people of Northern Ireland that he will not be breaking international law any time soon?"
Mr Johnson replied: "I can tell him that the reports that he has seen this morning are not correct.
"And what I can also tell him is that the most important commitment that I think everybody in this house has made is to the balance and symmetry of the Belfast Good Friday Agreement.
"That is our highest legal international priority and that is what we must deliver."
The British government's legislation which was expected today or tomorrow is now due next week.
Donaldson says Irish Government is 'tone deaf' to unionist concerns
The leader of the DUP described the Taoiseach's comments as "deeply disappointing".
Jeffrey Donaldson accused the Government of being tone deaf and ignoring unionists concerns about the impact of the Northern Ireland Protocol.
He said the protocol has left him being treated like a second class citizen in Northern Ireland.
"There are some who argue that main purpose is to re-orientate the Northern Ireland economy away from Great Britain's economy and develop an all-island economy, an economy that does not exist, and that you would bind the Northern Ireland economy more closely to the economy of the Republic," Mr Donaldson said.
"I've asked Irish Government ministers about this and they give vague answers. There is a difference between cross-border trade and all island economy," he said.
"I listened to the comments from Micheál Martin and I found them deeply disappointing. They are tone deaf to concerns to unionists. They don't get it and if they do they ignore it," he added.
Additional reporting: Micheál Lehane, PA