The threat of extinction facing the Irish honey bee will adversely affect biodiversity in Ireland unless Government introduces a ban on non-native bees, the Seanad has heard.
Legislation which would halt the importation of non-native bees is currently making its way through the Oireachtas.
Dozens of beekeepers demonstrated outside Leinster House today urging politicians to support the Irish Honey Bee Bill.
Aoife Nic Giolla Coda of the Native Irish Honey Bee Society said the numbers of non-native bees imported here trebled between 2019 and 2020 alone.
"If that trend continues year-on-year this honey bee will become extinct," she said.
This is due to cross-breeding which campaigners believe is endangering an important "genetic resource" not found anywhere else in Europe in large numbers.
The legislation aiming to protect this bee won cross-party support in the Upper House of the Oireachtas today.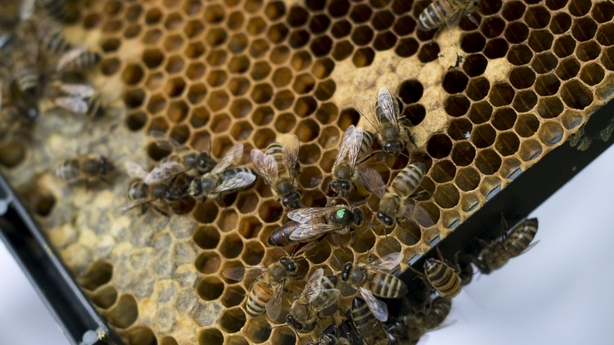 It was brought forward by Green Party Senator Vincent P Martin, who told the House that pollination underpinned the Irish economy.
He called on Government to adopt a "total football" approach to saving the Irish honey bee and not to fear a legal challenge in its efforts to do so.
While there was widespread support for the Honey Bee Bill, Minister of State Pippa Hackett struck a note of caution as the Government allowed the legislation to proceed to the next stage.
The Minister, who sits at Cabinet, told the House that Government has concerns around a statutory ban on bee imports because it might be viewed as a restriction on trade under EU Regulations.
It is therefore taking legal advice around the compatibility of the bill with EU single market rules.
If the bill is to make it into law the Government must demonstrate that it would not be possible to protect the biodiversity and ecosystems without such a trade restriction.
That seems like quite a challenge but there is optimism among politicians and beekeepers alike this evening.
They believe the bee described as docile, productive and capable of surviving a bad summer will soon have the protection of the law to aid its long-term survival.