Secretary General at the Department of Health Robert Watt has defended his handling of a proposal to appoint the Chief Medical Officer Dr Tony Holohan to an academic role in Trinity College.
Speaking at the Oireachtas Joint Committee on Health, Mr Watt said that the Department of Health was bounced into making a statement last March, and with the benefit of hindsight things should have been done differently.
The committee is examining the now-abandoned secondment of Dr Tony Holohan to the role of professor of public health strategy and leadership at Trinity College Dublin.
Dr Holohan was to have an open-ended secondment, paid by the Department of Health, via the Health Research Board and could also engage in private work.
After the controversy arose, the CMO said he would no longer be taking up the post and would be retiring from the department in the summer.
Mr Watt said that he did not "want it to be leaked that the CMO was moving on" while Covid-19 was still an issue.
"Obviously with the benefit of hindsight we should have done [things] differently," he added.
Central to it all is a commitment made in a letter written by Mr Watt to the Provost of the College.
It committed to €2 million of annual research funding as part of Dr Holohan's move.
At the time the letter was written, Minister for Health Stephen Donnelly did not know about this commitment.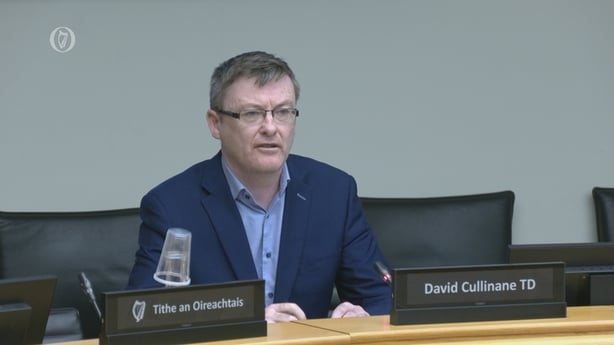 At the Committee, Sinn Féin Health spokesperson David Cullinane said this was a display of breathtaking arrogance from Mr Watt, who he said had no such authority to make such a pledge.
He told Mr Watt that he had lost the run of himself.
Mr Watt strongly rejected "this characterisation".
He insisted the secondment of Dr Holohan was "to give effect to the clear intention" of the Government and it did not sanction the spending of public money.
This would have to be done later by Mr Donnelly during the estimates process, he said.
However, Fine Gael TD Colm Burke said the letter to Trinity College was effectively a contract and he suggested the Attorney General would likely agree with him on this point.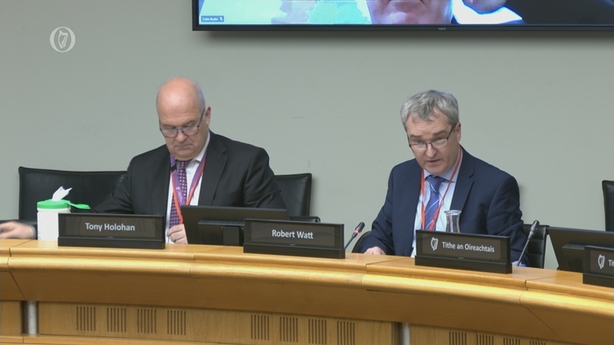 Mr Watt told Fine Gael Senator Seán Kyne that the intention was to finalise all the details and then ensure that "the Minister [for Health] was aware of all the details".
"It wasn't discussed at the management board," he said, but handled in a "normal" manner.
Mr Watt said: "The minister knew the generality, but of course he wasn't involved in the details of the proposal." He said that TCD "made it clear that they weren't in a position to fund the position" but were "enthusiastic" about it.
Mr Watt also said that other third-level institutions were asked about the project, but said he did not know if they were asked if they could fund the position, as the details were dealt with in talks between the CMO and the university.
Dr Holohan told the committee that he had full support in the Department of Health.
"Support was there from the get go", he said.
Holohan does not rule out taking up TCD post if asked again
"My ambition was to remain in the public service", Dr Holohan said. "That was my motivation".
"Could you be persuaded to think again?" Fianna Fáil TD John Lahart asked.
"Nobody thus far has sought to persuade me", Dr Holohan replied.
"It wasn't a 'no'", Mr Lahart said. "No - it wasn't a 'no'", Dr Holohan agreed.
Asked by @JohnLahart if he could be persuaded to reconsider taking up a secondment to TCD, Dr Tony Holohan says 'Nobody thus far has sought to persuade me, so that's a hypothetical situation'.

'OK, but it's not a no.'

'No, it wasn't a no.'https://t.co/66o8URcIAq pic.twitter.com/lTgN2B9CVE

— RTÉ News (@rtenews) May 4, 2022
Dr Holohan said the secondment needed to be open-ended "out of respect for the role" and for "the ground to be left clear" for a successor.
He added that retiring in July is the right decision, but wasn't the decision he wanted to make at the outset.
Mr Watt said that the brief original press statement announcing Dr Holohan's retirement caused "a lot of confusion", and that a holding statement should have been issued, with a fuller statement to follow "in due course".
"There was no engagement with TCD before February", Dr Holohan said, adding that it was never intended that a third-level institution would fund the post, and that discussions were also held with UCD.
Earlier, Mr Watt had told Social Democrats TD Róisín Shortall that it was intended that the HRB would get additional funding to meet the cost of the post.
"If the minister wasn't in a position to access additional funding for the HRB, well then, there could have been a re-orientation of their research programme", Mr Watt said.
Once the letter to TCD became public, "I shared with the minister the letter" after he asked to see it, Mr Watt said, and "he indicated his broad support", but had questions about "how we would manage the funding and he wasn't exactly sure about that".
The minister wanted more detail, and "he wasn't entirely with us - we had to have the conversation", Mr Watt said.
"He never expressed any regret or disappointment that he wasn't informed of those details?", Mr Cullinane asked.
"I don't recall. Myself and the minister have conversations all the time", he said.
"I don't recall", he repeated, but under pressure he admitted, "He didn't".
Mr Watt said there are people on secondment to the department since 2013.