A Government minister has told the Dáil that National Broadband Ireland (NBI) must accept responsibility for some of the delays affecting the roll-out of rural broadband.
Minister of State at the Department of Communications Ossian Smyth also insisted that he will levy whatever penalties are incurred.
NBI has benefitted from exemptions for delays caused by communicable diseases, the Dáil heard.
"There has been impact from Covid, it has slowed them down, it has made them several months later that they should be," Minister Smyth said during questions on the seven year project.
"At least a portion of the delays are the fault of NBI", he said, "and they may believe that it's the fault of their subcontractors, they may try and attribute blame.
"But that doesn't excuse them, as they are not in a position to abdicate their responsibility", he insisted.
Minister Smyth also said that he will "apply all the penalties that are due" arising from delays.
"I am disappointed that the programme is behind schedule", he said.
Sinn Fein TD Matt Carthy had called on the minister not to accept "fairly dubious excuses" from NBI.
Given the contract "is costing Irish taxpayers €3 billion", Deputy Carthy insisted that "there should be no scope for failure".
And he criticised "the general attitude that's been taken by Government" given that the plan "has missed every single target that was set for it up until this point".
Minister Smyth said, "It's not a €3 billlion contract, it's a €2.1 billion contract".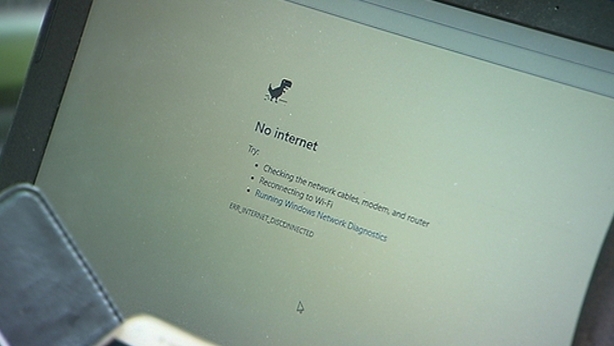 'Many' blackspots
And he insisted that it is a "fantastic" project, with work having begun in all 26 counties.
"Six million metres of cable have been installed", he said, and work is underway to connect 152,00 premises.
Minister Smyth predicted that "before the end of this decade Ireland will be the leader in the EU in terms of fibre-to-home connectivity".
But he did accept that there are "many" black spots in urban areas.
Labour Party TD Duncan Smith said people are very concerned that Ireland will be "on the hook" if NBI does not deliver.
"I don't - in my gut - feel that this crowd are in it for the long haul", he said.
Social Democrats co-leader Catherine Murphy asked if the minister would publish the contract with NBI.
"I will publish as much of the contract as I legally can", the minister replied, noting that it is 2,200 pages long.
He has asked his officials to look again at how much can be put in the public domain.
Deputy Murphy said the NBI's "Byzantine" corporate structure did not inspire confidence.
And Brid Smyth, Solidarity-PBP, said "it puts the London underground in the ha'penny place", as it involves thirteen companies - including a vulture fund - across three countries.
National electrification succeeded because it used state-owned enterprises, she said.
"If we were waiting for this kind of model, we'd all still be sitting in the dark, and this place'd lit up by candles", Deputy Smith concluded.
"I am happy to go anywhere in the country to directly see with my own eyes how things are going", Minister Smyth said, adding that senior civil servants are available to talk to deputies with concerns.
He added that he expects to have updated figures on the numbers of connections in a fortnight. And Minister Smyth again insisted that he is doing everything he can to speed up progress.