A Government minister has criticised the appointment of a senior civil servant in the Department of Foreign Affairs to investigate a controversial gathering in the Department in June 2020.
Minister for State Anne Rabbitte said that asking the Department's Secretary General Joe Hackett to conduct an "internal" investigation was not "open and transparent".
She said the event when officials were photographed with drinks as they marked Ireland's successful campaign to win a seat on the United Nation's Security Council was "inexcusable".
At the time, people were only allowed to meet with up to six people from outside their household.
Then secretary general of the Department Niall Burgess tweeted a photo of the event but it was quickly deleted.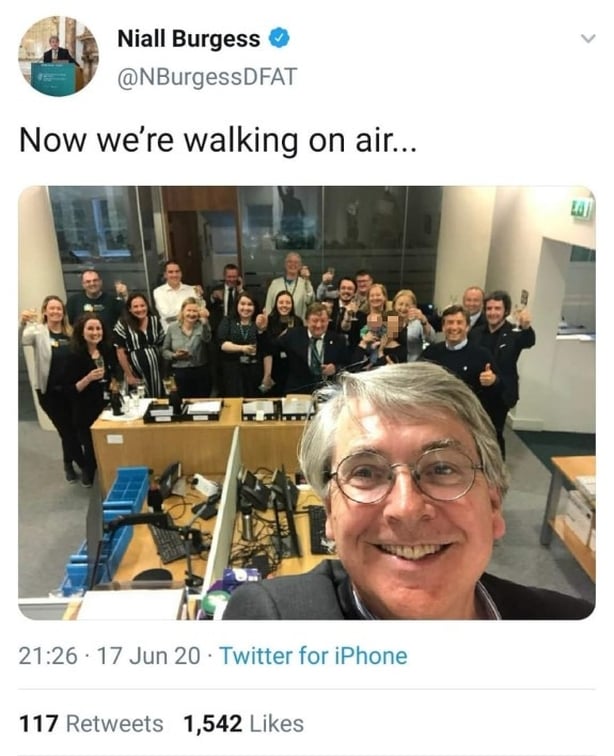 Minister Rabbitte told RTÉ's Radio 1's Saturday with Katie Hannon that Minister for Foreign Affairs Simon Coveney had further questions to answer on the issue.
However she added that sometimes these issues were not always the responsibility of the Minister and it was the responsibility of the "people who are paid to ensure their Departments are run well."
On the same programme, Labour TD Duncan Smith called for an independent investigation of the event.
He said "mates investigating mates was not the way to go."
Deputy Government Chief Whip Brendan Griffin TD called the event "sickening" and "disheartening" on Radio Kerry. He added it was "two fingers to the people".
Minister Simon Coveney has already said that those involved in the event were "mortified".
The Minister has been asked to appear on at the Oireachtas Foreign Affairs Committee on the issue.
Earlier this week, in a letter to that committee, Mr Coveney said Mr Hackett "was not at the gathering in June 2020" and is therefore the right person to lead the investigation.