New laws to include stalking as a specific criminal offence will be published before Easter, the Minister for Justice has told the Dáil.
Helen McEntee was addressing the chamber in a debate on gender-based violence, something she said will take a "long and difficult path" to change.
Ms McEntee said new laws that explicitly reference stalking as a criminal offence will make it clear that stalking includes watching or following a victim, even where the victim is not aware of it.
It will also cover all forms of modern communication.
Minister McEntee said: "I cannot stand here today and say 'Never Again'. I cannot say that no woman will suffer at the hands of a man tonight.
"But let all of us hold on to the determination and solidarity of this week, and join together in a common cause. That we come together to demand zero tolerance of violence and abuse against women."
In his address, the Taoiseach said a "sea change" is needed in culture and attitudes.
"We want and need a zero-tolerance approach to violence against women and this will require all of us - as a society - to commit to lasting change," Micheál Martin said.
He also supported demands for more resources for women's refuges, and for an overhaul of relationship and sex education in schools.
He was responding to People Before Profit TD Bríd Smyth, who said that the Catholic Church is "incapable" of delivering non-ethos-based sex education. She pointed out that nine counties had "no refuge what-so-ever".
Mr Martin assured her that funding would not be an issue.
And he told the Dáil chamber that a new Government strategy on domestic, sexual and gender-based violence, with education at its heart, will be published in March.
Each speaker began by expressing their condolences to Aisling Murphy's family, and to her community.
The Sinn Féin leader said that male violence against women remains pervasive right across Irish life.
Mary Lou McDonald called for a meeting of political leaders to address the issue, something to which the Taoiseach readily agreed.
"Our daughters' Ireland is still ugly and dangerous," she said, and also pointed to the lack of funding for women's refuges.
"Men need to listen more," Mr Martin acknowledged.
Labour TD Ivanna Bacik called for "a fundamental change of emphasis", including "a cultural change" which would see more female TDs.
To date, 244 women have died violently in the Republic since 1996, she said, most of them in their own homes.
What is most surprising "is the extent to which our good male colleagues have often been unaware of the extent to which we experience everyday sexism and micro-aggressions," Deputy Bacik added.
Josepha Madigan, Minister of State for Special Education, told her colleagues, "I know what it is like to feel like prey. We are the hunted."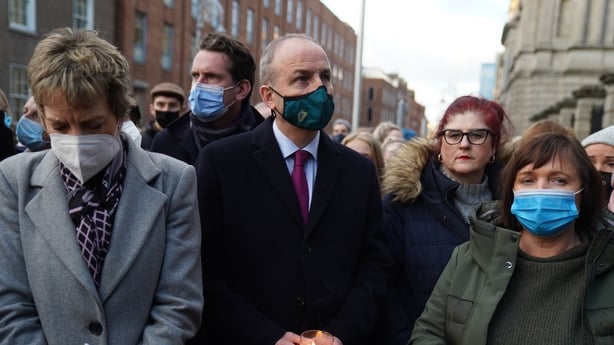 "I don't just understand the concept of inequality and discrimination - I live it every single day", she said, adding that she is "seething", and demanding change.
Minister of State at the Department of Health Anne Rabbitte recounted getting a threatening phone call at 3am.
"This is the fight of our lives - and it's exhausting," she said, adding that toxic online culture needs to be tackled.
After speaking on RTÉ Radio One yesterday, where she detailed having been threatened by a man in her office, Minister Rabbitte said she was then told that, "I love an old yarn, that I make up stories and that I'm a rat".
She appealed to men by saying: "We need you to say something. Whenever you see it call it out - please help us."
"It is not all men - but it is all women," the minister added.
Holly Cairns, Social Democrats TD, said: "We must direct State resources to dismantle the culture that underpins violence against women."
And Minister for Children Roderic O'Gorman said that Ms Murphy's murder had provoked "shock, revulsion and a great deal of reflection."
"Men's violence against women" must be tackled, he insisted.
"As men we have to recognise our role in this - in calling out threatening behaviour", the minister added.
"This is the moment where we stand up, where we speak up, and say enough is enough," he said.
Independent TD Michael Lowry said he was saddened by the experiences recounted during the debate by his female colleagues.