One hundred people arriving in Dublin Airport have been referred to gardaí for failing to present a valid PCR or antigen test.
Under new Covid travel requirements, which came into effect on Sunday morning, air and sea passengers arriving into Ireland require PCR and antigen testing.
Five of those detained presented false tests, with the majority of those having travelled from Britain on Irish airlines. Ninety-five people had no Covid test results.
The Joint Committee on Transport and Communications heard that in total 80,000 people flew into Dublin Airport in the first 72 hours of the new requirements.
Oonagh Buckley, Deputy Secretary General at the Department of Justice, noted that those who presented either no test or a false test have committed a criminal offence.
A "high majority were Irish citizens", she added.
A first offence can lead to a €4,000 fine or a month's imprisonment, with sanctions increasing in severity for repeated offences.
The department's Border Management Unit (BMU) conducts immigration duties at Dublin Airport. Gardaí monitor all other ports of entry.
Ms Buckley told the committee that her staff are now very experienced in detecting false test results.
"People do manage to get through", she said, adding that this "occasionally" also happens with visa requirements, and that "nothing malign" is at work.
The BMU "checked more than 10% at all times" and "in many flights, 100%" of those travelling into Dublin Airport, Ms Buckley said.
It has 136 permanent immigration control officers, and 24 additional temporary staff were added in the summer.
She rejected suggestions that more staff were needed, noting that there have been no serious delays since the new requirements were introduced.
Ms Buckley said that the "significant increase" in spot checks in recent days "has not resulted in any significant increase in detections of non-compliance".
"The compliance rate is very high", Ms Buckley emphasised.
She added that spot checks for arrivals are an additional support to the main system of checks. These are conducted at the point of departure, as per EU policy.
"There is a collective misunderstanding that every piece of paper will be checked [on arrival] in Dublin Airport", she said.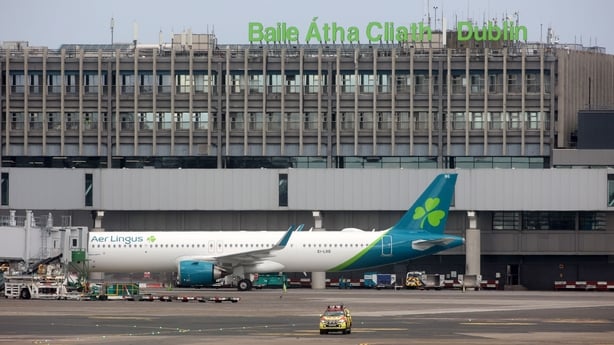 Fintan Towey, Assistant Secretary at the Department of Transport, said he will press the matter again with airlines, with whom the department engages "consistently".
"They accept that they have to play a part in upholding the public health requirements," he said.
But he emphasised that "the first line of obligation" lies with the passenger.
However, Fine Gael Senator Jerry Buttimer was not convinced. "Self-obligation doesn't wash", he insisted, and dismissed it as "codology".
Some people will get away with what they can, the senator warned.
Muiris O'Connor, Assistant Secretary in the Department of Health, said that, "as well as any follow up by the garda," those without valid test results are immediately required to self-isolate.
They must also take a PCR test within 36 hours, or face additional criminal charges, he said.
He told Committee Chair, Fine Gael TD Kieran O'Donnell, that it is "not Government policy right now" to conduct an antigen test on those who are found not to possess the relevant test results.
The Department of Foreign Affairs revealed it has responded to 2,500 inquiries to its dedicated helpline, which was established a week ago.
There have been 1,500 calls and 1,000 emails so far, with inquiries continuing.
Deirdre Ní Fhallúinm, Director of Consular Strategy and International Travel at the Department of Foreign Affairs, said consular teams in southern Africa in particular have been dealing with a high volume of inquiries.
Mr Towey told the committee that Covid-19 has had a "catastrophic and unprecedented" impact on tourism and travel.
In 2020, maritime passenger numbers fell by more than 70% compared to 2019, and are now "around 40% below pre-pandemic levels," he said.
"Aviation is experiencing the most challenging crisis in its history," Mr Towey added, with the collapse in numbers even more stark in that sector.
Last year, once the pandemic hit, passenger numbers fell 90%.
And for the first six months of this year, they "were down approximately 80%".
After a brief recovery over the summer, they are "still only operating at between 50% and 60% of pre-pandemic levels," he said.