Alan Kelly has delivered his first address as Labour leader to the party's national conference at the Mansion House in Dublin.
He defined himself as the person who would be the "voice of those who are running to stand still".
Mr Kelly said a core principle would be to ensure that work pays - something achievable through trade unions and collective bargaining.
He lambasted parties who claim you can cut taxes and improve public services, telling delegates: "It is a con. They are telling you lies."
As expected, Alan Kelly spoke robustly about how rents were what he termed obscene and need to be frozen; the state of our health service was immoral; Climate inaction by the government was embarrassing.
He said as a social democrat he wanted a united Ireland - but that would have to wait in favour of ensuring people could find a house - whether in East wall or east Belfast.
He said Labour had served in Government and would again - but only if the polices were comparable, and the coalition partners had what he termed a "moral compass".
Labour wants a new deal for Ireland "on housing, on climate, on care, for workers", he told the conference.
"If we can act so strongly when we really had to, then why are so many problems still so bad?"@alankellylabour says Covid has led to changed expectations of what the State can do, adding "there can be no going back to the way things were before" | More: https://t.co/2vDy1UbGzO pic.twitter.com/HmzUxHcHRE

— RTÉ News (@rtenews) November 13, 2021
Mr Kelly said the "time has come again for a new deal. To make Ireland a fairer, kinder, better place".
The Labour Party leader said he is "passionate about delivering a real alternative for our people".
Mr Kelly said if his party is to enter government it would be under two conditions.
"Firstly, will our core policies be implemented? And secondly, can we trust the moral compass of those who aspire to govern with us?"
He told delegates that "too many people are just about getting by or not at all. Under pressure from the rising cost of living".
He spoke about workers, saying there is "an epidemic of low pay in Ireland, and everyone gets a raw deal in a low wage Republic".
He said the housing system is fundamentally broken.
"Young people believe they will never follow in their parents' footsteps with their own forever home.
"The cost of renting has become obscene."
He said a "whole new class of absentee institutional landlords is being created instead" and he asked "where is the referendum to deliver a right to housing? Where is the rent freeze?"
The party leader said the country needs a new deal on care that finally delivers on childcare, education, and health.
"Claps don't pay bills or put food on the table"@alankellylabour says the Covid-19 pandemic has shown who can really be depended on in times of crisis, adding there is an "epidemic of low pay" in Ireland | More: https://t.co/2vDy1UbGzO pic.twitter.com/fW6ACiyqHT

— RTÉ News (@rtenews) November 13, 2021
"At every Budget Labour puts forward our alternative fully costed proposals. And we're upfront about how we would pay for it.
"By taxing wealth – not work, and by closing loopholes. Too many parties are peddling the myth that we can have both tax cuts and public spending.
"It's a con job. It's total lies. They are lying to the Irish people, pure and simple.
"Populist nonsense that all Labour Party representatives will always call out."
"It's a con job. It's total lies. They are lying to the Irish people, pure and simple"@alankellylabour says too many parties peddle the myth that there can be both tax cuts and public spending, adding there cannot be decent services without paying tax | https://t.co/2vDy1UbGzO pic.twitter.com/c5mfCGlU8x

— RTÉ News (@rtenews) November 13, 2021
He told the conference that childcare should not cost more than a mortgage and that work must always pay.
Mr Kelly said Labour would ensure a single tier health service was a priority and that "we can't delay any more on climate action".
"Only the State can take the action that is needed to deliver a just transition for workers and families, that unites people, rather than divides urban and rural communities."
Ordinary working families need a carbon credit, he said, and called for the VAT rate to be cut on fuel for the coming months.
He said young people have been hit hard by the pandemic and deserve better.
A generation was being left behind and "if we don't act Ireland will become no country for young people".
He paid tribute to frontline healthcare workers and asked people to "do all we can to help them".
Motions on climate, abortion, school patronage
The party earlier passed a series of motions on climate action, including a call on the Government to put in place ambitious annual targets for tree planting.
Cork East TD Seán Sherlock told delegates that urgent change was required given that for every one acre of trees that is planted, another 6.7 acres are felled.
On transport, there were several successful motions demanding compact urban growth which would lead to increased pedestrianisation and cycling, as well as increased public transport options for people living in rural Ireland.
Before more than 120 delegates this morning, Dublin Bay South TD Ivana Bacik contended that Labour was proposing "radical policies" but also providing "constructive opposition" in the Oireachtas.
Ms Bacik, who is also the party's climate action spokesperson, said Labour was supporting ambitious emissions reduction targets, but also holding the Government to account regarding a lack of specifics about how targets will be delivered.
She said the party would introduce a carbon labelling bill this week, which would compel companies to specify the emissions impact of manufacturing their products.
The Dublin Bay South TD said the party was also drafting a bill which seeks to provide an over-arching statutory body for the amenity.
Mr Sherlock contended there was an opportunity on climate action for "new alliances", however he said he "not convinced" that Sinn Féin is on the same page when it comes to climate action.
Yesterday, the Labour Party leader said that he would not rule out going into government with Sinn Féin after the next election.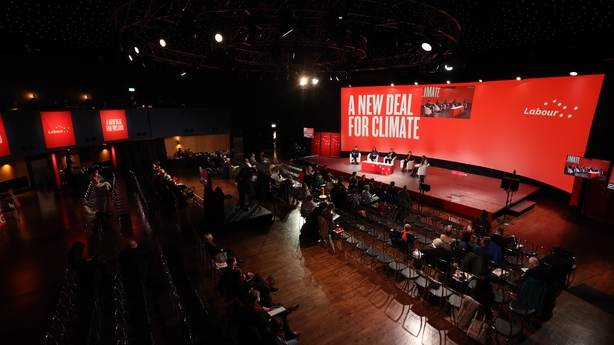 Abortion
This afternoon, the party's national conference voted for the full decriminalisation of abortion.
In a motion proposed by the party's Tipperary branch, delegates backed the repeal of the 12-week limit for abortion on request; repeal of the mandatory three-day waiting period; and the ending of conscientious objection.
School patronage
The Labour Party's Education Spokesperson Aodhán Ó Ríordáin told the party's national conference the practice of religious patronage of schools needs to be ended.
He said: "If that requires a referendum, we should do it and we should win it."
To loud applause from the floor, he said: "Let's get them out."
Deputy Ó Ríordáin also said that parents should not have to pay voluntary contributions to their children's schools because education should be free.
Domestic violence
The national conference also backed a motion calling, as a matter of urgency, on the Government to provide sustainable funding for services to meet the needs for the victims of domestic violence.
One delegate said: "To those of us, like myself, who have gone through the dark road of domestic violence, we feel so hopeless and forgotten - we are in desperate need."
Another delegate, speaking of how her mother was the victim of domestic violence, said she had received no support from any State agency.
The motion called for the implementation of the Istanbul convention.
Purchase of sexual services
The Labour Party is to conduct a policy review regarding the law relating to the purchase of sexual services, and report back with recommendations.
The review will be "evidence-based".